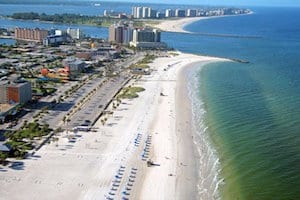 About 76 million people make up the Baby Boomer generation and most of them are now reaching retirement across the country. A large majority of Baby Boomers are looking to live in locations where there is a low cost of living, affordable homes, proximity to family, and enjoyable climate. According to a U.S. Census Bureau report with data drawn from the 2010 Census, some locations had a higher percentage of Baby Boomers making up a state's population. A few locations that made the list may surprise you, while others are not surprising at all.
Florida – It's no surprise to see Florida at the top of the list with the highest percentage of Baby Boomers. People aged 65 and better make up 17.3% of the state population. Most retirees flock to Florida for its beautiful and warm climate, affordable homes, and recreational lifestyle. Florida is also one of the few states that does not impose an income tax. Active adult communities like The Villages in Central Florida has more than 56,000 homes and is still building, which continues to attract new Baby Boomer homebuyers with its massive amenities and social activities.
West Virginia – Baby Boomers make up 16% of the total population in this state. Nicknamed "The Mountain State," West Virginia provides retirees with a beautiful landscape made of forests, rolling hills, mountains, and scenic lakes and streams. The state also has plenty of outdoor recreational opportunities and offers a relaxed pace of life to many retirees.
Maine – Maine ranks third place for having the highest percentage of Baby Boomers at 15.9%. Unlike the typical tropical retirement destinations, Maine offers a safe community setting as well as plenty of charm and historic attractions. Although Maine has dreadful winters and high home prices, retirees love the fine dining and educational opportunities available in areas like Portland and Biddeford. Active adults can find charming 55+ communities that offer small town charm with attractions nearby. One such community is The Village at Cider Hill in Old Orchard Beach.
Pennsylvania – History buffs will find Pennsylvania an ideal retirement destination. The state has 15.4% Baby Boomers in its population and provides great cultural attractions, museums, and historical sights. Pennsylvania is also less expensive when compared to New York and New Jersey. Active adults are sure to find a 55+ community in Pennsylvania that fits their style and budget.
Iowa – Baby Boomers make up 14.9% of Iowa's population. This Midwestern state known as "America's Heartland" has plenty to offer retirees even if it's lacking white sandy beaches and tropical weather. Although most of the landscape consists of farms, Baby Boomers can find affordable homes, rich cultural attractions, educational opportunities, and plenty of outdoor recreation.
Montana – Trailing right behind Iowa is Montana, also known as the Treasure State, with 14.8% of Baby Boomers. Montana offers majestic mountain ranges, parks, beautiful rivers and lakes, and plenty of outdoor recreation for adventure-seeking retirees. This state is also affordable and has a low cost of living that is just below the national average. There is also no sales tax in Montana, which is sure to draw many retirees living on a fixed budget.
Vermont – 14.6% of the state's population are people over the age of 65 in Vermont. This state has New England charm and small town vibe that appeals to many retirees. Vermont also has lush landscapes of farms, forests, and rolling hills. Retirees love the natural outdoor space. The beautiful, colorful foliage changing from summer to fall is breathtaking.
North Dakota – With only 14.5% of the state population consisting of Baby Boomers, many of them choose to retire in North Dakota because of its outdoor recreation, low cost of living, and affordable home prices. Although the weather can be harsh during winters, active adults find the less populated towns charming and quiet. North Dakota also has plenty of adventurous recreational activities like hunting and fishing for outdoor enthusiasts.
Rhode Island – Rhode Island has 14.4% of Baby Boomers in its population. Although it's the smallest state in the country, Rhode Island still has plenty to offer retirees. They can almost get anywhere in the state in about an hour and the small town charm makes socializing easier and allows residents to make new friends. There are also many cultural opportunities like museums, schools, and historical landmarks that are great for entertainment. Another bonus of this tiny state is the 400 miles of coastline.
Arkansas – Tied with Rhode Island is Arkansas with 14.4% of the population being 65 and better. The cost of living in this state is lower than the national average and it offers a great mix of cultural attractions and outdoor recreation. From educational opportunities and aspiring entrepreneurs to hot springs and golf courses, there is something for everyone in Arkansas.