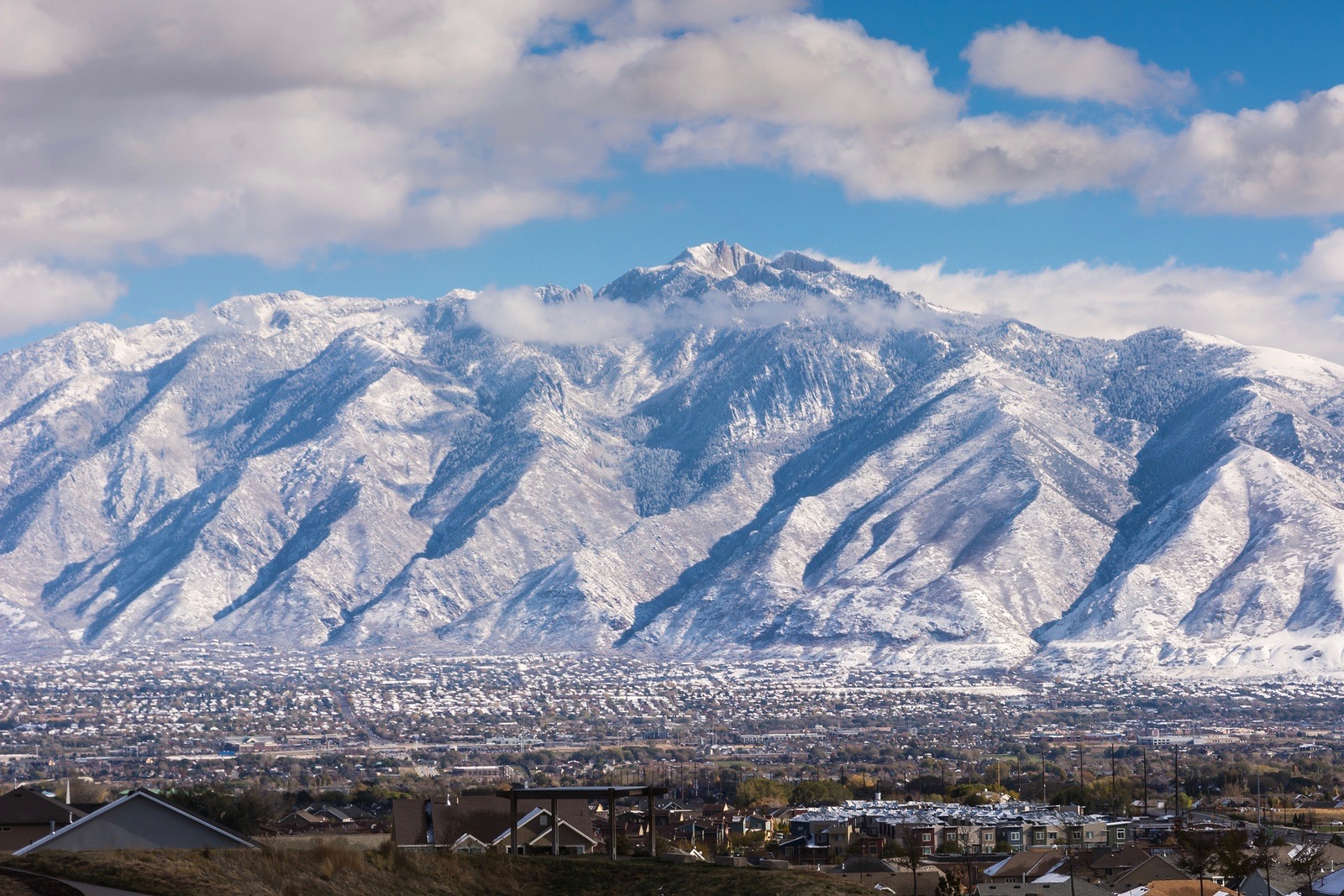 Although a majority of retirees prefer to trade in their snow shovels for swimming shorts, there are a few who enjoy a fresh blanket of snow during the winter season. Active adults choosing a winter wonderland as their retirement destination may also have more opportunities for outdoor recreation that can result in a higher quality of life.
Retirees not only get to be more active outdoors and enjoy winter activities, but they may also find that some of these cold season locales offer great amenities, low taxes, affordable homes, or a low cost of living. So grab your puffy coat and boots and check out these winter places to retire in.
This thriving cultural hub has a beautiful mountain landscape and also boasts some of the best areas for outdoor adventures. Salt Lake City gets an average of 56 inches of snow per year and the state ranks 10th in the country for ski areas per million residents. It was home to the 2002 Winter Olympics, making it a top spot for winter sports enthusiasts. Skiing is a popular pastime for retirees in Salt Lake City. The city also provides easy access to medical facilities.
Retirees looking to live in a metropolitan area on a small budget while enjoying winter weather should check out Des Moines, Iowa. This capital city's cost of living is 9.1% below the national average and offers a top-notch healthcare system.
Des Moines gets about 52 days of snow per year and has an average of 44 days of below freezing temps per year. With all of this cold weather, retirees can ski, sled, snowboard, or go tubing at numerous locations that are just a short drive away. And if Boomers get too cold to go outdoors, the city has an enclosed skywalk that connects to shops and businesses in the downtown area.
Denver is a winter haven for many reasons. The city gets about 54 inches of annual snowfall and averages 46 days of snow a year, making it a great location for winter sports and snowy days. It's also the ideal place for retirees who want to take up hobbies like skiing or snowboarding during their Golden Years.
The Mile-High City provides easy access to the state's 30 ski areas and nearby mountains like the Winter Park Resort, Echo Mountain, Loveland, and Vail. Retirees who prefer to be spectators at a game can check out the Colorado Avalanche hockey team that has won nine division titles and two Stanley Cup championships.
Milwaukee is known for its long list of breweries as well as having more than 140 parks for recreational activities. Located in the Great Lakes Region, Milwaukee has 60 snow days per year and nearly 47 inches of annual snowfall, giving retirees plenty of options for outdoor winter sports.
Retirees living in the area have access to public parks that are open year-round and offer cross-country skiing, dog sled rides, ice fishing, ice hockey, ice skating, and snowshoeing. They also have great indoor winter activities like curling, indoor hockey leagues, and indoor figure or speed skating. And to top it all off, Milwaukee's retirees enjoy some of the best health care facilities within the state of Wisconsin, which was highly ranked by the Agency for Healthcare Research and Quality.
If you're searching for cold weather and long winters then Minneapolis-St. Paul is the ideal place for you. The Twin Cities has one of the coldest climates in the country with about 55 inches of snowfall, 98 snowy days, and 71 days of below-freezing temperatures per year. With so much snow and cold weather, the Twin Cities has plenty of winter sports and outdoor activities.
The state has 18 resorts that are popular with skiers and the region has more than 11,000 lakes that are great for ice fishing. For those who are looking to get outdoors but not deal with the area's coldest days, Minneapolis offers an eight-mile, climate-controlled walking tunnel system that connects to shops, restaurants, and the Historic State Theatre.
Source: