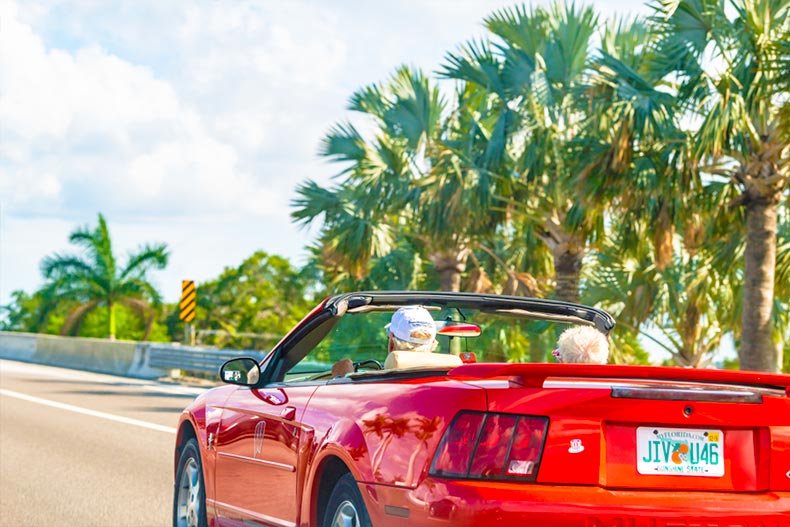 You know that Florida is the retirement capital of the United States, but do you know why? Your first guess might be because of the warm climate, but there's much more that's gone into making Florida an active adult paradise.
If you're thinking of making the move but aren't sure if Florida will be right for you, take a look at what you should expect from the state once you move there.
Taxes
We covered Florida taxes more in-depth here, but the short version is that taxes in Florida are generous, especially for seniors. First off, there's no state income tax, which also means there's no retirement income tax either. There are also several property tax exemptions, including several of them specifically for those 60+. Overall, the state's tax burden is ranked 34 out of all 50 states, according to the Tax Foundation.
Climate
You can't ignore the obvious. Florida's climate has long made it a destination for tourist, retirees, and full-time residents. The summer months see average high temperatures at 90 degrees but the real draw is during winter when average highs are in the low 70s. Depending on where you are you're likely to enjoy between 70 and 125 clear, sunny days throughout the year.
Recreation
Florida is a large and geographically diverse state. This lends itself a seemingly unlimited amount of outdoor recreation options. Some of the larger state parks and preserves include Ocala National Forest, Okefenokee National Forest, the Everglades, and Apalachicola National Forest. And of course, the state is lined with beaches on every coast whether you want to swim, fish, or just relax. Outdoor recreation doesn't stop at naturally created spots either. Florida is home to over 1,300 golf courses. Perfect for enjoying all those sunny days.
Travel Availability
A dream of many active adults is to spend their retirement globetrotting and traveling to every corner of the world. Fortunately, Florida is home to several airports. Wherever you settle you're likely to be near an airport, even a large, international airport. Tampa, Miami, Orlando, Fort Lauderdale, and Fort Myers all have primary airports, among many others. It's not just air travel either. Florida is the launching and receiving point for the many Caribbean and Transatlantic cruises. The state's extensive Interstate system means residents have easy access to several big cities wherever they live.
Health Care
What's most likely a self-fulfilling prophecy is Florida's large hospital and medical center selection. Whether you're living in a city, suburb, or exurb you'll find the care you need. Florida is even home to some of the most well-respected names among medical centers, including the Mayo Clinic and Cleveland Clinic. The wealth of options should mean you'll never lack choices.
Culture and Entertainment
Florida is a destination for many because of the variety of leisure activities. Almost every major city has a professional sports team in or near it, whether you want to watch baseball, football, basketball, or hockey. There are several popular museums throughout the state, including the Kennedy Space Center, the Ernest Hemingway House, the Duncan McClellan Gallery, and The Revs Institute. Lest we forget Orlando and its world-famous theme parks, including Walt Disney World, Universal Studios, and Busch Gardens. Attractions like these mean when your children and grandchildren are visiting you'll never run out of activities.
Active Adult Communities
Unsurprisingly, Florida is home to over 350 age-restricted and active-lifestyle communities. Each region features a wealth of options too, whether you're looking in Central Florida, Treasure Coast, Palm Beach County, or Southwest Florida you're likely to find the community right for you. The state is also home to some of the major players in 55+ living, like On Top of the World, Sun City Center, Solivita, and Latitude Margaritaville.