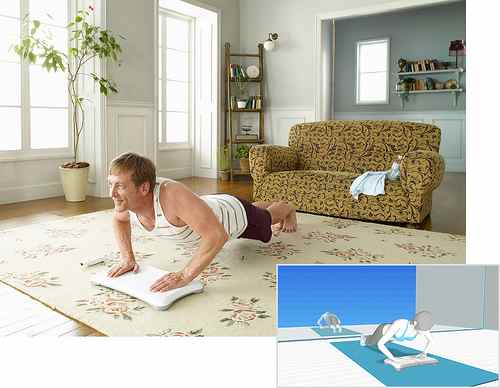 Wii Fit, and the newer Wii Fit Plus version of the game, is designed to help people have fun while getting fit. But is this innovative exercise program a good choice for active adults? When Nintendo released the Wii, its most recent game console, the company took a novel approach by targeting users of all ages. Kids, teens, young adults and even elderly users enjoy the Wii interactive games, particularly those that simulate sports such as bowling, boxing, or tennis.
Though the console was expected to be popular with kids and teens, the Nintendo Wii gaming system has also been a hit at many active adult communities, such as Alegria in New Mexico and Victoria Gardens in Florida, where Wii social clubs have been formed.
Many Wii games, such as Wii Sports, get players up off the couch and moving along while they play. Though these games encourage activity, Wii Fit takes game console exercise to another level by guiding users through both familiar exercises and new mini-games designed to improve strength, balance and stamina.
Wii Fit is played on the Nintendo Wii game console (sold separately) and comes with a special interactive balance board that allows the game to monitor and critique your movements, as well as measure your weight. From the first time you stand on the balance board, Wii Fit will run you through a series of simple movements to evaluate your balance and fitness level. It is surprisingly easy to see how your center of balance shifts with even slight movements. When performing yoga poses or traditional calisthenics on the Wii balance board, this lets you correct your form as you go to get the most out of the exercise.
You can also play Wii Fit's mini-games, which provide exercise hidden within fun activities. In addition to encouraging you to stay active, Wii Fit also tracks your progress over time. The balance board measures your weight and you input your height and age, allowing the game to calculate your Body Mass Index (BMI). Both your weight and BMI can be graphed to show your progress and your previous activity is logged as well. The game can even track and compare multiple players, which makes it great for using with exercise buddies.
As with any exercise program, you should check with your doctor before trying the Wii Fit and use caution not to overdo it. With a fun game like the Wii Fit, it's easy to lose track of time while exercising. While that makes it easy to stay motivated, it can also lead to overdoing it if you don't set limits and increase your exercise gradually.
The new Wii Fit Plus version of the game brings even more features, such as easier ways to customize a workout routine by either mixing and matching exercises or targeting a particular fitness goal. Like the original Wii Fit, the new Wii Fit Plus is sold bundled with the interactive balance board, which is needed to use the game.
However, those who already own the original Wii Fit and balance board can upgrade by buying the Wii Fit Plus game alone. Falls are the leading cause of accidental injury in older adults. By improving your balance, you may be able to both prevent falls and improve your performance in real-life activities such as golf or tennis. The Wii Fit game and balance board bundle sells for around $100 making it an affordable exercise program.
It can be used in the privacy of your own home or with friends who can motivate each other, which may make it a great addition to the games played in an active adult community's Wii social club. Do you own a Wii Fit? Please tell us about your experience in the comments section below!