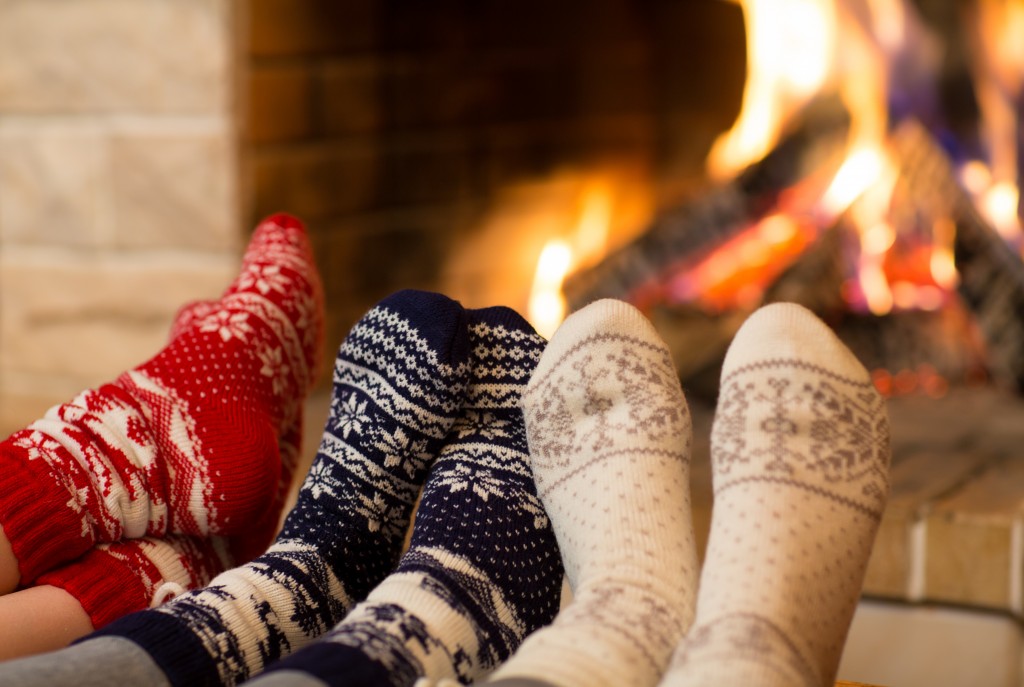 Don't let Old Man Winter put you and your active adult home in a slump. With simple decorating touches, you can transform your space with new ways to cozy up your home this winter season. Instead of counting down the days until spring, we list ten ways to incorporate a welcoming home setting to make your home cozy during those long, cold nights.
1. Throw Blankets
Adding a throw blanket to your couch is a great way to add warmth and style to your home. Throw blankets are perfect to keep around for cold nights to cuddle on the couch and binge watch your favorite shows or movies. They also come in a variety of seasonal colors and patterns so it's easy and affordable to add into your home decor.
2. Add a Reading Nook
A great way to get your home cozy this winter is to make room for a reading nook. You can pick a small corner or section of your home that has good lighting, like near a window, or easy access to an outlet to plug in a nice decorative lamp or charge your eReader. You can arrange a comfortable chair and place a side table next to it. The side table is perfect to stack your favorite books all in one place.
3. Roll Out Area Rugs
Getting cozy in your home means kicking off your shoes and walking around barefoot. But keep those twinkle toes warm by adding an area rug in well-traveled spots in the home. You can also layer different area rugs for more style, texture, and flare. The extra cushioning underneath your feet will make them feel soft and comfortable.
4. Hang Heavy Drapes
Hanging heavy drapes is an easy way to change up your home's decor by adding a certain charm and elegance. Heavy drapes also block out breezy drafts. When the seasons change it's easy to switch out sheer summer drapes in light colors to drapes in winter patterns made out of heavier fabric.
5. Use Seasonal Patterns
You can buy items with seasonal patterns and muted tones that depict a winter theme like plaid, herringbone, and tweed to highlight your home. These cozy seasonal patterns can be incorporated into your already existing décor like a plaid throw blanket on a navy blue sofa or gold accents in your bathroom to add warmth.
6. Layer Your Bedding
The long winter months mean cold winter nights so add layers to your bedding for extra coziness. You can add more pillows, decorative throw blankets, and comforters in seasonal colors and textures like sheep skins and fur. You can also drape fabric over a four-poster bed for a romantic ambiance, hang a quilt over your headboard for extra warmth, or just layer it across the foot of your bed for a dash of color.
7. Cinnamon, Apple, Pine Scents Oh My!
There is nothing more cozy than coming home to a beautifully scented home. You can create this welcoming atmosphere by baking a fresh batch of cookies or by taking the easier route and buying air fresheners and scented candles in cinnamon, apple, pine, nutmeg, cypress, fir, and bayberry. These winter scents provide a calming and relaxing aroma that will take your senses down memory lane.
8. Candles and Fireplaces
Nothing sets the mood like candles and fireplaces. Try to arrange your furniture around your fireplace for cozy conversations and decorate the mantel with some of your favorite items like pictures, statues, or ornaments. If you don't have a fireplace to gather around with friends and family then the next best thing is candlelight. You can arrange candles like tea lights on your coffee table for warmth and relaxation. The flickering light provides the perfect glow and ambiance for a peaceful night indoors.
9. Indoor Activities
The winter season makes everyone want to hibernate but that doesn't mean you can't have fun indoors. You can spend your time playing fun games and activities with your family and making new memories like scrapbooking old family photos and memorabilia from past vacations. You can also dust off your old board games like Scrabble or Monopoly for some challenging fun, or you can roast marshmallows over the fireplace and make hot chocolate from scratch. And all of this can be done without leaving your toasty couch.
10. Add Warm Colors
When you think of making your home more cozy this winter try to remember that orange, gold, terra-cotta, red, and other muted and soft tones provide a warming effect. These colors make the home more comfortable and give that fuzzy feeling just like a scented candle. These warm colors can be incorporated in simple ways throughout your home as well. You can add soft tones of yellow, brick, or rust by buying items like rugs, pillow cases, sheets, picture frames, candle holders, and other accessories with these colors. It's also a quick and affordable way to switch out and store when the seasons change.