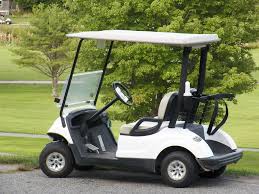 Golf season is ending for the winter months in many states. What will you do with your golf cart during the off-season? You can park it in the garage and forget about it until spring if you have space.
Even then, there are a few preparations that you will need to make to winterize your golf cart so that it is ready to go when the winter frost thaws and it is time to hit the course again. So, make sure you prep your golf cart no matter where you store it. Here are four inexpensive ways to store your golf cart.
In Your Garage or Carport
The cheapest place to store your golf cart is in your own garage or carport. If you can tuck it away in a corner, the only cost you will have is the time that you need to prepare it for storage. The cost is small and if you have space this is ideal. Many homes, though, do not have the space for extra storage and some homeowners associations frown on extra items cluttering carports and outdoor areas. Storage prep is important no matter where you store it.
Buy a Cover
You may have space for your golf cart in your garage, under a carport, or in a shed on your property if outdoor storage is permitted in your neighborhood. Even if it is under a roof, a cover for your golf cart will protect it from the elements, dust, and sunlight if it is stored outdoors.
Covers can be custom made to fit your brand of golf cart perfectly so that it is protected from top to bottom. This will prevent damage from rain, ice, and snow if you need to store your golf cart outside and from dust if you are storing it inside. Can't afford a custom-sized cover? A good quality tarpaulin or generic golf cart cover will do the job at half the cost.
Rent a Storage Unit
If you do not have a covered area for your golf cart, space in your garage, or a carport, a storage unit may be your best solution for long-term storing. Rental storage units are secure and weather tight, often heated or cooled and are a good solution for golf cart storage but are not as inexpensive as storing it on your own property.
Portable Carport
Portable carports can be as inexpensive as a golf cart cover if you take the time to shop. You may find one large enough to cover more than your golf cart and it can be placed anywhere in your yard if your neighborhood permits it. Storage need not be expensive. But you need to make some preparations to protect the batteries, tires, and finish of your golf cart before the winds of winter come howling and an inexpensive storage method can help you get this done.