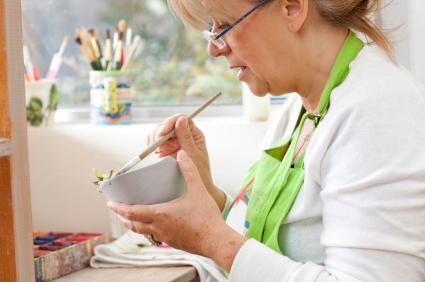 Moving to an active adult community means more than finding an affordable, low-maintenance home. Active adult communities feature a lifestyle that helps residents meet new people, make new friends, and try new experiences. Many residents find themselves drawn to hobbies or activities that they never even considered before. Others finally find the opportunity to pursue a long-forgotten pastime. Here is a sampling of just seven fun hobbies you are likely to discover at an active adult community.
1. Pickleball
While tennis courts have long been a staple at active adult communities, many developments are now adding pickleball courts or converting some of their tennis courts to be used for either game. Like tennis, pickleball involves hitting a ball over a net. It's often described as being a cross between tennis and badminton. Over the past 10 years, pickleball has become one of America's fastest growing sports.
2. Ceramics
Arts and crafts studios which include pottery wheels and kilns are featured in many active adult communities. Creating and painting ceramics is a popular pastime that lets residents explore their creativity while designing beautiful gifts or keepsakes. Even those who don't want to throw their own pottery can enjoy painting and firing pre-made ceramic pieces.
3. Travel
Adults often list travel among their top plans for retirement, yet many don't achieve that dream. Living in an active adult community can make it easier for retirees to see the world. Residents can often save money by joining in on group travel deals and singles can find friendly companions through community travel clubs.
4. Yoga
Exercise is an important part of a healthy lifestyle and many active adults discover the benefits of practicing yoga through community fitness classes. Yoga is a versatile form of exercise which can be modified for any body type. Fast-paced styles promote cardio fitness, long-held poses build strong muscles, and gentle restorative poses can reduce stress and increase flexibility.
5. Line Dancing
Even those who think they have two left feet can be surprised at how much they learn to love line dancing. Having a sense of rhythm certainly helps, but line dances are typically easy to follow as they set simple moves to songs with easy-to-follow beats. Another nice thing about line dancing is that it doesn't require a partner. Anyone can join in and have fun moving to the music.
6. Performing Arts
Adults who once loved acting in school plays or singing in a chorus can often reclaim their passion for performing in an active adult community. Many communities across the country have their own singing, dancing, or theatre troupes. Some even have jazz ensembles or other musical groups. Of course, those who prefer sitting in the audience can often join social clubs which plan group outings to local performances.
7. Card Games
Nearly every active adult community, large or small, has room for at least one card room, and there's no end to the number of games that can be played. Poker, Euchre, bridge, hearts, and gin rummy are just a few of the options. Many communities have a weekly game schedule and may plan larger tournaments from time to time as well.
Whatever their passion, residents are sure to find new pastimes when moving to an active adult community. They may even discover talents they never knew they possessed. Are you are a resident of an active adult community? If so, tell us about some of the fun hobbies you partake in at your community in the comments section below!