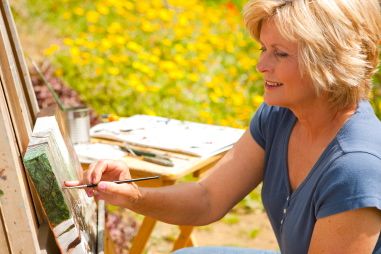 In many ways, ready access to the Internet has made it much easier for retirees to earn a little extra spending cash. There are sites for selling crafts, taking paid surveys, or earning cash-back rewards while shopping. There are also several money-making opportunities for retirees offline. Here are eight ideas for fun ways that you can make money during your retirement:
1. Sell Handcrafted Items
Many retirees find ways to turn their hobbies into extra income. Homemade items such as quilts, crocheted baby blankets, knitted hats, jewelry, or decorative picture frames can be easily sold online, through local craft shows, or from your own home.
2. Write What You Know
A computer with an internet connection offers competent writers many money-making opportunities. Freelance writing assignments are available through a variety of online organizations. You can also start a blog, write your memoirs, sell short stories to literary magazines, or compete in online writing contests.
3. Sell Home-Baked Treats
If you love to bake, making special occasion cakes or desserts is a great way to start a small home baking business. You may even be able to find a local shop which would be willing to sell your fresh made cookies, pies, breads, and other treats.
4. Sell Home-Grown Produce
With an empty nest, you may find that your garden now produces a surplus of fresh fruits and vegetables. You may be able to sell your excess produce at a local farmers' market or directly to your neighbors.
5. Offer Babysitting Services
Whether offering your services to family or friends, parents of young children appreciate having a local babysitter whom they can trust. You can often find babysitting jobs for occasional evenings or afternoons. If you want to babysit on a more regular basis, working parents often need a safe place for school-aged children to stay for an hour or two after school.
6. Offer Dog Walking or Petsitting Services
Working adults often need help walking their dogs during their workdays. Turn your love of pets into extra income by arranging to walk neighborhood dogs on a regular or semi-regular basis. You can also offer petsitting services, as many pet-owners often prefer to leave their furry friends in a family home rather than at a kennel.
7. Take Paid Surveys
Marketing executives frequently get feedback from consumers through paid surveys. There are many online surveys which will pay for your responses in either cash or free products. There are also some survey scams, so do your homework before signing on. Legitimate sites should have a clear privacy policy stating that they will not sell your information to third parties.
8. Shop with Cash-Back Rewards
Many credit cards offer cash-back reward programs. You earn points whenever you shop with the credit card and receive a check when you reach a certain number of points. There are also online shopping portals (such as Ebates) which offer cash-back rewards for shopping at the same brand name stores you already frequent.
Retirement does not have to be the end of your earning potential. There are many fun ways to bring in some extra spending cash while enjoying your hobbies or putting your skills to good use. With a little imagination, you can channel your life experience into fun money-making opportunities.