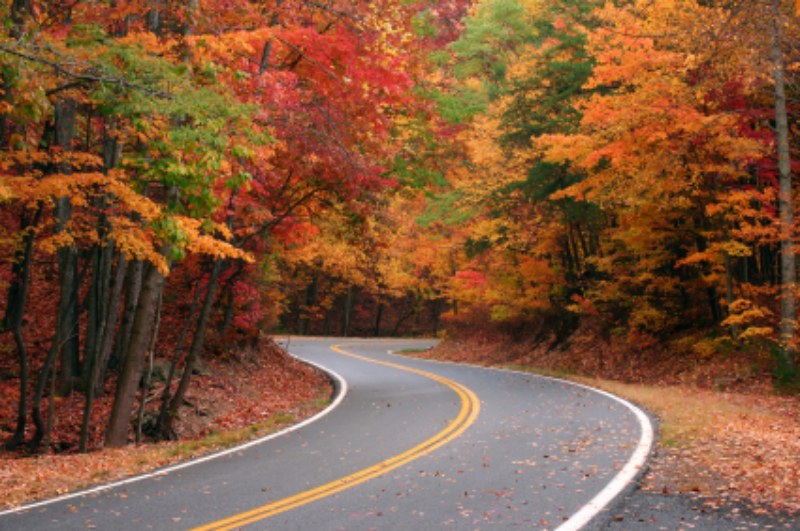 From September through November, many active adults flock to fall foliage hotspots. There are many states that provide spectacular seasonal getaways from New England to the Northwest. Mother Nature provides a spectacular show featuring vibrant colors of reds, golds, and oranges. The variety of destinations to visit are endless, but there are important details to consider when scheduling a successful fall color tour.
Planning a trip to view the autumn leaves does have its challenges. At popular seasonal destinations, you will often need to make reservations well in advance. It can also be difficult to predict peak fall foliage times for various areas from one year to the next. Weather conditions, such as drought, can affect the changing of the leaves by a week or more. Here is a brief look at some of America's fall foliage regions, with estimated ranges for peak viewing times.
New England
The New England area is perhaps America's most popular destination for Autumn leaf viewing. With a wide variety of trees and rolling countryside, New England offers a spectacular array of red, gold, orange, and brown fall foliage. In addition to the blazing Autumn colors, the New England area offers a fine selection of romantic inns, quaint bed and breakfasts, and picturesque towns. Scenic trails and winding roadways offer many viewing options throughout the area. The time to schedule a fall foliage trip to New England will depend on what part of the area you wish to visit. If you are visiting Maine, you may want to plan your trip for sometime around the last week of September or the first week of October. Generally, the first two weeks of October are the best time to visit Vermont, New Hampshire or upstate New York. And, if your destination is Massachusetts, Connecticut, or Rhode Island, mid-to-late October is often a good time to plan your trip.
The Southeast
The American Southeast offers its own beautiful autumn displays. While peak fall foliage times are generally a bit later than in the New England area, portions of the Southeast's mountainous states experience earlier fall colors. In Western North Carolina's highest elevations, leaves change from late September through the beginning of October. Both West Virginia and Eastern Kentucky can also experience prime fall foliage in early to mid-October. Virginia is one of the Southeast's most popular fall foliage destinations, particularly from mid-October until early November. October is also Virginia Wine Month and many vineyards throughout the state celebrate the harvest with festivals and special events. Central North Carolina, away from the state's mountain heights, also shows prime fall foliage into early November.
The Midwest
In mid-October, the vibrant colors of autumn sweep from the northern reaches of Minnesota in a wave that extends eastward through the American Midwest and across the state of Pennsylvania. With vast forests and national parks, the Midwest offers many prime fall foliage viewing destinations. There are many scenic drives, hiking trails, and even scenic train rides available throughout the area. From mid-to-late October, visitors can enjoy beautiful autumn scenery in Southern Minnesota, Iowa, Illinois, Indiana, Ohio, and Pennsylvania. In more southern portions of the Midwest, peak fall foliage is expected from late October into early November. This includes areas in Missouri, Arkansas, Western Kentucky, and Tennessee.
The Rocky Mountains
While fall foliage in the Rocky Mountain region is often brief, the season does offer a few outstanding autumn views. With the high elevations throughout the area, leaves generally change colors earlier in the season. This means that prime viewing times can begin as early as late September. Weather conditions can make the fall foliage period short-lived. There are several mountain retreats that enjoy the annual autumn view. Colorado, Utah, Wyoming, Idaho, and parts of Arizona and Montana offer beautiful golden vistas at various times from late September through mid-October. Mountain hiking trails, scenic drives, and rustic campgrounds further enhance your visit.
The Northwest
Though sometimes overlooked, America's Northwest region provides its own brilliant show of reds, golds, and oranges. And because the colorful autumn trees are often intermixed with evergreens, the scenery includes a striking palette of rich reds and golds beside deep splashes of green. The Northwest's peak periods for autumn leaf viewing is generally late in the season. Washington, Oregon, and parts of Northern California all offer spectacular fall foliage which can usually be enjoyed from late October through early November.