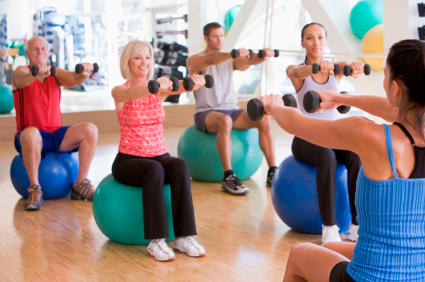 Each January, millions of people make New Year's resolutions to lose weight, eat healthier, be more active or otherwise improve their fitness. Where diets fail, lifestyle changes can often get you to these goals. But how do you know what changes to make? Where do you get started?
Improving your overall fitness typically includes more than eating healthier and becoming more active. Your health is also affected by the quality of your sleep, the status of any medical conditions you may have, the stress in your life and your mental outlook. If you want to be more fit, it's important that you address all of these areas.
When setting fitness goals, take a look at your life as a whole. Are your medical conditions well controlled? Are you sleeping well? How might you reduce your stress or begin thinking more positive? Addressing these areas, along with eating a healthy diet and exercising regularly, will help you make positive changes in the new year. A great way to jump start your change, and get some expert fitness advice, is to attend a retreat designed for healthy living. Here are just a few great retreats to consider:
California Health & Longevity Institute
Located in Westlake Village, California, the California Health & Longevity Institute offers a science-based approach to healthy living. At the institute, a team of experts design a personal health strategy for each participant. This team includes medical doctors, dieticians, exercise physiologists and other health specialists.
Younger Next Year Total Immersion Retreat
Based on the book of the same name, the Younger Next Year program is designed to teach you how to create and maintain a healthy lifestyle. The retreat is held at The Aspen Spa & Club in Aspen, Colorado. It includes fitness assessments, individualized instruction and personalized fitness programs for each participant.
Kripalu Center for Yoga & Health
Whether you already have a regular practice or have only considered trying yoga, the Kripalu Center for Yoga & Health can teach you how to create a healthy, fulfilling lifestyle. Set in Stockbridge, Massachusetts, the retreat offers healthy living programs based on yoga and Ayurveda. It teaches mindful living, nutritious eating and much more.
Miraval Resort & Spa
Set in Tucson, Arizona, the Miraval Resort and Spa is designed to offer guests the space needed to reconnect with themselves and begin the journey for a balanced life. The resort lets guests personalize their program with a wide range of activities, including fitness classes, outdoor adventures, meditation training, nutrition lectures and restorative spa services. Whether you attend a retreat or design your own fitness plan at home, be sure to consider how the different aspects of your life come together to create a healthy, balanced lifestyle.