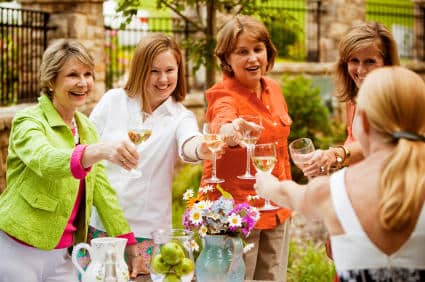 Retirement is an important milestone in a person's life. Celebrating one's accomplishments and achievements with a party as they leave the workplace is a memorable experience. If you are planning a party for yourself, a family member, friend, or colleague there are many details to consider.
Who are you planning for?
First, if you're planning a party for someone else, it's important to consider how well you know the person. It is easier to plan for yourself or someone who is a family member or close friend, but planning a party for a colleague you might not know as well might be a bit trickier. In this case, you may want to consider reaching out to his or her direct supervisor (or coworkers) or family members to find out preferences, availability, and who to invite.
Assemble a Guest List
This is the first thing you want to think about because it is likely going to take some time. You want to make sure you don't inadvertently leave someone off the guest list. To start, be sure to list family and close friends. Next consider the length of the guest of honor's career, there are likely many former colleagues to invite as well.
If the party is not a surprise, talk to the person retiring to see who to invite. If the party is to be a surprise, first you collect the names you know, next talk to the family to make sure to include anyone the retiree might still be in contact with – there may be college or high school buddies too – these are people you definitely do not want to exclude.
Everyone who has played a significant role in the retiree's life are probably people you want to invite. Whether you're planning for yourself or someone else, always make sure to send out the invitations early enough to allow people time to respond. Don't forget to include an RSVP date in the invite, this will help with your planning so you have a general idea of a headcount.
When and Where Should the Party Be Held?
Once you have an idea of how many people will be attending, it will be easier to pinpoint a venue. Do you want to have it at someone's home, the office, conference center or restaurant? Is the party going to be formal, semi-formal or casual?
Consider your budget, date chosen and what level of formality you want and then start making phone calls for availability. In some venues you may have to plan well ahead of time, so if this is going to be a party that needs to be planned quickly, this may eliminate some of your options. Also be sure to plan for extra people when choosing your party space. As the news gets out about the guest of honor retiring, you might find the guest list growing longer.
Deciding on a Theme
You can go with a traditional and/or elegant theme or you can make it quirky. If you're looking for something a little different, DivineDinnerParty.com lists some fabulous ideas which range from "his or her hire year" (trends and fads from that time) to "company in mourning" (a funeral theme) to "permanent vacation." For the latter, if the retiree already has specific plans, you can gear the party towards a region, trip, golf outing or other upcoming event.
Food and Refreshments
This is an aspect you want to spend some time on. Is a sit-down dinner or buffet preferred? What space you choose will often lead into the food. If there is not enough room for everyone at tables, you might want to consider a buffet with options for finger foods. If there is plenty of room to sit, you can go with full meals. You'll also want to consider what kind of beverages to serve.
Will there be cocktails or non-alcoholic beverages? Once you have a theme set, this often sets the tone for what type of food to serve your guests. To jazz things up a bit, you can tie your food options to your theme. For instance, if post-ret plans include a trip to Europe, Hawaii or some other exotic destination, you can serve cuisine from the destination.
Choosing Entertainment
Depending on where your party is held, you might want to hire a band or a DJ to play music throughout the event. If the party is more low-key, you can play some soft music during the luncheon or dinner with themed music during the rest of the party. Are your guests the type to enjoy party games? If so, you might want to plan a few of these.
Also, to entertain your attendees, you can create a collage. Either from childhood to the current day or keep to the work years. Assemble this on a board (with labels if possible) and place it in a prominent position in the room. Another way this can be done is through a slideshow projected on a wall or large screen.
Other Details to Remember
Keepsakes, cake and a memory book for guests to sign are all nice touches to your party. Additionally, be sure to ask or hire someone to take photos and/or videos of the event. You want to make sure the day will be captured. Also consider whether or not someone is going to make toasts and if anyone will be making a speech.
If so, carve in a special time during the event to do these. Will you accept individual gifts, a group gift or donations to a favorite charity? (This is a detail that could be added into the invitation). Retirement is a big milestone is a person's life. Make this time even more memorable by throwing a great party he or she would enjoy as they begin the next chapter of his or her life.