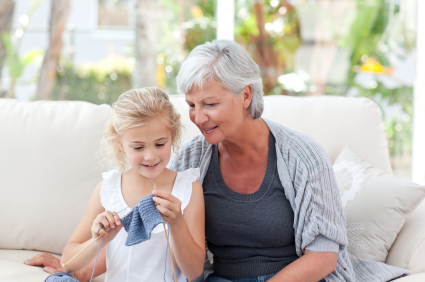 If your New Year's resolutions include a plan to learn a new skill, this may the perfect time to take up knitting. This traditional pastime has enjoyed a recent resurgence in popularity, partly due to updated patterns and beautiful new yarns. The Internet has made it easier than ever for knitters to share patterns, tips and techniques, and many active adult community offer their own knitting clubs and classes.
Knitting may have once been associated with placid grandmothers creaking in rocking chairs, but today's knitters come from all walks of life. Men, women and children can learn to knit everything from scarves and sweaters to cell phone cozies and amigurumi (little stuffed toys). Men in particular have retaken an interest in knitting and they can turn to popular online communities like MenWhoKnit.com for support.
The Internet has played a large role in encouraging the art of knitting. Instead of being satisfied with the inventory at their local yarn and craft stores, knitters can find a wide variety of patterns, yarns and supplies at numerous online stores, including popular sites like WEBS, StitchDiva, Knitty and Ravelry.
Online tutorials, both written and in video, also make it easy for knitters at all levels to expand their skills with new techniques. There are many benefits to taking up knitting. It's a great cold weather hobby when chilly, rainy or snowy days keep knitters inside, but projects can also be taken outdoors when the weather improves. Smaller knitting projects, or motif work, can easily be taken along on long car, bus or plane trips as well. (Check travel restrictions before flying, especially Internationally.)
Knitting projects let you make clothing, accessories and housewares for yourself, your friends and your family. Hand-knits make great gifts for birthdays or holidays, or as charitable contributions. Many charities accept items such as knitted caps for cancer patients or blankets for children in need. For example, the Knit-a-Square project by KasCare invites knitters and crocheters to send in 8-inch squares to make blankets for South Africa's orphaned or vulnerable children.
In active adult communities across the country, residents attend knitting classes or meet regularly with knitting social groups. The shared hobby can be a great way to make new friends and learn new techniques from each other. Both classes and knitting clubs make it much easier for new knitters to learn the basics and start on their first projects. They also make it easier for beginner-level knitters to expand their hobby with more difficult patterns and techniques.
If you've considered taking up knitting, make a resolution to finally give it a try. Joining a class or club will help you stick to the resolution and find your way to a successful first project.