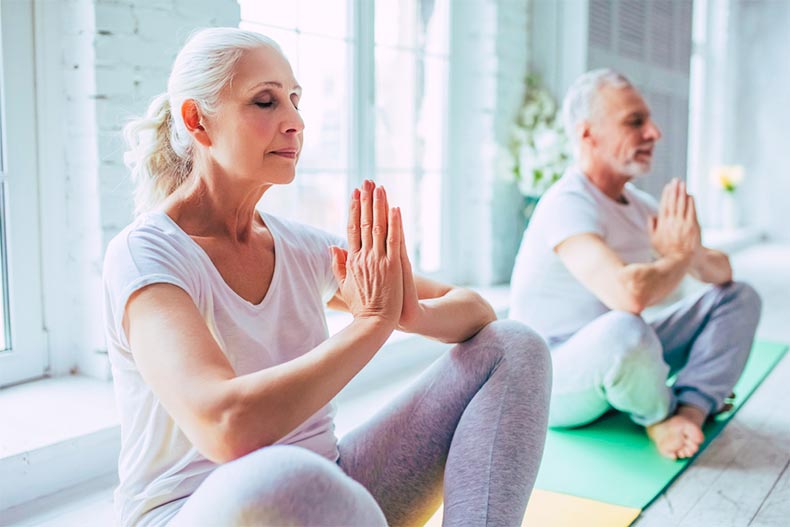 More and more active adults are practicing yoga and enjoying its healing rewards through classes offered at the major 55+ communities in Orange County, California.
The attraction for these new, mature devotees is yoga's promise of renewing balance in their lives through the development of strength and flexibility.
Yoga and Balance in Life
The goals of yoga are building a stronger body and brain while developing flexibility of emotion and spirit. This balance between strength and flexibility gives us the stability to face the physical challenges of aging and the resilience to cope with the pressures and changes of life.
As we age, we lose strength and flexibility, become slower, weaker, and less competitive. Our thoughts and emotions tend to take on more rigid patterns, too.
Yoga opens the heart, the mind, and the body to movement and change. Its emphasis on moving joints through a full range of motion promotes better circulation of blood, fluids and nutrients into cartilage, spinal discs, and joint spaces, which improves flexibility.
Yoga offers greater flexibility both in body and mind, with beneficial effects for work, recreation and relationships.
Yoga and the Health Issues of Aging
Among the practical benefits of yoga are the answers it offers for the following specific health challenges posed by aging:
High Blood Pressure
It's one of the most common ailments that affect adults as they age. Recent studies show that a regular routine of yoga will help lower blood pressure.
Arthritis
Daily pain and limited range of motion are the result of arthritic joints. A regular yoga practice can aid in reducing joint pain and help in improving joint flexibility. It may also reduce inflammation.
Nerve Pain
When nerves are injured, pain, weakness, numbness, cramping, or tingling can occur as a result. Yoga poses can improve circulation and the movement involved in practicing yoga helps as well.
Disc Issues
Bulging or slipped discs can press on your spinal cord or nearby nerves, causing spasms, limited movement, and radiating pain. Yoga can help build core strength and flexibility in your spine which together go a long way toward easing back pain.
Back Pain
It's a sign your core needs strengthening. Building up the muscles in your trunk, back, abdomen, hips, and legs gives your spine better support. Specific yoga poses strengthen the core. And, as your body learns to move in new ways, your major stabilizing muscles have to adapt.
Spinal Stenosis
Constriction of the spinal canal or vertebral openings can squeeze your spinal cord and cause radiating pain and numbness. A yoga practice that cautiously approaches bending, and avoids back bending, can help significantly reduce pain.
Osteoporosis
As we age, our bone density decreases. For some people, this decrease is so great, it results in osteoporosis, which means their bones are more susceptible to fractures. Yoga is valuable not only for your physical skeleton but because it helps you build muscle, body awareness, and better balance.
Tendonitis and Ligament Tears
Tendon inflammation and ligament tears can cause joint pain and stiffness and can also create instability in weight-bearing movements. Yoga can be useful in helping establish new movement patterns that will shore up the muscles around the tendons and ligaments and allow healing.
Asthma and COPD
Age-related lung changes can aggravate asthma and chronic obstructive pulmonary disease (COPD) and limit your ability to do cardiovascular activities. Yoga breath practices can be useful and your heart rate stays relatively low.
Insomnia and Sleep Issues
Insomnia or restlessness may disrupt sleep. Intentional, slow breathing brings a sense of relaxation and calm and a slow stretching routine before bed can help encourage drowsiness and tranquility.
Chronic Illness
Pain and hopelessness may result from chronic illness and limit the ability to exercise. But yoga can be effective as a pain-management tool for painful diseases like rheumatoid arthritis and it can be done on a chair or even a bed.
Biological Benefits of Yoga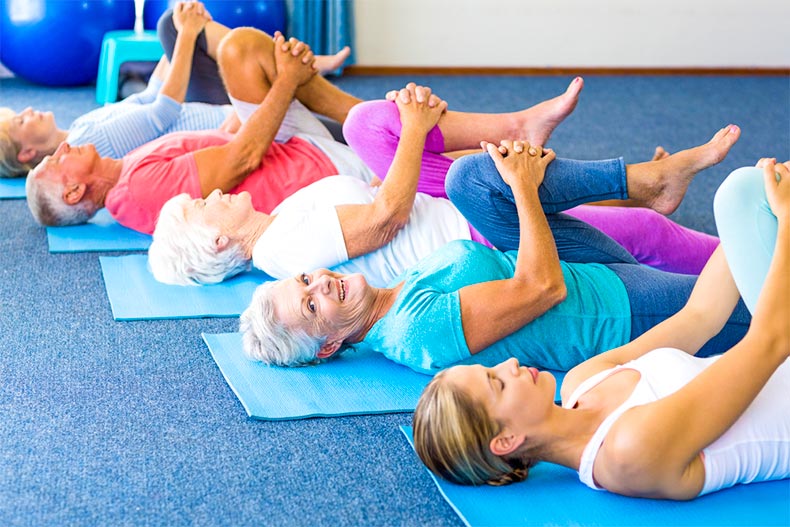 Yoga has more than just physical benefits.
Beyond the philosophical and practical benefits of yoga, new biological research is showing that the steady, regular practice of yoga can actually slow physical aging, and the harmful effects of stress, at the cellular and DNA level.
Damage and instability in DNA is a strong sign of cellular aging in the body. Another is chronic, low-grade inflammation. Accelerated cellular aging and stress are at the root of conditions such as depression, heart disease, obesity, infertility, and weakening of the immune system.
Dramatic new findings based on growing biological evidence suggest, however, that yoga can slow down and even reverse the harmful effects of accelerated aging and DNA stress and also reduce levels of chronic inflammation. Two major studies published in medical journals show that even two to three hours of yoga a week improve health and enhance longevity.
Yoga at Active Adult Communities
Residents of Orange County's many active adult communities have lots of opportunities to sample yoga instruction and organized classes in their own neighborhoods as a part of their community memberships.
At the largest of these communities, Laguna Woods Village, where more than 18,000 active adults reside, a variety of classes are offered. The Village's recreation schedule lists "Laughter Yoga" with Cheryl Russell, "Meridian Yoga" with Sue Shin, and "Yoga with Zahir Movius & Kim Min", among others, hosted free to residents at several of the seven clubhouses in the community.
Yoga instruction is also available through the local Saddleback Community College Emeritus Program at clubhouses in the Village. Residents register with the college for tuition-free instruction in scores of health, recreation, arts & crafts, and academic classes.
The Saddleback Emeritus Program also provides its yoga classes to residents at clubhouses in the large Mission Viejo active adult communities of Casta del Sol and the Villages of Palmia.
The 55+ communities of Gavilan in Mission Viejo, Huntington Landmark in Huntington Beach, and Talega Gallery in San Clemente all offer yoga to residents.
And, at Leisure World Seal Beach, a fee of $5 per class is charged for scheduled instruction.
The life-giving benefits of yoga are conveniently only a mild stretch away for the active adults of Orange County.