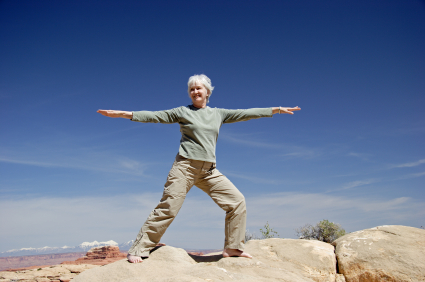 Though its practice appears deceptively simple, the exploration tai chi helps active adults learn to slow down, clear their minds and reduce stress. It can also improve flexibility, balance, strength, and stamina. Tai chi is not difficult to learn, and it is an ideal exercise to perform with a group. This, along with its many health benefits, make tai chi a perfect fit in an active adult community.
Tai chi is a self-paced, gentle exercise program that combines fluid movements with calming, meditative breath. When performing tai chi, the body is in constant motion, though the movements are slow and controlled. This steady, deliberate practice gently stretches the muscles, promotes balance and clears the mind. Practitioners in motion appear as if they are almost performing a dance, as each posture (or pose) flows gently into the next.
Benefits of Tai Chi
By balancing movement and breath, tai chi supports a mind-body connection, which yields many health benefits. Tai chi has been known to reduce stress, lower blood pressure and improve the quality of sleep. With regular practice, tai chi will strengthen muscles, build stamina, increase energy and improve both flexibility and balance. Tai chi has also been effectively used to help treat anxiety and depression. Tai chi is an excellent form of exercise for people of any age or fitness level.
Talk to Your Doctor
The intensity of practice can vary from one person to the next, as tai chi emphasizes controlled technique overexertion or strength. Tai chi requires no equipment and is generally safe for anyone. Although, it is always a good idea to talk with a doctor before beginning any new exercise routine, including tai chi. This is especially true for those with joint or heart problems, or for those with osteoporosis. Many active adult communities offer tai chi classes to help residents get started. Those who are adept, often meet regularly to practice together, either in a fitness studio or outdoors.
Communities That Practice Tai Chi
As it needs no equipment, tai chi is easily practiced outdoors or in any other restful setting. Regular practice is key to maintaining the benefits of tai chi, and meeting with a group at an active adult community is a great way to stay motivated. Active adult communities across the country have embraced tai chi as an important element of a healthy lifestyle. Just a few of the communities that offer tai chi classes and social groups include Pelican Preserve in Florida, Potomac Green in Virginia, Sun City Summerlin in Nevada, SunRiver St. George in Utah, Trilogy at Vistancia in Arizona; and Lake Providence in Tennessee.