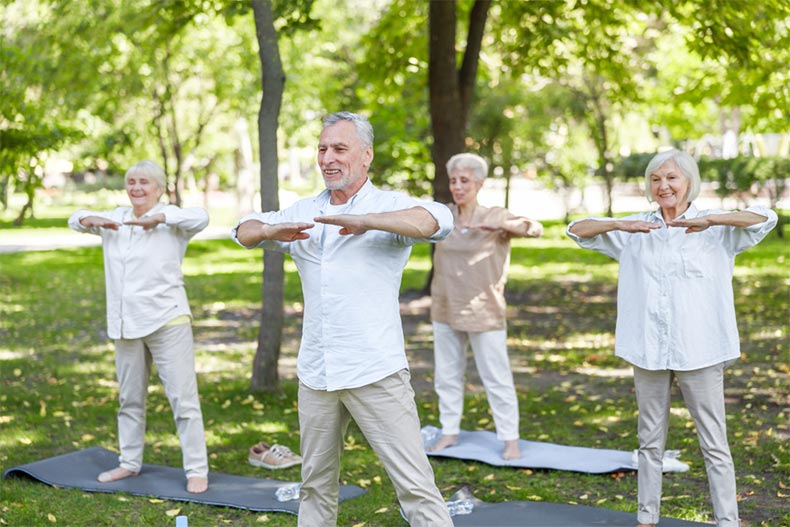 With more leisure time to spend as they please, many seniors have an opportunity to pursue fitness and focus more on their health and wellness. Through all types of sports and exercise classes, active adults can improve their health, join a community of like-minded individuals, and enjoy the benefits of regular physical activity. Just some of the popular fitness hobbies at many 55+ communities include pickleball, yoga, dancing, and water aerobics. There's also another form of physical activity that has been gaining popularity with seniors: tai chi.
According to the Harvard University Medical School, "tai chi is often described as 'meditation in motion,' but it might well be called 'medication in motion.'" Tai chi is a low-impact exercise during which participants combine fluid movements with meditative breathing. The practice of tai chi appears similar to a slow dance because each posture, or pose, flows peacefully into the next in a deliberate sequence. The benefits of tai chi for seniors include improved balance, increased flexibility, and a calmed mental state, among many additional advantages.
Although it can feel intimidating to begin a new activity, tai chi is practiced by people all over the world of all ages and skill levels, including plenty of seniors. Many active adult communities with fitness centers and aerobics studios offer tai chi classes where neighbors can get together and enjoy this popular fitness activity. If you're interested in starting tai chi, it's worth learning more about all the benefits of tai chi for active adults. In this guide to tai chi for seniors, we provide an in-depth exploration of the history, benefits, and practice of tai chi.
What Is Tai Chi?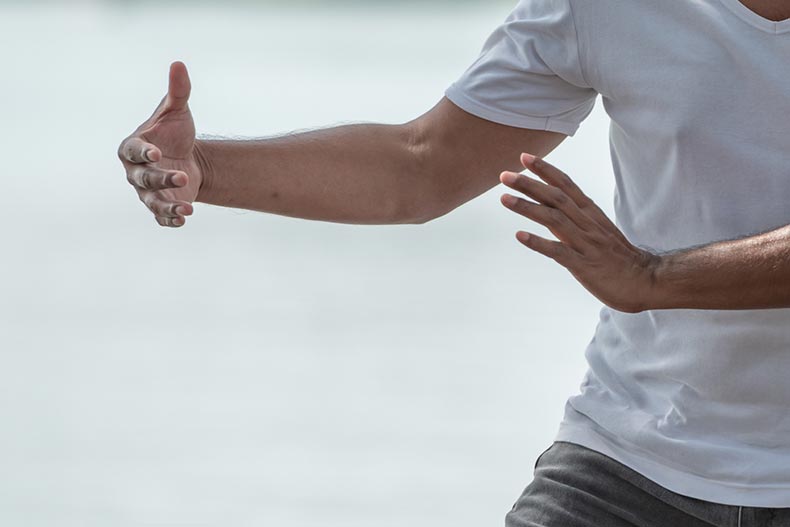 The tenants of tai chi stem from Chinese Taoism, an ancient philosophy that teaches health and longevity.
The ancient Chinese martial art of tai chi focuses on slow, purposeful movements that strengthen stability, balance, and focus. Often compared to yoga, this form of exercise provides an approachable way to participate in a steady low-impact workout while also calming the mind. By performing slow, natural motions, participants learn to control their breathing effectively while gaining a better balance.
For a quick history lesson, tai chi is estimated to have originated at least eight centuries ago. The tenants of tai chi stem from Chinese Taoism, an ancient philosophy that teaches health and longevity. Taoism revolves around the balance of yin and yang: the idea that everything natural has two opposite sides that are dependent upon one another. This concept is reflected in the flowing, circular movements of tai chi, in which each motion leads into the next in order to create a balance of both mind and body.
There are several styles of tai chi with their own characteristics, including Chen, Yang, Hao, Wu, and Sun. The most popular of these styles, the Yang style, is also one of the most widely practiced and approachable. This form of tai chi highlights the slow and graceful movements that promote health and stability. However, each style comes with its own unique aspects that give tai chi enthusiasts plenty to learn and explore.
The Basics of Tai Chi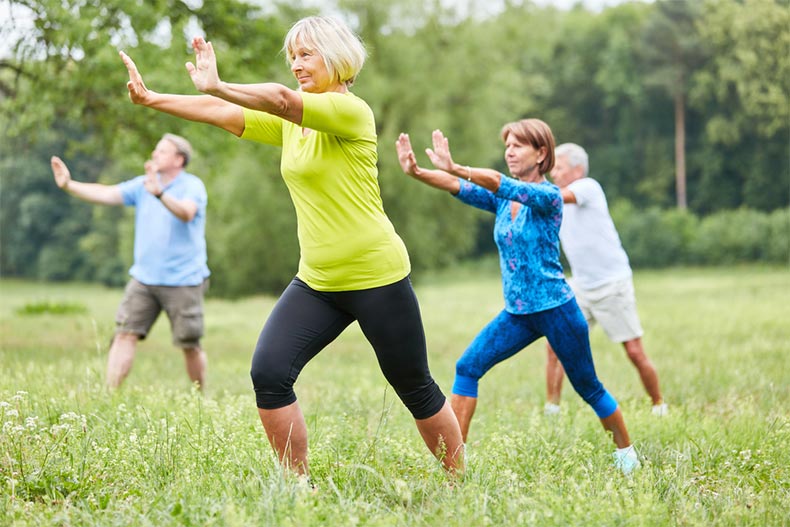 Tai chi centers around simple and light movements that offer desirable health benefits for seniors. The basic practice of tai chi involves the performance of slow and gentle motions while breathing carefully and calmly. In a tai chi class, participants follow the movements led by the instructor. Many of the movements, also called postures or poses, have memorable names, such as "part the wild horse's mane" or "grasp the bird's tail." These nicknames make it easier to learn different moves that can be combined endlessly into sequences.
During tai chi, participants move through several rounds of poses connected through movement. The poses combine to form sequences or sets. These sets might be repeated two or three times during one tai chi class. As the postures are repeated, participants become more familiar and comfortable with the movements. Although the movements are simple enough for beginners to follow along, many people learn the movements easily and gain confidence in their skills.
Many of the sequences in tai chi involve shifting weight from one foot to another while moving the arms and hands. Most of the movements occur in a pose with slightly bent or flexed knees. Maintaining a straight back, the tai chi movements center around gentle rotations. These careful and intentional poses indicate how tai chi can help with posture, balance, and muscle strength.
In addition to learning postures and poses, participants also learn to breathe properly. Participants become attuned with breathing from their center and learning to pay attention to each breath as they perform motions. By practicing effective breathing, active adults can create a physiological balance in the body.
Proper breathing also ensures that participants avoid physically straining themselves, which is another foundational concept of tai chi. Remaining relaxed represents a key to executing each maneuver since tai chi strongly de-emphasizes muscle tension and hyperextending joints, making it an ideal activity for seniors.
Although the martial art of tai chi focuses on standing poses, many of the tai chi movements have been adapted into poses that can be completed while seated. Some seniors may prefer to practice seated tai chi, in which the motions focus on moving the arms and torso while maintaining good posture. This provides an even more low-impact form of activity in which anyone can participate. The building blocks of performing tai chi are approachable for active adults of nearly all physical and mental conditions.
The Benefits of Tai Chi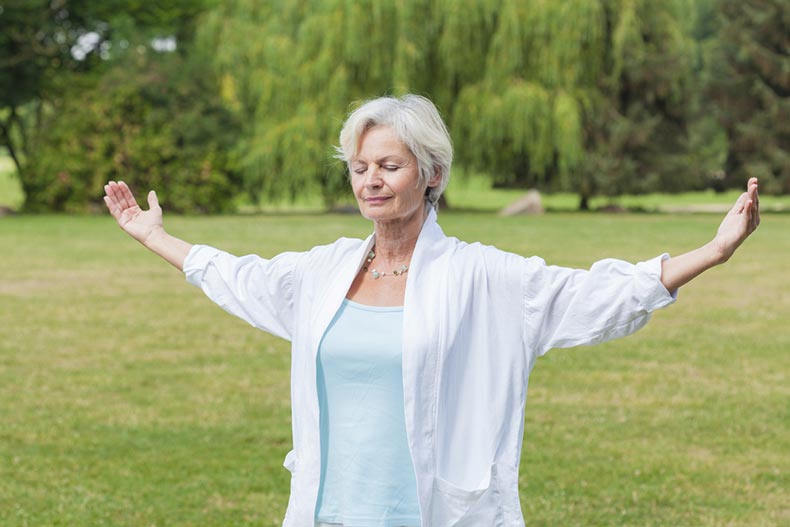 Those who participate in tai chi can reap an abundance of physical and mental benefits. This whole-body exercise can strengthen both the body and the mind. The benefits of tai chi are the main reason so many people decide to participate in this martial art.
The practice of tai chi improves strength, flexibility, balance, and stamina. It contributes to overall improved health and wellness. While these improvements are beneficial on their own, they also correlate to a sense of health and wellbeing that many seniors seek. A better sense of balance, for example, indicates a decreased risk of falls. Tai chi can help with pain relief, weight loss, and cardiovascular health. Over time, participants can improve their posture, boost their immune systems, and feel less pain in their joints.
Compared to other exercises, tai chi offers a safe and effective alternative to more fast-paced sports. Instead of speed and agility, the activity values deliberative and calm movement. Rather than competition, participants need only compete with themselves to notice their continuous improvements. Anyone can participate in tai chi and enjoy the benefits of the activity without as much strain on the joints, muscles, and heart as other exercises.
Rather than high-impact sports, tai chi shares some similarities with swimming and yoga because it's a low-impact exercise that encourages loose muscles and joints through circular motions. Although tai chi might seem similar to yoga, it's worth asking which is better for seniors. The answer certainly depends on individual needs, preferences, and health goals, but ultimately, many active adults see tai chi as a more accessible form of exercise.
What's more, learning tai chi can even improve your performance in other sports, such as golf or tennis. Across a spectrum of mental, physical, and social health, tai chi can improve quality of life for many seniors.
In addition to the physical benefits, tai chi allows participants to de-stress their minds, which can improve many aspects of life, such as sleep and mood quality. The cognitive benefits of tai chi include improved coordination, peace of mind, and a better mind-body connection. The participation in recognizable and repeatable sequences of movement can even assist with memory and ward off cognitive decline.
Tai chi also offers social benefits. Just like participating in any group exercise or sport, participants can join a community of like-minded individuals to meet friends with similar interests. Tai chi can easily become an enjoyable hobby that active adults look forward to participating in and practicing every week.
Getting Started With Tai Chi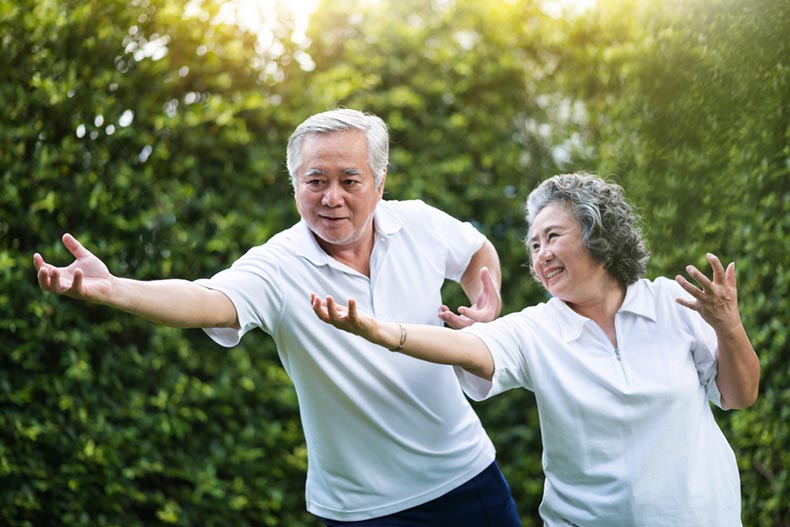 All you need to get started is some loose, comfortable clothing and a willingness to let yourself focus and relax.
The first step to becoming a student of tai chi is to find a way to learn that best aligns with your needs and health goals. If you feel some uncertainty about whether you want to try an in-person class, there are plenty of free online options that allow you to dip your toes in the water. That way, you can watch and try it out before committing to an in-person class. YouTube can provide curious beginners with hundreds of instructional videos to start your journey.
If you decide that you would like to become more involved, active adults can participate in classes and join tai chi communities. Many active adult communities that have fitness centers and aerobics studios host their own tai chi classes where you can experience the martial art close to home. While many beginners appreciate having an instructor or experienced friend to guide classes or movements, it's not a necessity to have an instructor. However, participation in group tai chi classes can often help you reach your fullest potential.
In addition to the low-impact, high-reward exercises, one of the best parts of tai chi is that truly anyone can participate. You don't need any special equipment or outfits to get started. All you need is some loose, comfortable clothing and a willingness to let yourself focus and relax.
When first starting out, it's important to note that establishing a regular practice routine is essential in order to see and feel the long-term benefits of tai chi. While tai chi is easy and approachable to begin, gaining expertise and mastering tai chi will take focus and determination to achieve. Individuals can decide how much time and effort they commit to practicing each week, but a consistent and stable routine helps active adults begin to see and feel results as quickly as possible. Remember to talk to your doctor before beginning any new fitness routine or adding new forms of physical activity into your lifestyle.
Active adults can also customize their tai chi sessions to fit into any schedule and lifestyle. Participants can choose from short and long-form tai chi. The primary difference between these forms relates to how many moves occur in a single session. Most tai chi classes last between 30 and 90 minutes, including warm-up and cool-down stretches.
Some seniors might prefer to casually participate in tai chi, while others consider tai chi an integral part of their journey toward health and wellness. Either way, all you need to get started is an open mind and a willingness to learn.