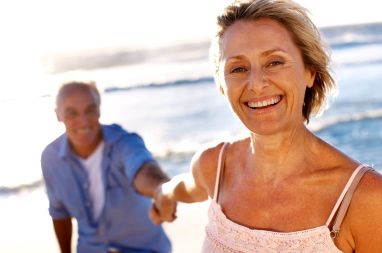 While a sunny climate is great for outdoor activities like swimming, biking and golfing, those golden rays may not be so great for your skin. When you're outside, sunscreen adds a layer of protection. However, there are some things to consider when choosing-and using-sunscreen lotions.
In recent years, advice for choosing a sunscreen has gotten rather complicated. While too much sun exposure can increase the risk of certain skin cancers, concerns have also been raised about some of the chemicals used to create sunscreen. When absorbed into the skin, it's thought that some of these substances may trigger hormone imbalances.
Sunscreen formulas which offer high SPF ratings can also be misleading, because they provide a false sense of security and do not last as long as most people expect. The FDA has even warned that some spray sunscreens contain flammable chemicals which could be dangerous around a barbecue or other open flame. It's also important to understand what protection your sunscreen is offering.
There are two types of harmful UV rays: UVA and UVB. Some sunscreens are only designed to protect against UVA rays, leaving you exposed to UVB rays. Sunscreen labeled "broad spectrum" are designed to protect against both UVA and UVB rays. Although these concerns may make sunscreen sound less than ideal, wearing a broad spectrum sunscreen is still considered the safest way to protect yourself from the well-known risk of skin cancer.
To make it easier to find a safe, effective sunscreen, Environmental Working Group (EWG) offers their own guide to current sunscreens. EWG conducts their own research and publishes articles to help consumers understand their sunscreen options. Once you've chosen a sunscreen, it's important that you use it regularly and reapply it frequently. Sunscreen should go hand-in-hand with all your favorite outdoor activities, whether you are swimming at the community pool, challenging a friend on the tennis courts, biking along a scenic route or even shopping at an outdoor mall.
Any activity that lets you enjoy the sunshine also needs some sun protection. When applying sunscreen, include any exposed areas such as your face, arms and legs. When you put sunscreen on your face, remember to include your neck and chest. If you are wearing a sleeveless or low-backed top, you also need to cover your shoulders and back. The backs of hands and tops of feet are often overlooked when applying sunscreen, but they are just as susceptible to sunburns.
Men who are balding should protect their scalp, and anyone with short hair should remember to put sunscreen on their ears and the back of their neck. By choosing the right sunscreen and applying it regularly, you can enjoy your favorite outdoor activities without putting your skin at risk.