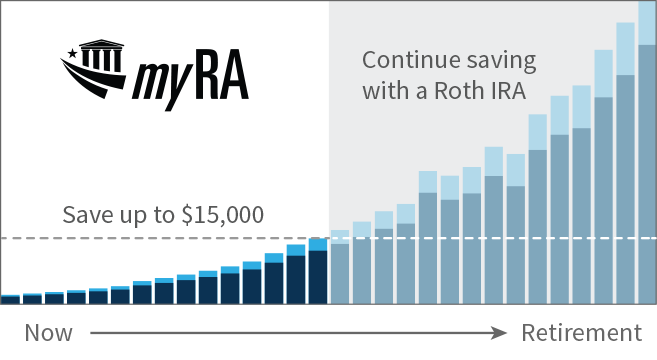 Saving for retirement has become more and more difficult for many cash-strapped Americans, leading to the creation of the myRA program. This program, started by the federal government, allows employees who lack access to traditional retirement accounts to start building a nest egg, a vital initial step towards realizing the retirement dream.
But how does it work exactly? And who is this program for?
If you currently have a 401(k) account through your employer or an individual retirement account, then the myRA plan will not affect you. Also, individuals who make more than $129,000 and couples who earn more than $191,000 are not eligible for the program. The myRA program targets individuals who do not have access to a 401(k) or other retirement accounts through their company, although that company does have to agree to offer the myRA program.
So why would a company choose to offer the myRA plan instead of a 401(k)? Because it offers little to no effort and costs nothing. All administrative costs are covered by the federal government including paperwork, investing, and hiring a plan sponsor.
But now that the company is essentially removed from the individual employee's retirement savings, employers will not contribute to the savings plan at all. The federal government will only offer a credit towards individuals who earn up to $30,000 a year and couples who earn up to $60,000 per year. Make any more than that, and the interest from the principal will be your sole source of growth for your account.
And where, exactly, is that interest coming from? Uncle Sam invests the money into Treasury bonds. The great thing about Treasury bonds is that they are essentially risk-free, meaning that you never have to sweat about losing your principal. Savers, however, see little return on their investment, given that the rate of return is usually very low. Typically, 401(k)s and IRA accounts invest in a mix of stocks and bonds, ensuring some form of security combined with riskier investments that can yield larger rewards.
To get started with a myRA, savers have to make an initial contribution of just $25 (a far cry from the usual hundreds of dollars it is recommended for an initial IRA contribution). After the account is established, savers can contribute as much as they would like and can have automatic deductions taken from each paycheck. Contributions are made post-income tax (like a Roth IRA), making withdrawals and investment gains tax-free.
Also like a Roth IRA, the myRA program allows a maximum contribution of $5,500 annually ($6,500 if you're over 50). Since the myRA program is intended to help workers establish a retirement account and not as a long-term plan, savers will have to switch to an IRA provider in the private sector once their myRA account reaches a balance of $15,000.
A myRA account is perfect for workers who switch employers often, since they don't have to roll over the account like is required with a 401(k). It's also ideal for those who wince at the thought of paying administrative fees to private account providers. With investments exclusively in Treasury bonds, the risk-averse also find solace in the myRA program.
The cons with a myRA? Since you're paying income tax on the contributions before they enter the account, savers can't take advantage of the lower taxes they would likely pay if the account was tax-deferred (since most people would be in a lower tax bracket in retirement). The less disciplined might have a hard time resisting withdrawing the money because the myRA doesn't have the hefty price tag of early withdrawals like most IRAs. Although the Treasury bonds provide stability, savers hoping for a more luxurious retirement will have to look elsewhere for the higher risk/higher reward investments.
What do you think of the myRA account? Would you think about opening one?