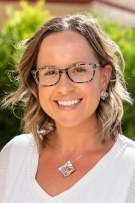 Tierra Antigua Realty
Lic. #SA659789000 (AZ)
Contact Me
Rebekah is an Arizona Native. She grew up in Casa Grande, AZ just north of Tucson. In 2005 her adventure took her to the United States Navy to fight and serve for her country.

In the Navy, she worked as an Aviation Machinist's Mate on the now decommissioned EA-6B Prowler. She was stationed at Naval Air Station Whidbey Island in Washington State. She did one Sea Deployment aboard the Aircraft Carrier USS Harry S. Truman to the Mediterranean Sea. During this deployment, she was able to experience the cultures of countries such as Italy, Greece, France, and the UAE. Other places she was fortunate enough to explore are Japan, Guam, Hawaii, and many states in America.

She completed her obligation of 4 years with the Navy and moved to China Lake, CA in 2009. There she worked as a civilian contractor for the US Navy while earning an Associate's Degree in Liberal Arts with an emphasis in Math and Science. In 2015, her husband's job relocated them to Tucson, and that is when she decided to put her Combat boots up and high heels on as a Real Estate Agent. After having her first and only child in 2016, Sawyer John Word, all work was put on hold for a while and they moved from North West Tucson to Sahuarita. It wasn't until October 2018 that she found her true love and passion for being a Realtor in Green Valley and Sahuarita with Tierra Antigua Realty.