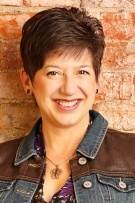 Coldwell Banker Distinctive Properties
Lic. #00235366 (KS)
Contact Me
Originally from southern Louisiana, Terri made her home in Kansas City over 30 years ago. She has built her real estate practice by forging strong relationships through effective communication and trust. Terri takes a consultative approach to buying and selling homes to guide her clients through the ever-changing real estate market. You will know what to expect and what options are available along the way, allowing you to make informed choices with confidence. 

Specializing in lifestyle transitions, Terri has helped over 200 families in Kansas and Missouri make moves that positively impacted their lives. She gets to know her clients and understand the 'why' for making a move – getting to the heart of what's most important in their next home and community. Whether you've bought many homes over the years or are selling your family home and moving to a new area, Terri is committed to making the process as smooth and stress-free as possible.

Terri has an adventurous palate. When not with clients, she's in the kitchen experimenting with new recipes to share with family and friends or finding different cuisines to sample. And, her life wouldn't be complete without music. She sings in two choirs, rings bells, and enjoys all kinds of concerts and Broadway shows.