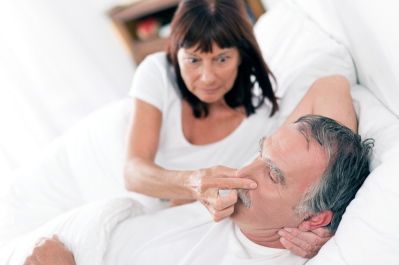 When looking at new construction homes, it's not uncommon to find many floor plans that offer two master bedroom suites. While you might assume that the second master bedroom is for overnight guests, it's likely that the design was created to give the option of "his and hers" owner suites.
Though some are reluctant to discuss it, many happily married couples have found that sleeping in separate bedrooms has many benefits. Separate bedrooms are not necessarily a sign of a marital rift or the end of intimacy. In fact, many couples report having a better sex life after moving into their own rooms, mainly because they are finally well-rested.
Sleep problems affect millions of people every night, and a good night's sleep often becomes more elusive as people grow older. To combat insomnia, experts recommend a variety of measures to improve the sleep environment, such as having a regular routine and keeping the bedroom at a comfortable temperature. However, all of those things become more complicated when two people are trying to adjust the same environment to fit two different sets of preferences.
Even couples who are completely compatible by day may have very different sleep preferences. One person may like a room that is cool enough to leave the other person shivering under a pile of blankets. One person might need a night light, while the other does not want even a small sliver of light. Even choosing a mattress can create discord, as the firmness that supports one person can leave the other feeling like they are sleeping on a slab of rock.
Medical conditions can be a factor as well, particularly when one person (or both) snores or has a problem like restless leg syndrome. Though couples may be supportive in the light of day, sleep deprivation makes it easy to build resentments over the course of a few difficult nights. For retirees, separate bedrooms may also be a practical solution when couples are wanting more personal space.
After spending most of the day together, it can be nice to retreat to separate bedrooms for a little "me time." This is especially true for couples who keep different schedules, as early risers and night owls won't have to worry about disrupting each others' sleep. Separate bedrooms have become so prevalent that a 2007 survey by the National Association of Home Builders predicted that 60 percent of custom homes would have dual master bedrooms by 2015.
Active adult communities seem to be following this trend as well, and many builders feature model homes with dual master bedroom suites. As couples become comfortable with valuing a healthy sleep environment over a shared marital bed, the trend toward dual master suites will continue to grow. Studies which show the importance of sleep on overall health may also influence a couple's decision to give separate bedrooms a try.