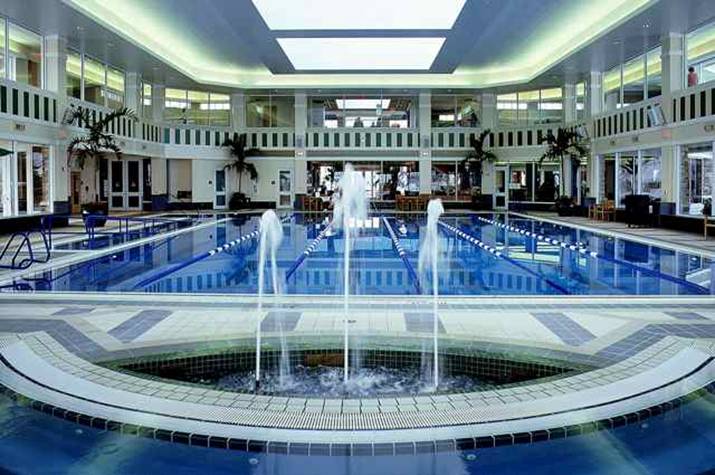 With summer heating up, outdoor swimming pools are a natural gathering place for active adults across the country. They're a great place for cooling off or relaxing with friends.
Swimming is also a gentle exercise that brings some great health benefits. Here are 10 reasons why you might want to give swimming a try:
1. Swimming builds muscle tone and strength
Instead of moving through air, a swimmer has to push through water, which is about 12 times more dense. This added resistance builds muscle with each movement.
2. Swimming is heart healthy
Swimming is an aerobic activity, which means it helps improve your cardiovascular health. Aerobic activity has also been shown to raise your "good" HDL cholesterol, while lowering "bad" LDL cholesterol.
3. Swimming improves flexibility
While other exercises focus on one muscle group at a time, swimming offers fluid motion which can help joints and ligaments stay flexible. Water also supports your body while performing traditional stretches.
4. Swimming is gentle on joints
Water density adds resistance to your exercise, but it also lifts you up, effectively reducing your weight and the strain on your joints. This is a particularly great benefit for those with arthritis or who are overweight.
5. Swimming can increase your balance
By building muscle tone and flexibility, swimming may help you improve your balance and reduce your risk of falls. However, you still need weight-bearing exercise, like walking or strength-training to build bone density.
6. Swimming improves your mood
Exercise releases endorphins which are natural chemicals that improve your mood. Swimming regularly may reduce stress and anxiety, and even help relieve symptoms of depression.
7. Swimming may reduce asthma symptoms
For those with asthma, the warm, moist air of a swimming pool may help reduce symptoms during exercise. Regular swimming may also help by increasing lung capacity and aerobic endurance, but check with your doctor to see if it's the best exercise for you.
8. Swimming can help you lose weight
As with other exercise, swimming burns calories and helps you lose weight. For the best results, track your diet to make sure you are burning more calories than you are taking in.
9. Swimming may lower your risk of diabetes
Diabetes rates are on the rise, especially among older adults, but aerobic exercise has been known to reduce your risks. Swimming can be a great way to get those aerobic benefits while putting less strain on your body.
10. Swimming can help you socialize
In addition to all its physical benefits, swimming can get you out of the house and give you a chance to meet new people. Socializing and making friends reduces stress, increases happiness and improves your overall mental health. What's more, if swimming laps isn't your thing, water-based activities like water aerobics also offer many of the same benefits.