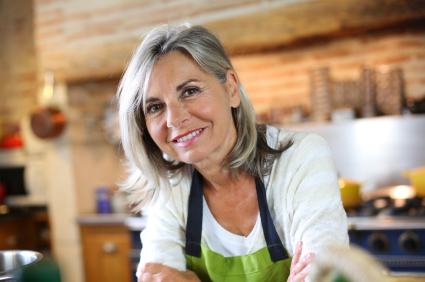 The holidays are a time for giving, but gifts do not have to come from the store. The most appreciated gifts are often those that are chosen with care and made with love. If you'd like to try your hand at making holiday gifts for your family and friends, there are many ideas to choose from.
The easy gifts described below are thoughtful, but inexpensive, letting you stretch your shopping budget. They are also great ideas to put together in a group setting, such as a craft club or with a group of friends.
1. Cookies and baked treats
Everyone loves holiday treats and hand-baked gifts are especially dear. A great way to make up gifts with a variety of treats is to participate in a cookie exchange. Everyone in a group of friends or a social club bakes a few dozen of their favorite cookie recipe (usually one dozen per number in the group), then swaps a dozen with everyone else. If you live in a community with a demonstration kitchen, you may be able to even bake all the cookies together.
2. Planted herbs
Fresh herbs, like basil, rosemary and thyme, are a welcome addition to any recipe. To create a simple gift, plant your favorite herb (or herbs) in a decorative container and dress it up with a festive bow. Vintage tea cups make excellent small herb pots, and cups from incomplete sets are usually inexpensive at antique shops.
3. Prepared cookie or muffin mix
Instead of delivering baked goods, you can also give a gift of easy baking with a homemade cookie or muffin mix. Simply layer the dry ingredients from your favorite recipe in a glass jar and tie it with a ribbon. Add instructions for preparing the recipe, including a list of the other necessary ingredients, like eggs, butter or milk.
4. Home-canned fruits or preserves
While you do need to learn a few steps for safe canning, this handy skill is a great way to create memorable holiday gifts. Once you learn the tricks of the trade, it's easy to can fruits, vegetables or even homemade jellies and jams.
5. Handmade hot cocoa mix
When the winter weather turns frosty, it's lovely to warm up with a cup of hot cocoa. You can easily create your own homemade mix, to be prepared with simmering milk. A basic recipe would be simply mixing 2 cups of cocoa powder, ¾ cups of sugar and 8 ounces of semisweet chocolate chips in a glass jar. Add instructions to heat ¼ cup of the mix with ¾ cups of milk.
6. A family recipe book
If your family and friends often compliment your cooking, you may want to give the gift of your treasured recipes. You can print your recipes on cards in a small scrapbook, making the project as simple or ornate as you wish.
7. Handmade soaps or candles
Crafts stores have all the supplies and instructions you need to get started with simple soap or candle projects. Use your experience with your friends and family members to create the scents and colors you think they will like most. Adding a note explaining your choices is a thoughtful touch.
8. A monogrammed journal
A simple journal becomes a special gift with the addition of a personalized monogram. Add a single letter monogram to the cover of the journal and use a rubber stamp to decorate the end leaf pages with the matching monogram as well.
9. Reusable fabric shopping bags
If you have a sewing machine and basic sewing skills, you can easily stitch up some simple fabric shopping bags. These handy totes can be washed and reused, cutting down on waste and saving your friends the hassle of returning plastic shopping bags for recycling.
10. Infused vodka
Homemade vodka infusions are a fun gift for adult friends and family members. They are easy to make, as well, although they do take several days or weeks to steep. Additions with stronger flavors will infuse the vodka more quickly, while more mild ingredients will take more time.
Once the vodka has reached the right flavor, simply strain it into an empty bottle. Drinks made with a unique flavored vodka are perfect for ringing in the new year. Do you love giving homemade gifts? Have you had success with any of these ideas? Or do you have some other simple ideas to share? We would love to hear from you in the comments below.