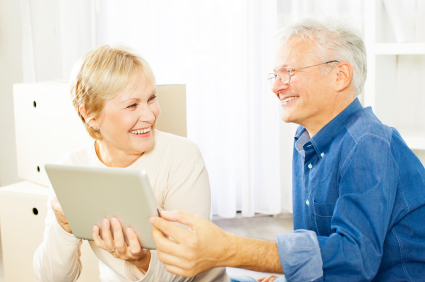 Planning for retirement can be a daunting task, yet the Internet has made the process a bit easier. A wealth of information is available when you visit any of these 10 great online retirement planning resources.
1. Social Security Administration
The Social Security Administration's Retirement Planner is a great site for adults of any age. It offers information about setting up retirement savings plans, applying for Social Security benefits and applying for Medicare.
2. United States Department of Labor
The United States Department of Labor offers a helpful publication called Taking the Mystery Out of Retirement Planning. This guide, which includes interactive worksheets, is available to read online, download as a PDF or print for offline use. You can also order paper copies of the booklet by calling 1-866-444-3272.
3. Internal Revenue Service
When it comes to retirement savings, taxes are an important consideration. The IRS' website provides a useful resource with its Tax Information for Retirement Plans. Information covers topics such as comparing retirement plans, instructions for filing tax returns and tips for avoiding common mistakes.
4. Retirement Planning
Whether you are looking for retirement tips or for professional help with your retirement savings, you can get help at RetirementPlanning.net. In addition to helpful advice, this site offers a state-by-state directory of professional retirement planners.
5. AARP Retirement Planning
The AARP has a well-earned reputation for providing retirees with useful information in many different areas. The AARP also offers a great Retirement Planning resource online. This specialized area features numerous articles, quizzes and infographics designed to help educate both current and soon-to-be retirees.
6. CNN Money Retirement
CNN Money's Retirement website offers a comprehensive guide to retirement planning, including answers to frequently asked questions and overviews of savings plans. There is also a simple calculator to help you estimate how much money you will need to save before retiring.
7. Bankrate Retirement Planning
The online Retirement Planning Resources available through Bankrate includes a changing line-up of useful articles on a number of subjects. Bankrate also offers a wide range of planning calculators, such as the 401(k) savings calculator, the life expectancy calculator and the retirement shortfall calculator.
8. Fidelity Retirement Planning
Fidelity's Retirement Planning website is designed to help working adults plan for retirement, as well as guide retirees throughout their retirement years. In addition to providing a wealth of knowledge, Fidelity can help you find the right IRA, small business retirement plan or annuity to suit your needs.
9. Prudential Retirement Planning
As with other financial websites, the Prudential Retirement Planning site answers common questions, provides informed guidance and offers their own retirement products and solutions. Calculators, studies and other tools are also available to help soon-to-be retirees from many different walks of life.
10. Ameritrade Retirement
At any stage in the planning process, Ameritrade's online Retirement resource provides valuable guidance through articles, webcasts and personal consultations via phone or email.
Popular tools include Ameritrade's retirement checklist, IRA Selection Wizard and retirement calculator. Whether you're in the early planning stages, ready to retire or already retired, these resources each provide great information to help you meet your goals.