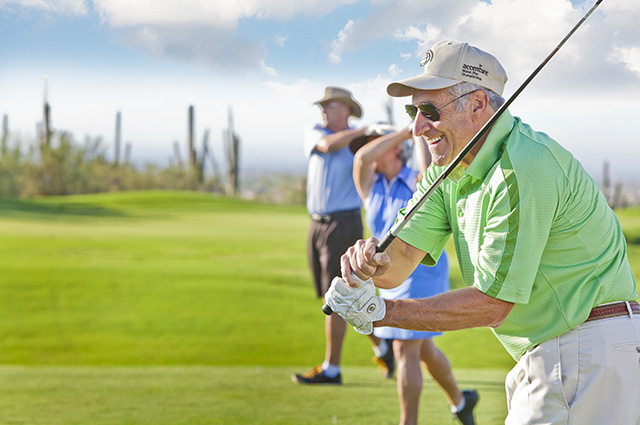 As most golfers know, improving your golf game takes more effort than just hitting the greens more often. If you really want to take your game to the next level, it's time to focus on some training and discipline off the course. That means working on your fitness, mechanics, nutrition and even your mental game. Try these five tips to get your golf game on the right track.
1. Improve Your Fitness
Fitness training off the course can do wonders for your golf game. Focus on building core strength, as well as improving your flexibility and balance. A personal trainer can tailor an exercise program that is optimized for golf or you can find a wide range of fitness programs online, such as this one from Golf Digest. When it's time to play, don't forget to warm up before you begin and stretch throughout the course to keep your muscles in top shape.
2. Use the Practice Facilities
Next time you head to the driving range or putting green, make sure you are doing more than just hitting golf balls. Practice with a specific purpose. Think about the mechanics of your game and what areas need the most improvement. Go through the fundamentals and really feel your body in motion. Set goals for yourself and design drills that will help you reach them.
3. Take Private Lessons
Working with a professional golf instructor through private lessons is often the best way to find the problems with your game and design a strategy for improvement. To get the most out of your golf lessons, show up prepared. Warm up and stretch before the lesson, be open to suggestions and critiques, ask questions and allow yourself time to practice right after your lesson. Taking the time to practice immediately will help your body catch up to what your mind learned during the lesson.
4. Improve Your Mental Game
There are several ways you can over-think a shot or let pressure and doubt get the better of you. Instead of focusing on the results, try staying in the moment and thinking through the process of how you play. Develop a checklist to follow whether you are practicing or playing a course. Clear your mind, visualize the shot, check your alignment, check your breathing and assure yourself that you are ready before starting your swing.
5. Fuel Your Game With Proper Nutrition
Golf is often an early morning game and too many golfers skip breakfast before hitting the greens. If you want to have the energy for a good game, you have to eat a healthy breakfast and drink plenty of water. It's also a great idea to bring healthy snacks to keep your energy up during the game. Some good options are almonds, raisins, peanut butter and whole wheat crackers, beef jerky and slices of fruit. Also be sure to stay hydrated while you play by drinking water throughout the course.