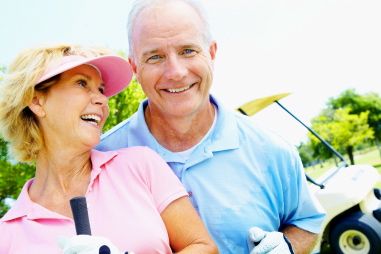 There are many reasons why empty-nesters and retirees choose to live in active adult communities. Some love the idea of living on a championship golf course, others are drawn to the wide variety of social clubs, and many are won over by the thoughtfully-designed low-maintenance homes. Here are seven benefits to consider when imagining life in an active adult community:
1. The Lifestyle
A healthy lifestyle includes a variety of social and recreational activities. At active adult communities, residents will find more clubs, classes, organizations, activities and events than they can imagine. These amenity-rich communities often have full-time Lifestyle Directors or concierge services as well, which helps residents find activities to meet their own personal interests.
2. Low-Maintenance or Maintenance-Free Homes
The monthly Homeowners' Association (HOA) fees at active adult communities often include the home's exterior maintenance and landscaping needs. This frees residents from tedious maintenance tasks and gives them more time to enjoy the active adult lifestyle.
3. Real Friendships
With so many social activities and events, active adult communities make it easy for residents to meet their neighbors and form real friendships with people who share the same interests. In addition to social clubs and recreational activities, some communities also offer support groups to help those coping with an illness, loss, or other difficult situation.
4. World-Class Resort-Style Amenities
There's a reason active adult communities are often described as providing resort-style living. While features do vary from one community to the next, most developments include spacious clubhouses with numerous indoor and outdoor amenities. Many offer championship golf courses, state-of-the-art fitness centers, full-service spas, lighted tennis facilities, and other spectacular attractions.
5. Main Level Living
Homes in active adult communities are specifically designed for older residents. That generally means one-story homes which let residents avoid the hassle of climbing stairs several times a day. Even homes that do have second-story lofts or finished basements, still typically offer main level living with the kitchen, living room, dining area, and master bedroom suite all on the first floor.
6. Child-Free Streets
People who choose to live in age-restricted communities generally like children — they just don't necessarily want them playing in their streets or taking over the clubhouse amenities. Active adult communities let residents live among their peers, and enjoy visiting grandkids, without having to worry that their neighborhoods will be overrun by children or teenagers.
7. Community Curb Appeal
As visitors (and residents) drive through an active adult community, they are likely to be impressed by its scenic beauty. Developers commonly include lakes, fountains, and natural green space into their community plans, and home landscaping is often included as part of the HOA fees. This creates an inviting community with plenty of curb appeal. Are you a resident of an active adult community? If so, tell us why you enjoy this type of lifestyle in the comments below.