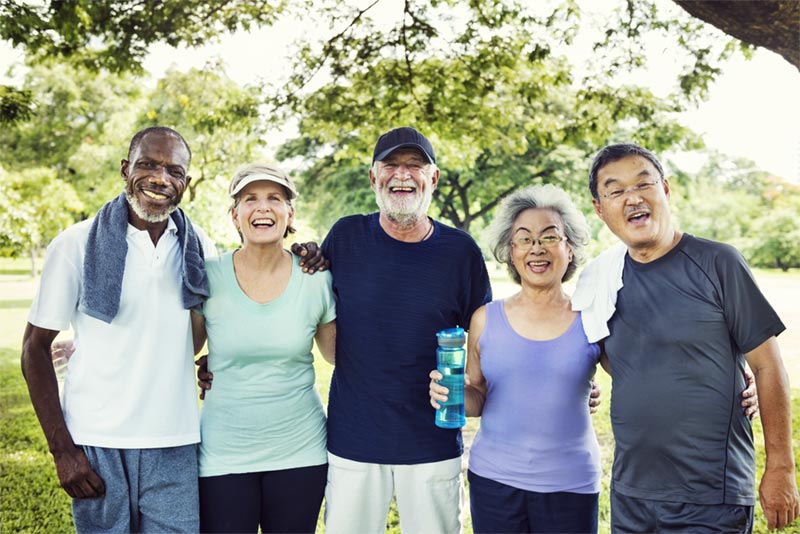 Living a healthy lifestyle during retirement is becoming increasingly popular with today's retirees. The physical and emotional well-being of retirees is among one of the top concerns facing the retirement age population. More than ever, active adult and retirement communities are promoting the effects of a healthy lifestyle. While most adults are well aware of the key aspects of healthy living—eating well, physical activity and social stimulation—many are finding it difficult to maintain these attributes in their older age.
Recently, U.S. News & World Report interviewed Mary Altpeter, a senior research scientist for the University of North Carolina Institute on Aging, about finding great places to retire to and how to maintain physical well-being during retirement. Mary offered some great insight on a number of important factors for retirees to consider:
Find a place with adequate healthcare.
More often, retirees are settling in places close to university medical centers where they can receive state-of-the-art treatment and access to top-notch doctors. Also, finding hospitals with trained geriatricians may seem a bit scary for the most active adults, but eventually most retirees will require this kind of care.
Choose a community that allows you to age-in-place.
This means finding a community that has all of the components necessary to you as you grow older. This may mean finding a community that has good public transportation and a variety of shops and services in close proximity. Think about your needs in the future such as continuing care facilities or assisted living.
Avoid places that have high pollution and crime rates.
While this may seem obvious, some retirees are living in areas like this that are less expensive. While you may save on housing or taxes, the price to your health and personal well-being can be greatly affected.
Look for places that have an abundance of doctors who accept Medicare.
Also, make sure that the doctors in the area are accustomed to working with older adults. Popular retirement areas often have doctors that are familiar with the needs of older people.
Look for places that encourage physical activity.
Find a community that has workout facilities within the community or nearby. An activities director or personal trainer offer an added bonus as someone who can set you up on a regular workout program. Smaller or older active adult communities may lack the equipment or instruction to promote your physical well-being.
Choose a climate that is conducive to physical activity.
Every area of the country offers pros and cons. When you choose an area to retire, be sure it offers facilities that allow you to stay physically active 12 months out of the year. This may mean indoor swimming pools and walking tracks if you choose an area with exceptionally hot summers or cold winters.
Plan for the future.
Sure, you may be in peak physical health when you retire at 55, but what about 30 years from now? A quiet cabin in the mountains may sound like the ideal retirement for some. But what happens when weekly visits to the doctor are 100 miles roundtrip or you do not have access to places that will encourage physical and social stimulation throughout the year?
Every retiree has different dreams of the ideal retirement. Since you have worked hard your whole life to enjoy this moment, it is important that you settle on a place that helps you accomplish the lifestyle you set out for in retirement. Be sure that when you make your decision that you have weighed all your factors. Taking the time to research a place that makes you happy and promotes your well-being will only help make your retirement years more enjoyable.