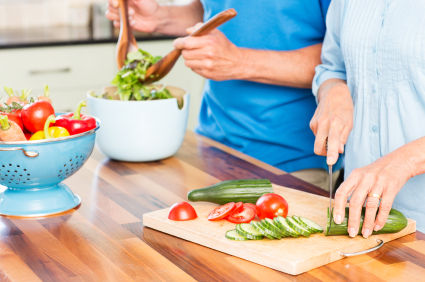 Staying healthy means more than making routine trips to the gym (although that's good, too!). To really enjoy a healthy, happy retirement, plan a lifestyle with activities to support your physical, social and mental health. This means pursuing new activities, making time for family and friends, staying involved in the world around you, and making time for yourself.
1. Know your numbers
Routine tests performed at your annual physical, and other doctor's appointments, help you measure your current health. Keep track of your cholesterol, blood pressure, blood sugar and weight. Talk to your doctor about ways to get those numbers into healthy ranges or maintain your current good results, then track your efforts to compare at your next appointment.
2. Have a healthy diet
Many health concerns can be helped with a nutritious diet. Focus on adding more fruits and vegetables in a variety of colors, while cutting down on sugar and fatty or fried foods. Signing up for a healthy cooking class can be a great way to learn new recipes and cooking techniques, and maybe meet some supportive new friends with the same goal. Drinking plenty of water, while limiting caffeine and alcohol can also make a big difference in the way you feel.
3. Ease into exercise
Regular exercise is good for everyone, at any age. But too much exercise can lead to injury or other problems if you jump into a new routine too quickly. Start slow and build your fitness plan gradually. It takes time for your body to adjust to the increased activity, but consistent exercise will bring results. Be sure to plan some time to rest after strenuous activities, too.
4. Reduce your stress
Stress affects health in many different ways. It can disrupt your sleep, raise your blood pressure, cause headaches, create digestive problems and much more. Reduce stress by planning time to relax each day. Weed out negative thoughts and try not to dwell on "should haves" or other regrets. Be kind to yourself. Remember that even happy changes, like moving or a family wedding, come with stress, so give yourself plenty of time to adjust.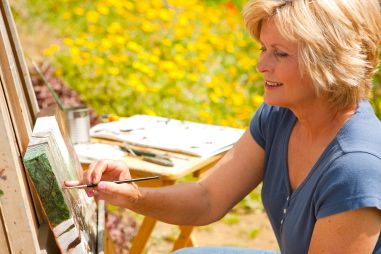 Enjoying hobbies, participating in group events and socializing with friends can improve mental health.
5. Find purpose
Finding a sense of purpose can be a challenge after you've retired from your career and your kids have grown into independent adults. However, there are many ways to add passion to your life. Look for a new hobby, go back to school or spend some time volunteering. There are many ways to define a sense of purpose, but it essentially means finding something you care about enough to look forward to doing each day.
6. Express yourself
Creative pursuits can be a great way to enhance your mental health, reduce stress and add passion to your life. You don't have to be a talented artist to be creative and your creativity doesn't have to take the form of traditional arts. Express yourself through journaling, joining a book club, dancing or just talking with friends. Your ideas and observations are worth sharing.
7. Foster relationships
For extroverts, socializing with friends and families is an absolute necessity, but introverts can benefit from some social time as well. Foster relationships with a variety of people so you can enjoy sharing different aspects of your personality. If you are often in a caregiver role, it is especially important to find someone who can relieve you from time to time.
8. Sharpen your mind
Learning new things is a great way to feel healthy and revitalized. It's also good exercise for your brain, which may have benefits for your physical health as well. Make an effort to break out of your routine and try something new. Take a class, attend a lecture or test yourself with crossword puzzles and other brain teasers. You can also stay sharp with regular card games, board games and other social activities. Creating a healthy lifestyle takes time, but the rewards are well worth the effort. Start small and begin building a lifestyle that helps you stay mentally, physically and socially fit.