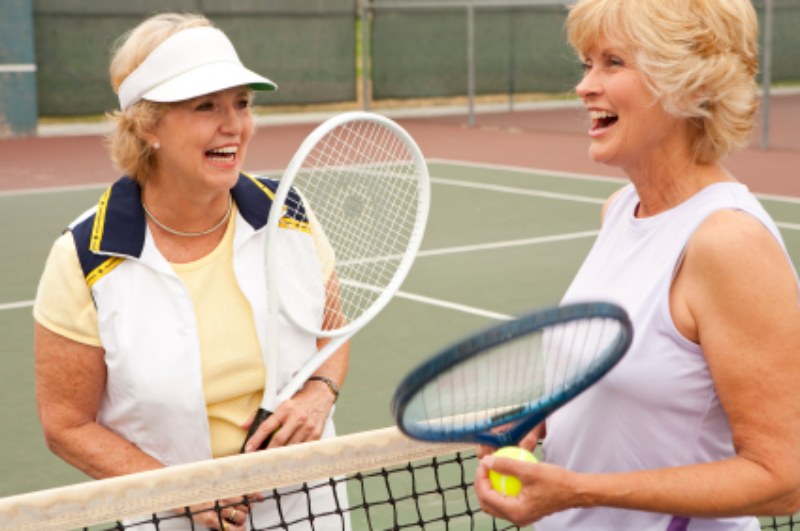 Today's active adults are interested in recreational activities that let them socialize while staying in shape. Tennis is a non-contact sport that is popular at many active adults communities for its social, physical and mental aspects. While anyone can see that this sport builds strength and stamina, it also exercises mental clarity as players make quick on-court decisions.
Communities with Tennis Courts
Tennis offered at active adult communities can vary from a simple court to full-service tennis facilities, such as those at Vineyards in Naples, Florida. Full-service facilities include benefits such as lessons, clinics, tournaments, and a tennis pro shop. Many communities offer Har-Tru courts, some of which are lighted for night games, and some active adult communities—such as Rapallo at Coconut Point in Florida, and Sun City Peachtree in Georgia—offer tournament courts with stadium seating.
While some tennis players have had a racquet in hand for most of their lives, other active adults may be interested in taking up the sport once they retire or have an empty nest. For the novice, choosing an active adult community with optimal tennis facilities can be a bit confusing. After all, it's hard to know what to look for whenever you're new to an activity. When assessing a new community, there are a few things that you may want to consider.
Choosing the Right Facility
One important question is whether any of the courts are lighted. While you may not expect to be playing late at night, a lighted court will make a big difference during a late-afternoon or early-evening game, especially during the winter months when the sun sets early. The type of court is also worth considering.
Many active adult communities offer Har-Tru tennis courts. This type of green clay court is popular in America, as it is slightly harder and faster than the red clay variety. Clay tennis courts (red or green) are also marked when a ball strikes, making it easy to see if a shot was in or out. Har-Tru courts may also be known as "rubico".
Tennis Training
Both new players and those looking to improve their game should find out what lessons, group classes, and tournament options are available at a particular active adult community. Tennis is a sport that requires lessons in the beginning, either in a group setting or one-on-one. As players advance, they can learn from each other, through special clinics, or through continued formal lessons.
Some communities, such as Valencia Lakes in Boynton Beach, Florida, offer their own on-site tennis pro for free tennis clinics or private lessons. For some active adults, tennis is a way of life. For others, it's a fun occasional pastime.
Whether you are a new player or a seasoned pro, tennis facilities are one of the amenities that make checking out an active adult community worthwhile.