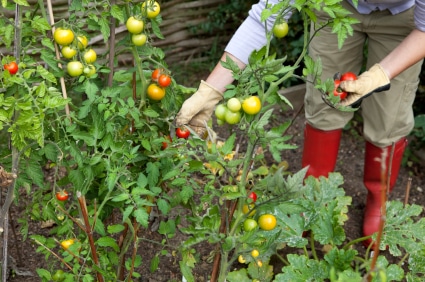 With their flowering plants, bountiful crops, and lush natural beauty, community gardens are becoming an increasingly desired amenity in today's green-minded society. Community gardens and "pocket parks" are popping up throughout urban centers and can be found nestled in the common areas of suburban neighborhoods. Some active adult communities have also embraced the community garden. There are numerous rewarding benefits that come from participating in community gardening.
1. Fresh Fruits, Vegetables, and Herbs
While some community gardens limit residents to flowers and herbs, others allow gardeners to cultivate a variety of fruits and vegetables as well. Fresh produce tastes great and is more appealing than its canned and frozen counterparts, which means its inclusion often leads to a healthier diet.
2. New Friendships
Whether residents join a formal garden club or merely work beside each other on neighboring plots, community gardens are a great place to meet new people. The shared interest and the experience of working side-by-side can often lead to lasting friendships that blossom beyond the garden boundaries.
3. Shared Knowledge
Both new gardeners and those with a lifetime of experience can learn from each other while working in a community garden. Each season, with its varying weather patterns and unique conditions, brings new challenges. Together, gardeners can learn new tips and tricks to yield the best possible crop.
4. Healthy Activity
Gardening is a healthy activity enjoyed by many active adults, and working in a garden burns calories, strengthens muscles, and offers fresh air and sunshine. Plus, the added social aspect of a community garden makes it an activity that promotes both physical and emotional health.
5. Community Spirit
The natural beauty of a community garden is a benefit that everyone in the community, not just the active gardeners, can enjoy. Gardens, parks, and other natural spaces provide tranquility for everyone who visits. Yet community gardens offer the added sense of pride that comes from nurturing a plant to fruition.
6. Cultural Opportunities
Often residents of active adult communities have relocated from other parts of the country. By combining a diverse group in one shared garden, gardeners can learn about fruits, vegetables, herbs, and gardening practices that they may have never otherwise encountered.
It's easy to see that community gardens offer many benefits to those who work in them and to the community at large. Just a few active adult communities that offer community gardens include Ceres Gleann in Oregon, Del Webb Charleston in South Carolina, and Regency at Monroe in New Jersey.