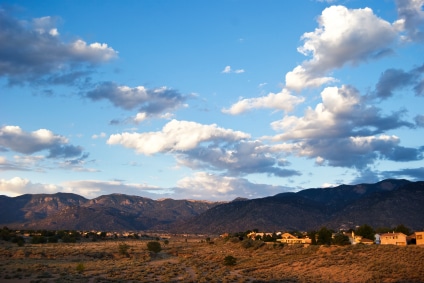 Located in the high desert of Central New Mexico, Albuquerque is a city rich with Spanish and Mexican influences, as well as its own distinct cultural identity. As first-time visitors will find, Albuquerque is a casual, friendly city that welcomes tourists and newcomers to explore the area, try the cuisine, and join in the city's annual festivals.
Founded as a Spanish settlement on the banks of the Rio Grande in 1706, the city was named for the Duke of Albuquerque. As the railroad passed through the area in 1880, a newer city sprang up around the tracks, just a few miles from the original settlement, and the focus shifted toward the bustling new railroad town. Both of these early locations are now part of modern-day Albuquerque, and the city has since expanded to become the state's largest urban center.
Albuquerque's Climate
Albuquerque, with its high desert location, has a warm, dry climate that experiences four distinct seasons. Summers are hot and mostly dry, though thunderstorms are common during July and August. Winters are cold and windy, and snow, though infrequent, does make an appearance. When visiting, it's important to bring the appropriate outerwear and rain gear for the season, but keep in mind that Albuquerque is a casual town, both in attitude and in dress.
The Attractions of Albuquerque
Though Santa Fe, approximately 60 miles to the north, is considered to be more of a tourist town, there is plenty to see and do in Albuquerque. In addition to the year-round attractions, there are annual events such as the New Mexico State Fair and the New Mexico Arts and Crafts Fair. And there is one Albuquerque event that trumps all others: the Albuquerque International Balloon Fiesta. Held at Balloon Fiesta Park each October, this annual event is the world's largest hot air ballooning festival. Balloonists from around the world come to inflate and launch their hot air balloons, while spectators flock to photograph the amazing sight, and perhaps go for a ride.
The rest of the year, visitors and residents alike can enjoy Albuquerque's rich culture, including its distinctive New Mexican cuisine, which is often paired with your choice of red or green chili sauce (ask the server which is hotter, as color isn't always an indication). Popular local activities include shopping at Old Town, which is built on the site of the original settlement, and going to see the Albuquerque Isotopes, the Triple-A baseball affiliate of the Los Angeles Dodgers.
Outdoor Attractions
For outdoor enthusiasts, the Sandia Mountains offer year-round recreations, such as hiking in summer or skiing during the winter months. The mountain peak can be reached by tram or by car (though driving takes about 45 minutes up a winding mountain path). Albuquerque has plenty of places for visitors to shop and dine, while performing arts centers, like the distinctive KiMo Theater, offer concerts and shows that will appeal to many interests.
Throughout the year, Albuquerque offers plenty of activities to entertain active adult travelers. Visitors will appreciate the city's distinct New Mexican charm. Those who consider making it their new home will be happy to know that there are fabulous active adult communities located just outside of Albuquerque. Two to consider are Jubilee at Los Lunas by Jenamar Communities, and Alegria by Del Webb. Whether planning a vacation or looking to relocate, take a second look at Albuquerque, and you may be surprised by all the city has to offer.