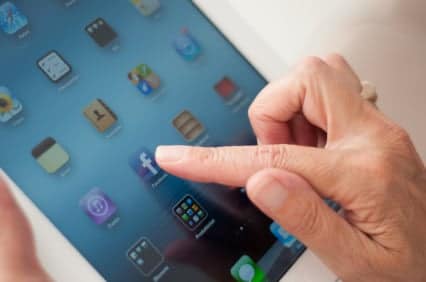 Baby Boomers who love their iPhones may find even more joy with their iPads. These powerful tablets can be used in a number of ways with apps ranging from games and social media to productivity and home business tools. An iPad is portable and easy-to-use, with a large screen and a long battery life.
The iPad's intuitive features make it easy for anyone to learn, and it is a logical choice for anyone who is already comfortable using an iPhone. To help users, Apple offers several online tips and tutorials from iPad basics to information on accessories and customer support. However, you can also jump right in and figure out the iPad as you go.
The way you use your iPad depends on the apps you have installed. It's easy to install and update apps from the App Store. Just tap on the App Store icon and start browsing. Apps are divided in many different categories, and are also listed by popularity on Top Charts. You can buy apps through the iTunes Store and download them to your iPad as well.
The App Store is tied to your iTunes Store account. You will need to type in your password whenever you purchase an app, regardless of whether it is a free or paid app. Tapping on any app in the App Store will show you its detailed description, reviews and other information. Many apps, even free ones, offer in-app purchases. This means that there will be add-ons or special features that you can purchase while using the app.
The App Store also lets you update the apps you have already purchased. Developers frequently offer updates to fix bugs, add new content or otherwise enhance their apps. These updates are free, but you have to install them. Simply go to the app store and tap on the "Updates" button at the bottom of the page. The Updates screen will show you a list of apps that have available updates. You can either update apps individually by tapping on each "Update" button, or tap the "Update All" button at the top of the screen.
Once you start buying apps, you may want to reorganize them on your screen. To rearrange the app icons, tap and hold any individual app icon. All of the icons will begin shaking and a small "x" will appear on each as well. Clicking the "x" will delete the app from your iPad (you can reinstall it for free from the App Store). To move icons, simply drag them around the screen. Dropping one icon on top of another will put both apps into a group. You can add more apps to the same group by dragging them on top as well. Click the square iPad button when you are done rearranging the icons.
Configuring your iPad takes place in the Settings app, which has an icon that looks like gears. This is where you set up your WiFi, email access, Bluetooth and other information. Browsing through the Settings is a good way to learn about some of its available features, like notifications from within apps and a Do Not Disturb setting which keeps notifications from appearing during specified hours.
Like an iPhone, an iPad is meant to be left on all the time. It will put itself to sleep when not in use (to conserve battery life) and you only need to tap the square button to wake it up. If you do want to shut down your iPad, you press and hold the rectangular button along the top edge until a red slider appears on the screen. After the iPad is turned off, press and hold the same button to turn it back on.
While the iPad is a powerful tablet with many uses, its intuitive design makes it fun and easy to use. If you need additional help, visit Apple's iPad Support online or stop by an Apple retail store.