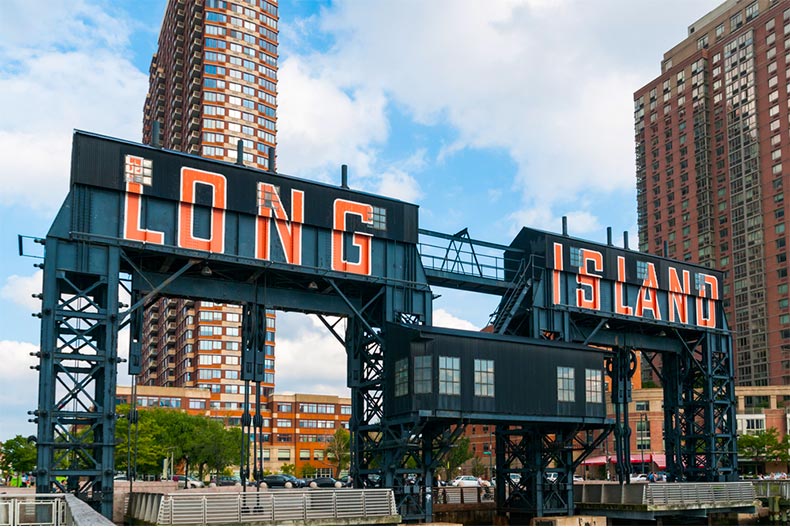 The state of New York has much to offer active adults 55 and better. Although The Big Apple has an outstanding quality of life with its many cultural institutions, restaurants, and sightseeing opportunities, living in the five boroughs can be cost-prohibitive. The areas of Long Island and Eastern New York offer outstanding lifestyle options within driving distance to the city.
Below $100k - Mid $100s
Long Island's Greenwood Village is an affordable, 55+ community with 512 attached and single-family homes. The residences are sized at 900 to 1,300 square feet with one to three bedrooms, one or two bathrooms, and two-car garages. The smaller sizes allow residents to enjoy maintenance-free, carefree living. Because it is a land-lease community, Greenwood residents own their homes and pay an additional monthly fee for the land. There is plenty to do here, inside and out. The clubhouse features a great room, billiards, and a popular exercise room. In the warmer months, residents enjoy the outdoor pool and patio, tennis, bocce ball, ponds, trails, gazebo, and a BBQ area.
Learn more information about Greenwood Village here.
High $100s - Low $200s
The intimate, newer condo community of Woodcrest at Jacobs Hill has just 58 units, so when one opens up, time is of the essence. The five models range from 750 to 1,240 square feet with private balconies, elevator access, and views of the nearby Hudson River. The community is near two shopping centers and The Hudson Valley Hospital Center. Active adults also spend time at Blue Mountain Reserve for golfing and kayaking. Woodcrest at Jacobs Hill's on-site amenities include a popular clubhouse, fitness room, walking and biking trails, plus an outdoor pool and patio.
Learn more information about Woodcrest at Jacobs Hill here.
Below $100k - Mid $200s
One of the most affordable communities in New York is Leisure Village in East Long Island. With 1,500 attached homes, this sprawling community suits 55+ adults who appreciate its social atmosphere and wealth of activities. Its 25,000 square-foot clubhouse has a fitness room, library, woodshop, and other gathering rooms. Outside, residents flock to the outdoor pool, 9-hole golf course, putting green, shuffleboard and bocce ball courts, and scenic trails. There are eleven models from 1,194 to 1,750 square feet, each with two bedrooms and one-car garages.
Learn more information about Leisure Village here.
Low $100s - Mid $300s
Convenient to both Upstate New York and Manhattan, Jefferson Village is a 1,000-unit condominium community that appeals to socially and physically active 55+ adults. Its reasonably priced, cozy units are sized from 843 to 1,555 square feet. Most have appealing, open layouts with eat-in kitchens and dens. Homeowners take advantage of outdoor activities, including tennis courts, horseshoe pits, ponds, and an outdoor pool and spa. There is also plenty to keep homeowners busy indoors at the arts & crafts studio, billiards room, library, and fitness center, which are housed in Jefferson Village's busy clubhouse.
Learn more information about Jefferson Village here.
Mid $100s - Mid $300s
Woodridge Strathmore Terrace has 226 attached homes and a fantastic location close to the Long Island Sound. Its prime setting also puts it close to Rocky Point State Pine Barrens, Robert Cushman Murphy County Park, and other nature preserves. These affordable, ranch-style homes range in size from 1,000 to 2,000 square feet and have private, wooded backyards. There is also a clubhouse, outdoor pool and patio, a tennis court, bocce ball, shuffleboard, and even a miniature golf course on-site.
Learn more information about Woodridge Strathmore Terrace here.