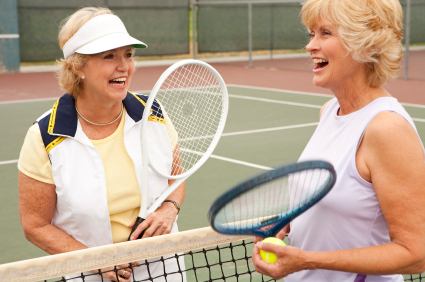 When active adult communities first got their start in the 1960s, retirement was generally considered a time for leisure activities. Retirees certainly enjoyed outdoor recreation, but these may not have been as athletic as the sports found in today's active adult communities.
With advanced medical care and a better understanding of our health needs, retirees are living longer, more active lives. Active adult communities are reflecting that trend with added sports activities geared toward a more physically active crowd. Here's a look at some of the popular ways that adults like to stay active at their 55+ communities.
Golf
Golf has long been a staple of retirement living. There was a time when nearly every active adult community featured its own golf course and it is still a popular pastime at many age-restricted communities. However, it is no longer assumed that every retiree will want to pick up some clubs and regularly hit the links.
Fitness Centers
Today, state-of-the-art fitness centers are becoming the must-have amenity for an active adult lifestyle. A simple exercise room is nice, but many residents want a full-blown gym with high-end equipment and vigorous fitness activities like Zumba, power yoga, aerobics, and spin classes. These fitness centers help residents stay in top form so they can keep up with their favorite recreational activities.
Outdoor Recreation
Outdoor recreation at active adult communities once referred to leisurely pastimes like shuffleboard, horseshoes, and lawn bowling. Now, communities are apt to have a whole range of sports courts. Some of the more popular sports and activities include tennis, basketball, softball and racquetball.
Communities frequently have miles of trails designed for jogging, running, or biking. Even swimming has become more athletic in communities which feature special resistance pools that let residents swim against a current.
Low-Impact Sports
Of course, some concessions do have to be made to aging joints and muscles, but that doesn't mean the end of sports activities. Many age-restricted communities are embracing low-impact, yet still athletic, sports and activities like pickleball, water aerobics, yin yoga, and tai chi.
There have always been some very athletic retirees, but the typical vision of retirement involved more relaxed, leisurely pastimes. Today's sports courts and high-energy fitness classes meet the needs of a modern active adult lifestyle. As retirement trends change, popular active adult communities have clearly learned to evolve with the times.