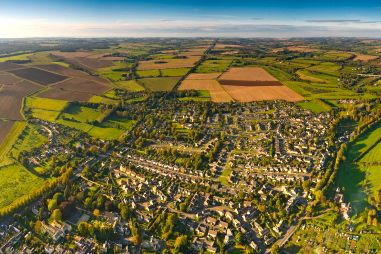 Arid deserts and sunny beaches are still popular retirement destinations, but there are no limits on the retirement dreams of today's active adults. Cities, countrysides, and suburban developments are all becoming accessible retirement locations with vibrant active adult communities. This freedom lets retirees find the destination that is best for them, but it can sometimes make it more difficult to narrow down a new place to live.
There are a lot of differences between living in the city, country, or suburbia. Each type of area has its own distinct style and environment. Which one you choose depends mostly on the kind of lifestyle you expect to have during your retirement.
City Retirement
Living in a city is an attractive option for many active adult retirees. An urban setting has a vibrant energy and a wide range of cultural and recreational attractions. Cities are known for having diverse restaurants, prime shopping opportunities, museums, art galleries, performing arts theaters, and much more. Retirees who want a busy, vibrant, and energetic setting should consider an urban area.
Another benefit is that it's often easy to get around in a city without owning a car. Retirees can take mass transit, taxis, or even walk to many destinations. There are some active adult communities that are located in robust urban centers as well, such as Windsor Gardens in Denver, Colorado.
Country Retirement
For those who prefer a quiet retirement in a natural setting, it's best to head out to the country. In a rural environment, retirees can relax under a starry night sky, fish in a scenic pond, hike nature trails, or view local birds and wildlife. Quaint shops and restaurants provide their own local charm, and active adult communities in rural settings offer additional nearby amenities.
Country homes are generally more spacious and often sit on larger lots of land. This gives you more privacy, but can also set you further away from friends and neighbors. You are likely to need a car to get to favorite stores and destinations. A rural but resort-style community like Del Webb at Lake Oconee brings many modern attractions closer to home.
Suburban Retirement
To enjoy many of the benefits of both city and country living, many retirees turn to active adult communities in suburbia. Located on the outskirts of urban areas, but not far enough out to be considered rural, the suburbs often feature many age-restricted or age-targeted active adult communities.
In the suburbs, retirees generally need a car to get around, but it's often not a long drive to either a nearby city or a scenic country area. There tend to be a lot of chain restaurants and stores in suburban environments, making it easy to know what to expect in a new area.
When deciding which type of community is best for you, start by considering the lifestyle you want to have during retirement. Do you want to be in the midst of bustling activities, relaxing in a tranquil environment, or living somewhere in between? Only you can decide.