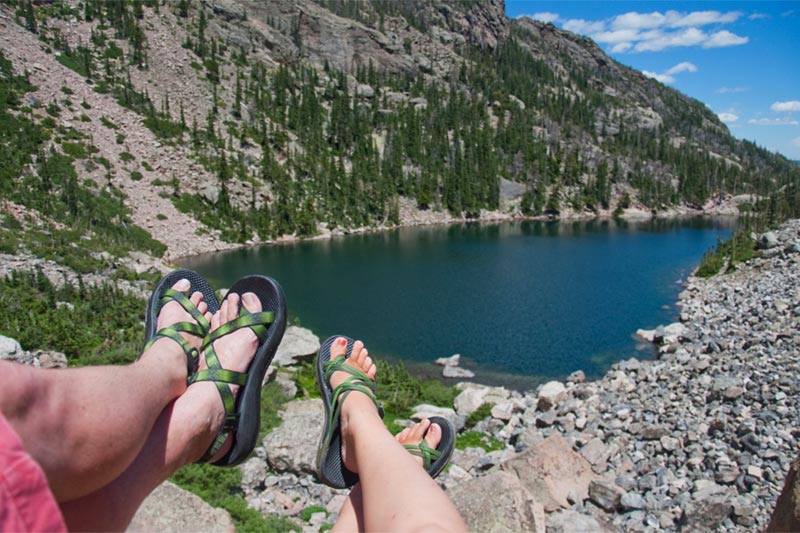 From the Great Plains to the Rocky Mountains and everywhere in between, Colorado has something for nearly any retiree seeking the best place to retire. Offering great skiing, hiking, camping, golfing and fishing, Colorado is a playground for active adults. The extreme variation in Colorado's climate provides ample recreational opportunities for its residents. In fact, Colorado is one of the few places in the U.S where you can ski on fresh snow in the morning and play 18 holes of golf in the afternoon.
Although the state is a permanent retirement destination for many retirees, some choose to make it a seasonal home. Some retirees go to Colorado in the winter to take advantage of skiing and snow sports, whereas others prefer to reside in Colorado in the summer to take advantage of mild temperatures and outdoor activities.
Colorado Gets Plenty of Sun
Though many people think of snow when they conjure up images of Colorado, the state actually experiences 300 days of sunshine a year—more than San Diego and Miami. Snow is a common occurrence in Colorado but it typically varies based on elevation. For those who live in places like Denver and Fort Collins, January highs in the '40s ensure that much of the snow that falls often melts within a few days. Other places at higher elevations see significantly more snow, but because skiing is a favorite activity of Colorado's high country residents, the accumulations are seen as more of a blessing than a nuisance.
Home on the Front Range
Colorado is home to nearly five million people, but for those looking for the best place to retire, consider this: over 80 percent of its residents reside along the Front Range. The Front Range is the major population concentration that extends along the base of the Rocky Mountains from Pueblo, Colorado all the way to Cheyenne, Wyoming and includes places like Denver, Colorado Springs, Boulder, and Fort Collins.
The area makes for a great place to live, and cities like Fort Collins and Boulder continually rank at the top of various "Best Places" lists. The rankings come with good reason as the area offers many desirable features, such as reasonable prices, job growth, fair taxes, low crime, countless recreational opportunities and it is home to several colleges. On top of it all, the climate along the Front Range is mild, allowing residents to play outdoors even in January.
Western Colorado is Calling, Too
Though the Front Range is home to most of Colorado's residents, not all have chosen to make this area their year-round home. Recently, a growing trend among many retirement-aged people is to settle in one of the many small mountain towns that dot the western half of the state.
Places like Durango, Grand Junction, Steamboat Springs, and Breckenridge have gained in popularity among much of the 55+ crowd. Many retirees are drawn to the endless recreational opportunities like skiing, hiking, fly fishing, camping, rafting and more. Others are simply drawn to the breathtaking views and quiet, laid-back atmosphere.
Consider Colorado's Climate
The climate can change dramatically based on your location within the state. Typically, at lower elevations, you will find a milder climate and less snow accumulation. If you are considering a Colorado mountain retirement, be sure to visit in both the summer and winter months to determine if it is right for you. Also, take note of how the elevation affects your health and body, as many people who have breathing difficulties will find their problems further exacerbated by the high altitude.
Colorado Real Estate Provides Options
In recent decades, Colorado real estate has seen several periods of booms and busts. The real estate trends in Colorado have mostly been influenced by the growth and fallout of the oil industry in the area. Real estate prices tend to be highest in places like Denver and Boulder, but slightly lower farther from Denver.
Still, even in places like Fort Collins and Colorado Springs, prices are higher than the national average. Small rocky mountain towns and towns in the eastern Great Plains are generally the most reasonably priced—with the exception of popular ski resort towns.
In the past few years, the Colorado real estate market has fared better, as growth in the high-tech industry has fueled more jobs in the area. In addition, more retirees have been drawn to the state for reasonable prices, recreational opportunities, and relatively mild winters. It's important to consider that Coloradans pay low property taxes and enjoy some breaks on their pensions and social security taxes.
Most retirees find the best place to retire in Colorado is among the many great communities along the Front Range where they are close culture, entertainment, family, nearby colleges and job opportunities for those still seeking work.
Though the area has not seen the boom of 55+ active retirement communities like nearby states such as Arizona and Nevada, the Denver and Front Range areas are now home to several active adult communities, including Del Webb's new Anthem Ranch and Heather Gardens in Aurora.
As a growing number of retirees desire to stay active in their retirement years, Colorado's popularity will continually grow amongst the 55+ crowd. As more and more people choose Colorado for retirement, the number of active adult communities in Colorado will likely grow to meet their demand.