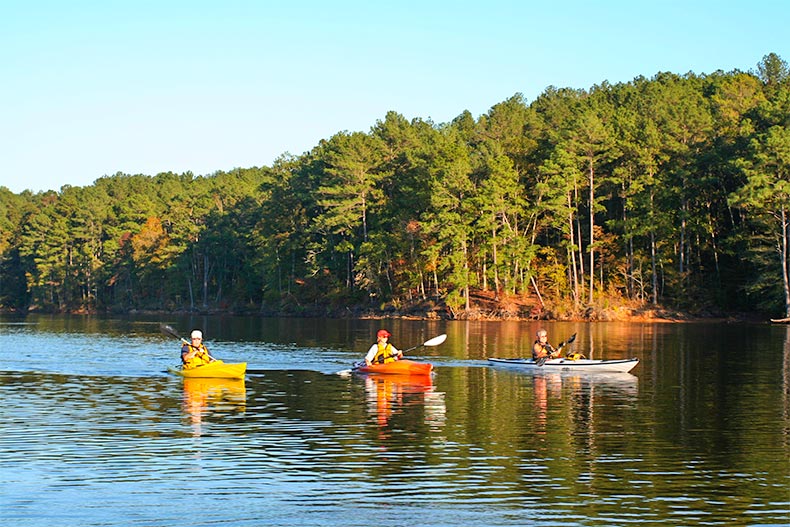 Just over 2,500 people make up the town of McCormick, South Carolina, located near the border of Georgia. It's small with a simple way of life there, with easy access to larger cities such as Augusta, Greenville, Columbia, Charleston, and Atlanta.
The only active lifestyle community in McCormick is Savannah Lakes Village, but the 4,800 homes that make up its multiple neighborhoods offer a country club lifestyle with dozens of clubs and activities to keep you as busy as you want to be.
Home Styles
Ranging in price from the low $100s to the high $600s, the houses in Savannah Lakes Village are low maintenance duplexes and single-family homes with attached garages that vary in size, from 1,200 square feet up to 4,000 square feet. These are new and resale homes available as well. Homeowners can pay an association fee that allows access to all of the great amenities, golf courses, and recreation options within the community.
Resort-Style Amenities
Speaking of amenities, Savannah Lakes 23,000 square-foot Recreation Center is the hub of social and physical activity within the community. It includes multi-purpose rooms, a ballroom, and fitness center complete with an aerobics studio and indoor pool. There's even a bowling alley and another pool outside.
There are two 18-hole golf courses available to residents as well. The Monticello Golf Club has a clubhouse with the Monticello Bar & Grill restaurant, and the Tara Golf Club includes a clubhouse and River Grille restaurant. Both clubs include golf practice facilities, too, so golf lovers are right at home in the community.
Savannah Lakes Village is an outdoor adventurer's paradise that offers 25 miles of shoreline along Lake Thurmond. This 71,000-acre lake can be used for fishing, boating, kayaking, and more. There are parks and miles of trails for walking, biking, and hiking. Those with a competitive spirit can meet neighbors for tennis, pickleball, bocce, or horseshoes - all found near the Recreation Center.
With over 40 clubs and regularly planned activities, residents of Savannah Lakes Village can find an activity that sparks their unique interest. Game groups meet to play bridge, canasta, euchre, table tennis, and more. Plenty of fun events are offered, like a pancake breakfast, planned trips and excursions, holiday parties, and live plays and concerts. Art classes, gun clubs, book discussions, yoga classes, and bowling are just a few ways to find a new hobby or meet new friends based on common interests. There is also an abundance of recreational activities throughout Savannah Lakes Village like water skiing, sailing, canoeing, hunting, fishing, biking, hiking, and more.