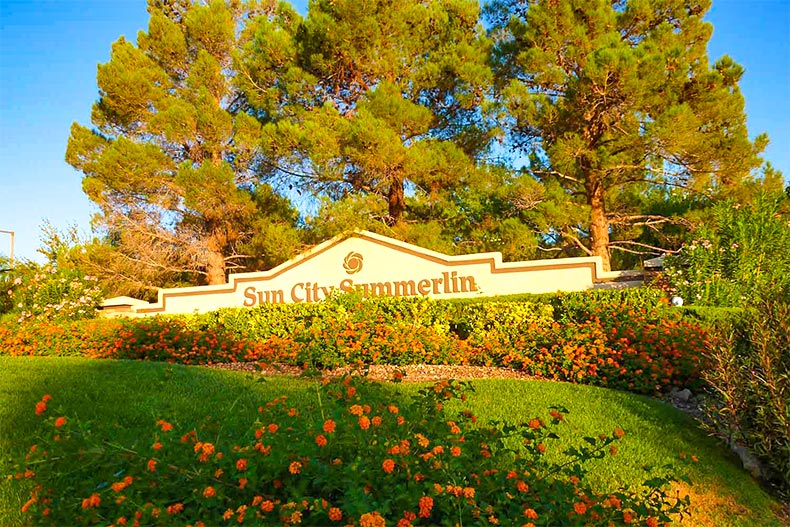 Del Webb's first active adult community in Las Vegas, Nevada, Sun City Summerlin is a massive community nestled within the Spring Mountain Range. Filled with reasonably priced single-family and attached resale homes, Sun City Summerlin has been a popular destination for retirees since opening back in 1989. The community is part of the Summerlin master-planned community, which includes 20 separate residential villages, 150 miles of trails, and 100 neighborhood parks. Also inside the community, residents will find an attractive list of world-class amenities and clubs to explore.
Homes & Floor Plans
Comprised of nearly 8,000 homes, Sun City Summerlin offers 42 different models. This includes 18 attached models and 24 single-family home models. For the attached homes, homes range from 1,003 to 1,757 square feet and include one or two bedrooms, one to two-and-a-half bathrooms, and one-and-a-half to two-and-a-half-car garages.
In terms of single-family homes, floor plans range from 1,086 to 2,895 square feet and include one to three bedrooms, two to two-and-a-half bathrooms, and an attached two- or two-and-a-half-car garage. Regardless of home-type, many properties offer beautiful views of the surrounding golf course and the Las Vegas Strip.
World-Class Clubhouses & Amenities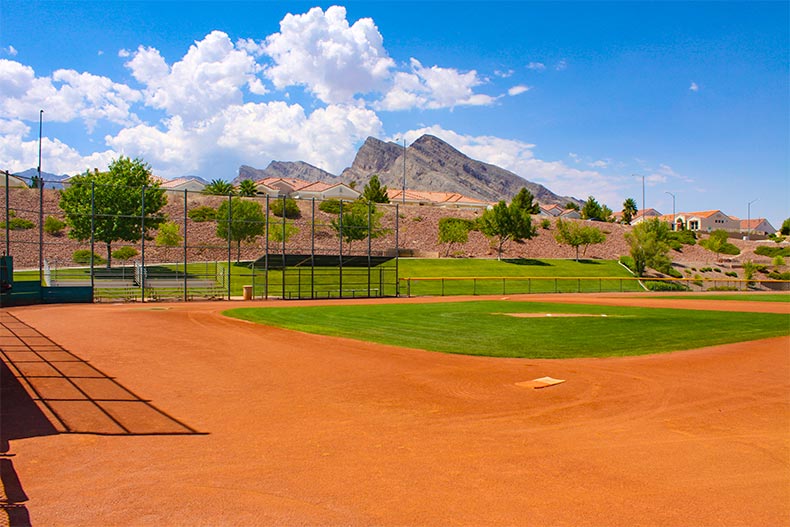 Central to the community is four clubhouses that provide a vast amount of world-class amenities. First up is the Mountain Shadows Clubhouse. Here, residents have access to an indoor spa, exercise rooms, and a table tennis area. Additionally, residents use the clubhouse to take advantage of the beautiful Nevada climate thanks to the six tennis courts, four shuffleboard courts, a racquetball court, an outdoor track, and a mini-golf course.
The Desert Vista Community Center hosts a grand ballroom, a fitness and aerobics center, and an outdoor pool and spa. If you're looking for some friendly competition, you can gather your friends and compete on the two pickleball or four tennis courts.
Next is the Sun Shadows Clubhouse, which is home to an Olympic-size indoor pool and spa. Sun Shadows Clubhouse, in particular, acts as a popular meeting place thanks to its several meeting and multi-purpose rooms. For recreation, four bocce courts lie right outside.
Finally, the Pinnacle Clubhouse is the cultural center of the community. It houses a 312-seat theatre which hosts popular theatrical and musical performances, movies, and guest speakers throughout the year. Additional features include an exercise room, a music room, an outdoor pool and spa, four tennis courts, and a softball field.
A Haven for Golfers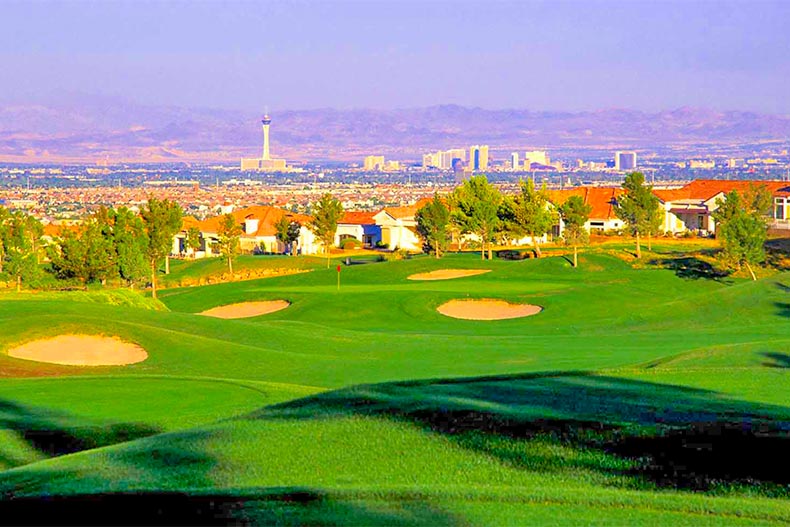 Golf enthusiasts will take solace in knowing that Sun City Summerlin provides access to three courses. Each course was designed by the award-winning team of hall-of-famer Billy Casper and renowned golf course architect, Greg Nash. The resident-owned courses offer yearly membership options and reduced fees for residents of the community.
Two of the courses are championship 18-hole courses while the third is an executive 18-hole course. One of the championship courses is Palm Valley. At 6,824 yards and a rating/slope of 72/127, it is the community's most challenging course.
The Eagle Crest Executive Course is a more manageable 4,067-yard, par-60 course that offers stunning views of the Las Vegas strip. Finally, Highland Falls is a par-72, 6,512-yard course that is situated at an elevation of over 3,000 feet. Each course offers great dining options, allowing golfers to sit back with friends and make their day on the course all the more memorable.
Clubs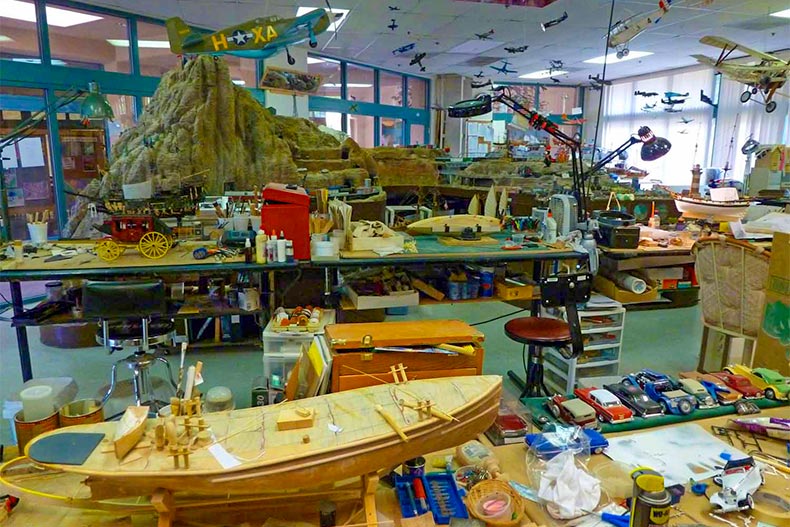 Whether you're learning a new hobby or a lifelong passion, Sun City Summerlin is a great place to do it.
Sun City Summerlin places a high emphasis on allowing its residents the ability to maintain an active and exciting lifestyle of their choosing. There are over 80 different clubs and groups to choose from, with examples including a jewelry club, ceramics, an arts and crafts club, a book club, community theatre, and more. Sport-minded residents can join a team and compete in a number of different sports, including golf, tennis, softball, pickleball, and hiking.
With so many options, it can be a daunting task to find the club best suited for you. Thankfully, a full-time lifestyle director is on sight to help residents choose or create the best club for them. Whatever your interest might be, it is a safe bet that Sun City Summerlin has something that will keep you happy.