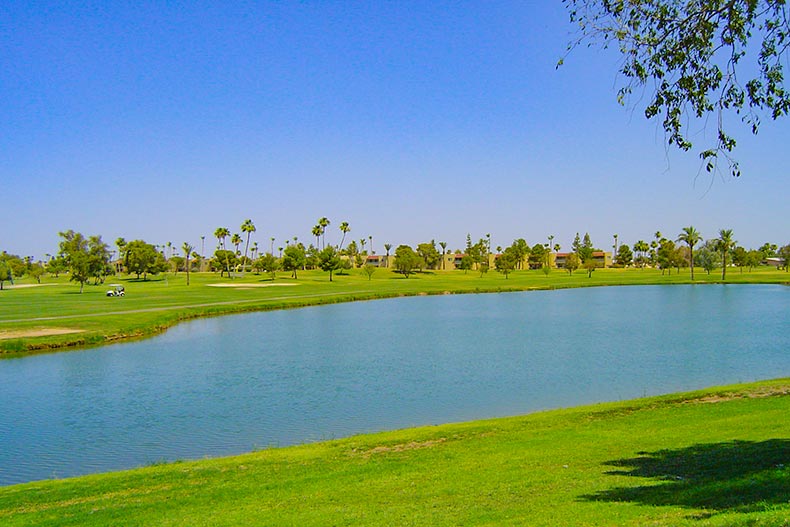 Sun City West offers an exceptional experience for active adults. This 55+ community provides the vibrant, resort-style atmosphere that homeowners have come to expect from Sun City developments.
With on-site conveniences, attractions designed for modern active adults, and welcoming residents, newcomers have no problem getting comfortable. Below we're taking a closer look at what makes this community a top option in Central Arizona.
Homes Designed for Low-Maintenance Living
Sun City West has an outstanding selection of homes fit for different budgets and preferences. This 55+ community consists of 16,900 residences, including single-family homes and apartment-style attached homes. Prices begin under $100k and reach the low $600s. Homebuyers have many options in terms of living space and floor plans. The single-family homes range from 800 to over 4,600 square feet of living space, while the attached homes offer between 760 to 1,880 square feet.
From spacious single-family homes to cozy attached home, all residences were designed with low-maintenance living in mind. Since the community was developed between 1978 and 1997, the homes are resale only, but some residences have been upgraded and remodeled to include modern features. The older residences are also attractive options for those seeking an affordable home in a resort-like community.
A Self-Contained Community with Enviable Amenities
One of the biggest attractions of Sun City West is its impressive lineup of amenities and the vibrant lifestyle it provides. New residents will quickly feel part of the Sun City family with the many activities and recreation options available. Residents of Sun City West are served by four separate recreation centers, nine golf courses, and nine restaurants.
The recreation centers offer outstanding amenities, including swimming pools, hot tubs, bowling, dog parks, libraries, top-notch fitness centers, and more. For residents who enjoy an outdoor lifestyle, there are plenty of activities to stay busy outside. With multiple tennis courts, a softball field, golf courses, and parks, residents have no shortage of ways to stay fit while catching up with neighbors.
Another desirable aspect of Sun City West is the fact that residents can take care of everyday errands without leaving the community. Sun City West is home to grocery stores, banks, pharmacies, retail shopping, places of worship, post offices, and restaurants. The community even has an on-site hospital and medical clinics.
When residents are in the mood for entertainment, they can head to their very own on-site theater. The 300-person Stardust Theater hosts a number of dance and theatrical performances throughout the year. It also features a series of classic films and travel presentations.
Ideally Located Near Entertainment, Shopping, and Outdoor Recreation
When residents want to explore entertainment and shopping options outside of the community, they don't have to travel far. Sun City West is ideally located near entertainment venues, restaurants, retail shopping centers, and places to enjoy the outdoors. In terms of entertainment, the nearby Arizona Broadway Theater is a popular option. This unique dinner theater hosts quality theater productions accompanied by full dinner and bar service. For fans of classical music, the West Valley Symphony holds several concerts throughout the year at the Valley Vista Performing Arts Center in Surprise, AZ, which is about a 15-minute drive away.
The Westgate Entertainment District, which is a premier shopping destination, is located about 15 miles from Sun City West. This popular shopping spot offers a lively outdoor setting with many options for shopping, dining, and entertainment. It is known for the WaterDance Plaza, which hosts outdoor concerts throughout the year. This Bellagio-style dancing water feature is often synchronized with music and other effects.
For big-city attractions, especially sports, Downtown Phoenix is only about 30 miles away. Phoenix is home to popular sports teams, such as the Arizona Diamondbacks and the Phoenix Suns, while the Arizona Cardinals play in nearby Scottsdale. The nearby city of Surprise is also a great spot for fans of baseball because the Surprise Stadium is the Spring Training home for both the Texas Rangers and the Kansas City Royals.
For those who prefer outdoor recreation, the location of Sun City West makes it easy to enjoy Arizona's beautiful natural landscapes. White Tank Mountain Regional Park is situated about 30 minutes from Sun City West. This regional park is the largest in the county and boasts 30 miles of well-maintained trails for shared use.
Considering a move to the Phoenix area? Learn more about what Sun City West has to offer.