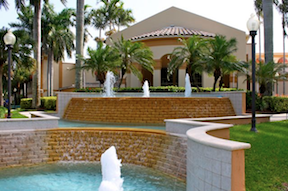 Distinctiveness. Something all active adults look for in Florida retirement communities. With a plethora of Florida retirement communities on the market, active adults interested in purchasing real estate will find uniqueness at Coral Lakes.
Built by Oriole Homes between 2000 and 2008, Coral Lakes is a fully developed 55+ community which contains 365 diverse residences spread across seven distinct neighborhoods. Among a multitude of active senior communities, this Boynton Beach community embraces active adult living with an exciting line-up of amenities centered on its 72,000 square-foot clubhouse. Its prime location also puts residents in close proximity to numerous area attractions, retail centers, and daily services.
Amenities
Active adults who want to retire to Florida's Palm Beach County will love Coral Lakes'. Easy access to beaches, shops, restaurants, and entertainment venues make this Florida retirement community the community of choice among active adults ready to embrace simple living.
Clubs
Within the community itself, residents can find activities and events which support a wide range of interests. Dozens of clubs and special-interest groups help residents get to know their neighbors while pursuing pastimes like arts and crafts, dance, fitness, entertainment, and learning. Just a few of the popular clubs include Artists in Residence, Book Club, Cancer Research, Creative Writing, Garden Club, Midwest Club and Theater Arts Group.
Clubhouse
Coral Lakes' 72,000 square-foot clubhouse serves as the center of this Florida retirement community's social and recreational activities. This multipurpose facility provides plenty of space for organized events and informal gatherings. Residents can relax in the cozy library and lounge area or practice their most favorite hobbies in the arts and crafts studio. The covered poolside patio is the perfect place to enjoy Florida's beautiful weather, while game rooms let residents enjoy cards, billiards, and other tabletop games.
The clubhouses at most Florida retirement communities are central to socialization. The clubhouse at Coral Lakes is not different. The multipurpose room is ideal for club meetings and a variety of events, and an on-site cafe serves breakfast and lunch. The cafe also serves dinner on occasion, such as during night shows held in the 600-seat theater from October through April. This spacious, versatile theater has a performance stage that is ideal for ballet, opera, and other in-house productions. It can also be used for lectures or used as a ballroom for parties and special events.
Fitness
Staying healthy is a top priority for many active adults and Coral Lakes makes that goal easy to reach with its state-of-the-art fitness center. Located in the clubhouse, this impressive facility has cardiovascular and strength-training equipment, a mirrored aerobics studio and an indoor lap pool. Residents can work out on their own or attend one of the free fitness classes, which include activities like body sculpting, yoga, Pilates and aerobics.
At Coral Lakes, sports-minded residents can also stay fit by playing tennis, basketball and handball courts. In addition to their competitive fun during a game, resident tennis players can further improve their skills with either individual or group lessons. The outdoor resort-style swimming pool is another great way for residents to enjoy an active pastime or simply soak up some Florida sun on the surrounding deck.
Residences
When it comes to homes, Coral Lakes offers several affordable styles spread across seven different neighborhoods. The Coral Cove and Regal Shores neighborhoods each contain apartment-style condominiums with reserved outdoor parking. The Regency Cove and Tuscany neighborhoods feature detached single-family homes with two-car garages.
The remaining Coral Lakes neighborhoods include several attached home styles. Egret Point and Royal Landings both contain patio homes, which are duplex-style buildings (two connected homes). The Crystal Pointe neighborhood has two basic home styles: coach homes, which have single-story upper and lower units; and villas, which are connected side-by-side.
If you are considering a home at one of the many Florida retirement communities that exist, then consider the popular Boynton Beach area and plan a visit to Coral Lakes. You may just find the retirement home of your dreams.
For more information on this Florida retirement community click here: Coral Lakes – Boynton Beach, FL