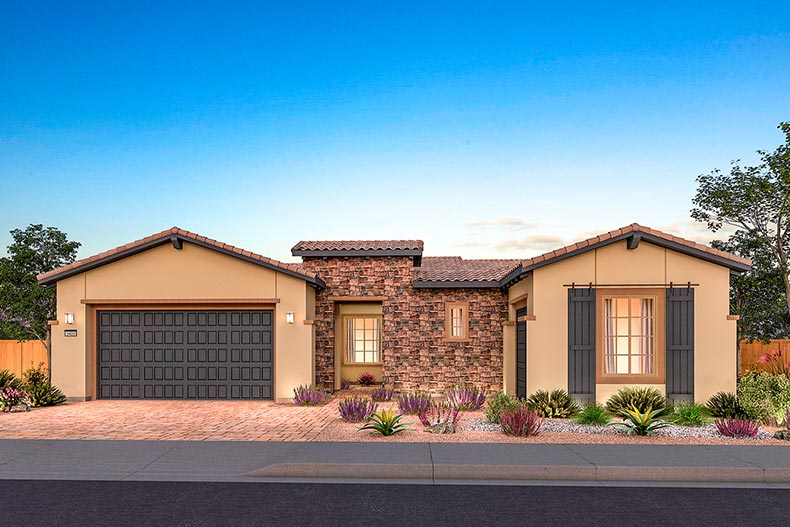 Continuing to offer prospective homebuyers its award-winning home designs and popular active lifestyle communities, Del Webb announced the opening of two new 55+ communities in the Las Vegas area last year. Del Webb at Lake Las Vegas and Del Webb at North Ranch are the first new developments from the premier active adult home builder in ten years. Both communities offer many amenities, quality homes available for customization, and a friendly neighborhood experience.
With both communities now open for sales, here's how the two communities compare.
Natural Beauty and Easy Access to Las Vegas
Las Vegas is home to 23 active adult communities spread throughout the greater Las Vegas area, which includes the close suburbs of North Las Vegas and Henderson. While some of the older communities in the area are closer to Downtown and the Strip, newer communities take advantage of the natural beauty of the surrounding area.
Del Webb at Lake Las Vegas
Del Webb at Lake Las Vegas is part of the great Lake Las Vegas planned community, located outside Henderson. Lake Las Vegas itself has many amenities, like restaurants, a grocery store, and entertainment venues, but residents travel to Henderson for big box stores, larger grocery chains, and movie theaters.
Residents have easy access to the city as well as McCarren International Airport while being able to enjoy the scenic Nevada landscape. Lake Las Vegas has a 320-acre lake with opportunities for boating, swimming, and fishing, as well as two lake-side golf resorts. Lake Las Vegas is also surrounded by protected natural areas. The community is bordered on the east by the vast Lake Mead National Recreation Area and to the west by the Clark County Wetlands Park. Both have trails for biking and walking.
Del Webb at North Ranch
Del Webb at North Ranch is located in North Las Vegas, which although technically a separate municipality from Las Vegas feels like a continuous part of the city. In just 20 minutes, residents can find themselves downtown or on the Strip, enjoying world-class entertainment, music, and shows.
Del Webb at North Ranch is on the border of the urban area, minutes from Red Rock Canyon National Park and the mountains to the north of the city. The homes are also right next to the Upper Las Vegas Wash Trail, a paved walking and biking trail that heads south from North Las Vegas, connecting with other urban trails.
At North Ranch, homeowners will be closer to city amenities than homeowners at Lake Las Vegas. Del Webb at North Ranch is at the corner of Centennial Parkway and Losee Road, just inside the Beltway and near Interstate 15. Within a few blocks, residents can find restaurants, cafes, salons, and grocery stores, while stores like Target, Walmart, Kohl's, and Home Depot as well as boutique shopping and movie theaters are just a few minutes away.
A Lifestyle Designed for Active Adults
Both of the new communities adhere to Del Webb's commitment to designing specifically with active adults over 55 in mind. The builder values connection and provides spaces where residents can connect and participate in activities.
Del Webb at Lake Las Vegas
At Lake Las Vegas, residents have access to the vast amenities of the greater planned community, which include golf courses, a spa, boat rentals, and more. However, the 55+ community will also have their own private amenities reserved for homeowners.
Del Webb at Lake Las Vegas' amenities include a clubhouse with multi-purpose and meeting rooms, a card room, and social spaces outdoors. Over 50 clubs, classes and groups are already planned for the community and span book and bunco clubs to fitness and exercise classes. Residents can also stay active on the tennis and pickleball courts, in the dance and aerobics studio, and at the outdoor pool. The lifestyle director helps residents connect and plan events that appeal to the community members.
Del Webb at North Ranch
The 400 planned homes at Del Webb at North Ranch will center around social and activity spaces for residents. The recreation center includes meeting rooms and gathering places, such as an outdoor patio. Outside, residents can enjoy two swimming pools, tennis and pickleball courts, and an event lawn.
Residents will be able to enjoy planned social activities, including classes, clubs, and community gatherings. Residents can also join nearby private golf clubs like Aliante Golf Club and Los Prados or public courses like the Shadow Creek Golf Course and Painted Desert Golf Club.
New Homes With Award-Winning Quality
As it designs and layouts new homes, Del Webb takes into consideration popular design trends and transforms them into what adults over 55 are looking for in a home. This means open floor plans that provide an ease of movement around the house, first-floor master suites and master en-suite baths, first-floor laundry, accessible storage space, and attached garages.
Both Del Webb at North Ranch and Lake Las Vegas have customizable floor plans for single-family homes as well as customizable interior decorating options, from cabinets and countertops to flooring and paint. Del Webb also offers options that make a home more eco-friendly, including smart thermostats, EnergyStar appliances, and low-emissivity windows. All Del Webb homes also include a 10-year limited structural warranty, premium building materials, and build process updates along the way.
Customizable Floor Plans
Del Webb at Lake Las Vegas
Del Webb at Lake Las Vegas offers prospective homebuyers nine models in three collections. The homes offer a modern take on a Mediterranean aesthetic, inspired by the surrounding Nevada desert. They're all single-story homes with outdoor social spaces like covered patios, courtyards, gardens, and water features. They also offer attached two- or three-car garages and open floor plans for entertaining family and friends.
The Brownstone (the smallest model) is a compact 1,500 square feet, while the Voyage (the largest model) is almost 2,800 square feet. The Brownstone is in Collection I, where homes start in the high $300s. Collection I includes three models from 1,500 square feet to 1,900 square feet with two to three bedrooms and two to two-and-a-half bathrooms.
Collection II's homes are slightly larger, ranging from 2,151 to 2,450 square feet with two to three bedrooms and two to three-and-a-half baths. Collection II homes start in the high $400s. Voyager is part of Collection III, which features the largest homes starting in the low $500s. They range from 2,300 to almost 2,800 square feet with two bedrooms to three bedrooms and two to three-and-a-half baths.
Each model is fully customizable so that owners can add extra bedrooms or open the space up. Homebuyers can also customize exterior features, like adding a fireplace to the patio, and interior features, such as door designs and flooring choices. The Serenity in Collection III is the only home prospective homebuyers cannot tour in person. The homes in Collection I, as well as the Gardengate in Collection II and the Serenity in Collection III are all available for quick move-in.
Del Webb at North Ranch
Del Webb at North Ranch also offers homebuyers nine models in three collections, but they're both smaller and start at a lower price point than the homes at Lake Las Vegas. Inspired by ranch homes of the southwest, the homes feature outdoor porches and patios, gardens, two-car garages, centralized social spaces, and walk-in closets. Homebuyers can also add customizations to the interior and exterior finishes and features. The Solitude floor plan, for example, allows residents to add a fireplace or BBQ to the covered patio.
The three customizable models in the Cottage series are under 1,500 square feet with two to three bedrooms and two bathrooms. The almost 1,300 square foot Canyon model is the smallest and starts in the low $300s.
The mid-sized Classic series ranges from 1,541 to 1,770 square feet with two to three bedrooms, two baths, and an optional den. The Classic series ranges from the low to mid $300s.
The largest homes are in the Retreat series, although they're still compact compared to the homes at Lake Las Vegas. They range from 1,775 to 2,010 square feet with two to three bedrooms, an optional den, and two to two-and-a-half baths. The Retreat series ranges from the mid to high $300s. Currently, all models except the Canyon are available for tours, and all of the models are available for quick move-in.
Request more information about Del Webb Lake Las Vegas here.
Request more information about Del Webb at North Ranch here.