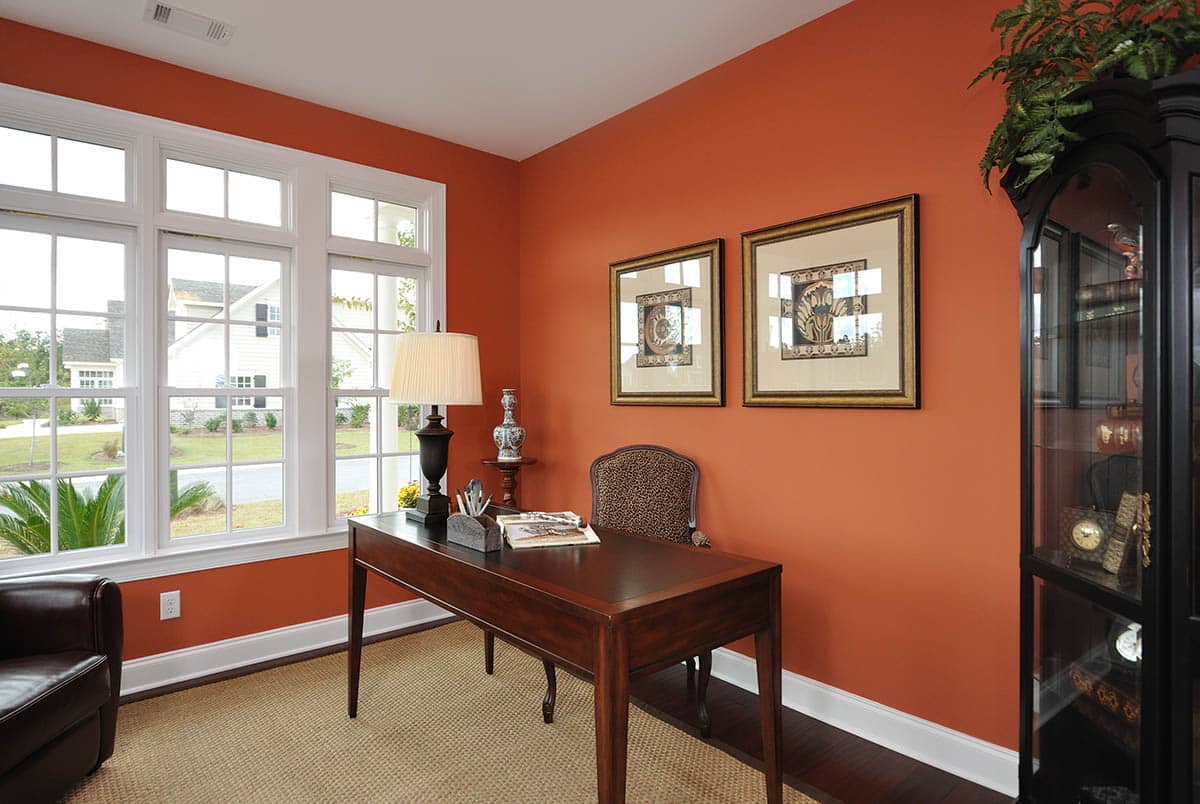 Many active adult homeowners struggle to find a use for the small three-walled room that juts out from their new home's main hallway. Not quite a bedroom and less a living room, the den can baffle homeowners, simultaneously excited to have a little extra space yet overwhelmed by the possibilities.
Thankfully, there are ways to narrow your choices when it comes to how to use your den. What's your ideal Saturday afternoon? Do you like to relax with a book, watch a movie, or host friends with hors-doeuvres and cocktails? Is your hobby more like writing or weight training? The answer to these questions will determine how you should use your den. Below are a few suggestions for utilizing this space.
Home Office
For active adults who are still working or semi-retired, this option should be a no-brainer. Converting your den into a home office will provide a much-needed space where work and life can remain separate yet under one roof.
Your home office should be outfitted and decorated in a way that supports a productive environment. Do you need silence? Install some French doors for privacy. Do you need to move around to get tasks done? Add extra seats and a small couch to reset mentally. Do you feel more productive with a dark, wooded space or a light and airy environment?
The benefit to a home office is that you can customize it to fit your most productive environment. Furthermore, if you work out of your home, the IRS will provide you with tax deductions for your mortgage interest, casualty losses, and real estate taxes – and you'll have an office to keep those tax documents organized to boot.
Library
Although similar to a home office, a library is better suited for those who want a leisurely reading space rather than a productivity space. Floor to ceiling bookshelves provide lots of space for safekeeping and organizing your books and files however you please.
Since this is intended to be a casual space, outfit the library with a comfortable reading chair, couch, a small coffee table, and ample room lighting. Since most of the space required in a library will be along the shelves, you could even toss in a desk and make it a library and office combination.
Home Theater
For movie and television buffs, a home theater system is a vital addition to your luxury retirement home. A den makes a better entertainment area than the living room since the den is exposed to less light and provides a more sound proof environment.
It also opens up the living room to be a better social space, where the temptation can be to watch the TV rather than socialize with guests. The home theater room should also be outfitted to maximize the viewing experience. Generally, an LED or LCD television will provide a crisper picture while a matte finish will deflect unwanted light reflection.
Before you buy the biggest television in the showroom, consider how much distance there is going to be between the TV and the seating area. Too close and it'll feel like you're in the front row of a movie theater; too much and you won't be able to tell whether you're watching The Godfather or The Goonies. Take some measurements and talk to an expert before purchasing.
You will also want to have plentiful seating for when friends come over to watch the game, so choose a large comfortable couch or a few recliner seats. A surround sound system will really bring out the movie viewing experience and absorbent material (rugs and absorption panels work well for this) will keep the room sound proofed and the acoustics in check. Lighting is also important, so a dimmer switch would be a wise investment.
Indoor Garden
Have an insatiable green thumb but live in a four season climate? With the rise in urban gardening, there are now several ways to enjoy a garden in your very own home. Typically indoor gardens are best suited for a Florida room or even a dedicated greenhouse, but the den can be used for this as well.
A collection of planters can make an indoor garden a beautiful space in its own right. Pinterest users have come up with some beautiful and creative ways to maximize small spaces for garden use. Having an indoor garden can restrict your options for what to grow. Since most dens will get fewer hours of sunlight per day than a yard or Florida room, it is important to get plants that can survive well in the shade. Pl
ants that do well in the shade include the corn plant, cast iron plant, and snake plant (also known as "Mother In-Law's Tongue"). There are also several vegetable plants that don't need lots of sunlight, like carrots, turnips, beets, potatoes, spinach, kale, and cabbage. Want to expand to other, sun hungry plants? Load up on incandescent, fluorescent, and halides lights to mimic the same length of sunlight most plants would get outside.
Lounge & Bar Area
If you entertain neighbors and friends often, you will want to have a dedicated space for mingling and casual conversation. Enter the bar and lounge area. There are several home bar designs to choose from, ranging from a restaurant style, wrap-around bar to a modest cabinet with some wine storage. With comfortable seating, a couple of high-top tables, and some speakers, you'll have a classy and refined space to enjoy some cocktails with friends.
Exercise Room
Although most active adult communities throughout the United States have fitness centers in their clubhouse, some residents prefer to exercise within the privacy, comfort, and convenience of their own home. While a den won't fit a walking track, most are large enough to fit a treadmill, an elliptical machine, and some aerobics and yoga space.
Since most dens have built-in shelves, you'll have a ready made space to store towels and weights. Installing a large mirror and a television will transform your den into a private fitness center.
The possibilities for a den are innumerable yet should reflect the tastes, hobbies, and priorities of the homeowner. The den is a blank slate waiting for the homeowner to put their stamp on it. What would you do with a den? Have you seen other creative ways a den has been used?