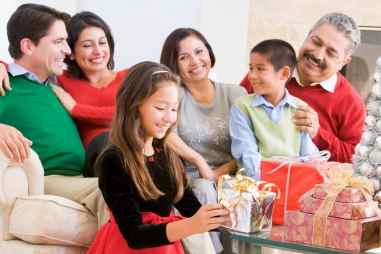 When empty nesters downsize, they may find that their smaller homes are no longer the best location for hosting large holiday meals. Instead, they may choose to celebrate the holidays at the home of friends or by dining at a special occasion restaurant. Frequently, the holiday hosting duties fall to their adult children, who are now established in their own family homes. Whatever the situation, the transition from host to guest may be a bit of an adjustment.
Making New Holiday Traditions After Downsizing
When transitioning from host to guest, it's important to understand and accept your new role. Contributing some of your own favorite dishes to the meal is usually appreciated, but the decision of what food to serve does ultimately fall to the host. Whether celebrating with friends or family, talk to the host about the menu and what you can bring well in advance.
As a guest, you are no longer responsible for all the little elements that come with hosting. You do not have to cook the main dishes of the meal, arrange the seating, set the table, provide decorations, or choose background music. You don't have to clean your house before the party or take care of the dishes after the meal. You can offer to contribute food, flowers, wine, or other niceties, but for the most part, you are free to relax and enjoy the company of the other guests.
Enjoying the Holidays After Downsizing
For some empty nesters, passing the holiday hosting duties to the next generation is a joy. For others, it brings sadness. Minor conflicts are common during any transitional period. Yet, with a little effort and understanding, these conflicts can give way to festive holiday celebrations which blend exciting new elements with your beloved traditions. It's important to remember that spending the holidays in your adult child's home can bring mixed feelings for both you and your child. You may be feeling sad about no longer hosting the holiday feast. Your child may be anxious about living up to your expectations while still hosting in his or her own way. Though you may be tempted to teach your child how to prepare a holiday meal, the transition will be much smoother if you trust your child to figure it out and only give advice when asked.
As you downsize your home, remember that your life is changing. The traditions you developed when raising young children may no longer apply, and that is to be expected. Instead of hanging on to your holiday celebrations of the past, examine your current lifestyle and be open to developing new holiday traditions. Life is a continuing adventure and, if you are open to the idea, you may find that there are benefits to transitioning from holiday host to holiday guest.