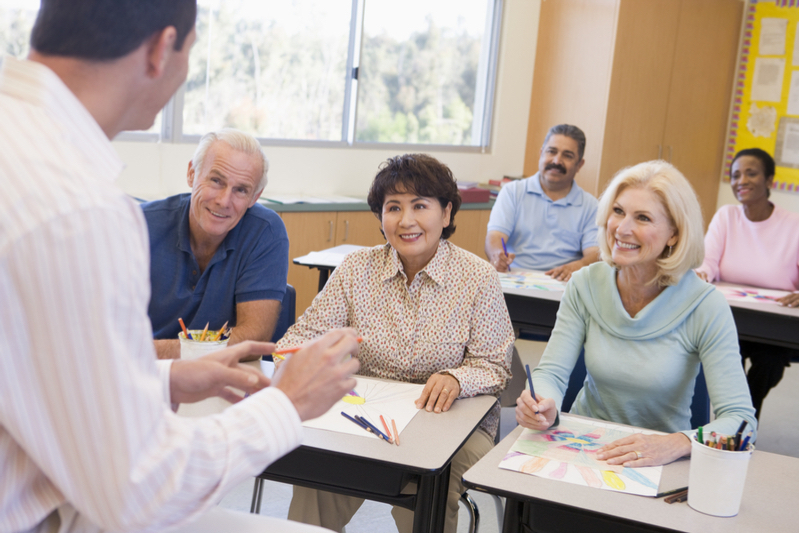 While retirement is undoubtedly a time to relax and enjoy yourself after years of hard work, it's also a great time to put in some work educationally. Research has shown that "lifelong learning," or continuing an education into your later years, has benefits mentally, socially, and physically.
Many Ways to Continue Learning
You don't have to take on astrophysics. The benefits of lifelong learning can come from education of any kind, whether that's taking up a new language you've always wanted to learn or joining a local cooking class to finally master the more advanced skills you never had the time for before retirement. And luckily, many active adult communities offer these types of courses in their clubhouses, from art classes to woodworking. You can develop an entirely new skill or hone an old one, all without leaving the grounds.
If you are looking for something more intensive, community colleges often offer lifelong learning courses specifically aimed at an older audience, so you don't have to worry about being the only adult in a classroom full of recent high school graduates. These classes often include basic level business courses, foreign languages, or specific trades.
The benefits of taking up these options in any location are immense. Mentally, keeping your brain actively learning keeps you sharp. Many people worry about losing their quick thinking as they age, which can be prevented by continual study.
Additionally, it's never too late to take in a new viewpoint. Studying in a classroom full of people gives you a more open mind to others and their experiences. This is especially important in retirement, when your social circle as an adult is often so set in stone. Partaking in class discussion opens you up to a world of new possibilities.
Social Benefits
Socially, the benefits of lifelong learning are obvious. Unlike high school, you can choose the classes you take in retirement, meaning you're more likely to meet others with shared interests. This is a great way to make new friends in retirement. When raising a family, your social circle is so often determined by who lives near you or who your children are friends with. In retirement, friendships are formed not out of convenience, but rather what you have in common. The woman next to you in your sewing class can become your new best friend.
Health Benefits
Lifelong learning is also great for your overall health. Studies have shown that keeping your mind spry is just as important as physical health, and that studying something new can actually prevent diseases like dementia from occurring down the road. Even smaller mental activities like puzzles or something as simple as reading a book can help keep your mind in prime health.
With so many tangible benefits, lifelong learning seems like an obvious choice for any retiree. You don't need to take a full course load, but even fitting in a book club meeting once a week between tennis matches and trips to the beach can go far in keeping you mentally alert, physically healthy, and socially fulfilled.