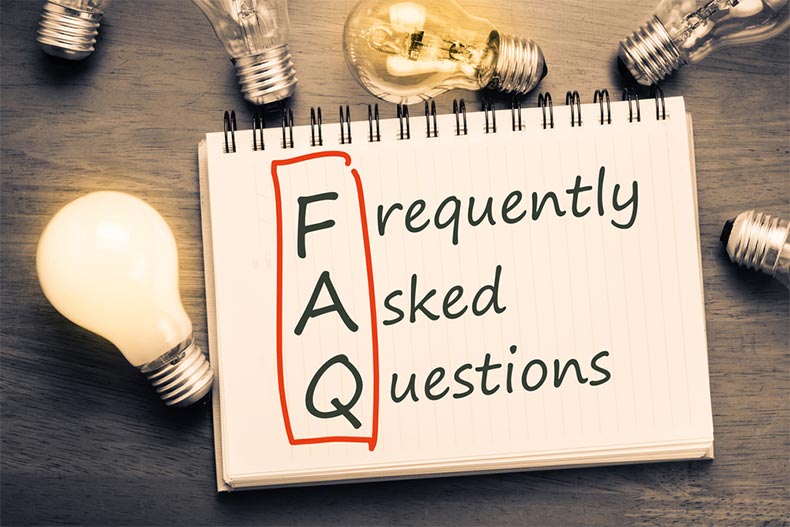 As the number one resource for retirees seeking an active adult community in the U.S., 55places.com offers valuable information as well as reviews on thousands of active adult communities. We provide readers with community descriptions, floor plans, photos, videos, blog articles, listings of homes for sale, and reviews on hundreds of 55+ communities across the country.
But with so much information, we understand that our readers may still have more questions that are specific to their homebuying needs or situations. That's why we've rounded up the most frequently asked questions from our readers. Take a look and see if the answer to your question is listed below.
"What are the pet policies in 55+ communities?"
Pets are part of the family, so when retirees decide to move into a 55+ community, one of their first questions is if they can bring along their furry companion. This commonly asked question isn't easy to answer because it varies by active adult community.
While some 55+ communities will allow some small pets like cats and dogs under a certain weight, typically condo communities will have stricter rules for homeowners bringing along their pets. It's best to contact the homeowners' association (HOA) for the specific community you're considering moving into before you make your final decision.
One other consideration to keep in mind is that some active adult communities have restrictions on fenced-in backyards, so even if you can bring your dog, it's best to check with the HOA if you want to let your dog roam free in the backyard.
"Can my grandkids visit me? If so, then for how long?"
Retirees who want to spend time with their grandchildren don't want to sacrifice that time if they move into an age-restricted community. For the most part, many active adult communities allow young visitors as long as an adult supervises them.
Some communities also have rules and regulations as to whether or not the grandkids can access the amenities available to residents such as swimming pools and hobby rooms. They may even have special days that allow residents to bring their grandkids for special events or social functions.
Also, each active adult community may have different rules and guidelines regarding how long grandkids can visit or if they can stay over long periods of time. It's important for active adults to read over their covenants, conditions, and restrictions (CC&Rs), which are the rules for the active adult community.
"What's an HOA fee, and what does it usually cover?"
HOAs are designed to manage residential communities. The HOA is responsible for handling basic services in the community such as trash collection, snow removal, amenities, and general community maintenance. Residents usually pay monthly fees to the association to cover these services rather than doing the work themselves.
Depending on the community and type of home, HOA fees vary. Sometimes homeowners may pay higher fees when living in a condo building that might include services for elevators, lobby areas, community rooms, and roofing maintenance. Other HOA fees for single-family homes are higher because it includes lawn care and exterior maintenance. If homeowners want a lower HOA fee, they will typically be responsible for their own lawn care and exterior home maintenance.
Sometimes HOA fees differ within each community depending on the amenities and services that are offered. Communities with lavish amenities like a clubhouse, a golf course, or a swimming pool may have higher HOA fees since it requires more maintenance than a community with little to no amenities.
"Are there rentals in 55+ communities?"
55places.com usually receives many inquiries from retirees looking for rental homes in age-restricted communities. Unfortunately, many 55+ communities don't offer rentals for various reasons. One of those reasons is that they have established rules and regulations with bylaws preventing homeowners from renting their homes out on a short-term basis. By not allowing homeowners to rent out their properties, it minimizes the disruption of the community with frequently changing tenants.
Some communities also have other rules that limit the percentage of homes within a community that are allowed to be rented out at one time as well as enforcing minimal rental agreements with terms like three- or six-month leases, which makes it even more difficult for retirees to find a rental due to a low supply of properties available.
Not only is there a low supply of rentals within 55+ communities, but there are also few resources available to help retirees find rentals in active adult communities. Although they may be able to search for short-term vacation rentals on sites like VRBO or Craigslist, they'll have to do most of the work on their own.
Another reason why there aren't many rentals is that real estate agents make a lower commission than they would in selling a home. Therefore, agents would rather spend their time and effort on helping buyers and sellers where they will make a higher commission.
"What's the 80/20 rule?"
A common question that comes up while researching age-restricted communities is the age limitation of the homeowner. The 80/20 rule states that at least 80 percent of the units in an active adult community must be occupied by at least one person who is aged 55 or older. The other 20 percent is left as wiggle room for those who are not 55 years old if an issue comes up.
Although you may think the 80/20 rule falls somewhere within a housing discrimination category, it actually doesn't. The Federal Fair Housing Act prohibits "denial of housing or real estate transactions based on race, color, religion, sex, national origin, handicap, and familial status," but not age. Age-restricted communities are protected under the Housing for Older Persons Act of 1995 (HOPA), which protects communities where all occupants are 62 or older or 80 percent of all the occupied units have at least one individual 55 and over.
That 80 percent is the legal minimum requirement that a community must follow in order to enforce the age restriction and qualify as an active adult community. The other 20 percent would come in handy if the 55+ homeowner passed away and his/her spouse didn't meet the age requirement. The community would then allow the younger spouse to remain in the home.
If there are any other unanswered questions you find yourself asking, visit our FAQ page.