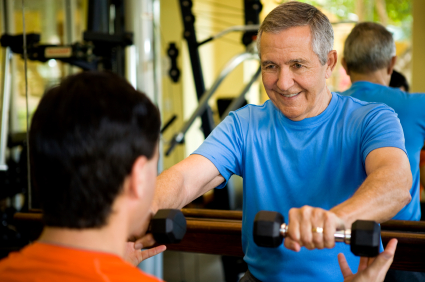 Empty nesters and retirees often begin looking at fitness in a new way. They may want to try out new exercise routines, build bone density, lose weight or just improve their general health. But where do you start when looking for a new fitness routine?
While regular exercise is a great way to treat or prevent many health problems, it's always a good idea to consult with your doctor before trying something new. By reviewing your medical history and talking to you about your health goals, your doctor can offer advice to workout safely and effectively. This is particularly important if you have a chronic condition or other medical concerns.
If you live in an active adult community or have access to a nearby community center, try looking into popular fitness classes. Many facilities offer drop-in rates to let you try a class without committing to a monthly pass or multi-class package. Often times fitness classes are free at active adult communities. For intense cardio, consider moving to a latin beat with a fun Zumba session or climbing on a bike for a spinning class. Pilates and yoga are just two of the great options for using your own body weight to build strength and flexibility.
Arranging a few sessions with a personal trainer is a fantastic way to plan out a new fitness routine. A trainer can also show you how to exercise properly and use strength-training machines or free weights with the correct form. This can help you exercise more effectively, while also reducing your risk of injury. Many active adult communities have personal trainers on staff and some offer introductory sessions specifically designed to teach residents how to use the various types of equipment.
Whichever approach you take, it helps to decide on some specific goals for your fitness plan. Do you want to lose weight, tone up or lower your blood pressure? Picking an attainable goal and setting a reasonable deadline will help you stay motivated. Another great way to stay on track is to enlist the help of a fitness buddy or buddies.
Working out with a friend is more fun, and you can encourage each other as you work toward your personal goals. Staying in shape is an important part of a healthy active adult lifestyle. By exercising regularly, you may find that you feel stronger, sleep better and look more lean and toned.
With the possibility of so many health rewards, why not start a new fitness program today?