We don't like to brag (much), but there's lots of sunshine in the Sunshine State, which means gardeners can plant and grow all year long. If you want fresh tomatoes in February, it can happen.
This is great news if you're a fan of flowers or if you enjoy living off the land, but gardening also comes with a number of health benefits, making it a great activity for all active adults. It helps reduce stress, improve heart health, and provide a sense of accomplishment and joy. You may even sleep better after a day in the dirt.
When you're looking for a Florida retirement community that includes space to garden, consider some of these green thumb-friendly 55+ neighborhoods throughout the state.
Mid $200ks – Mid $500ks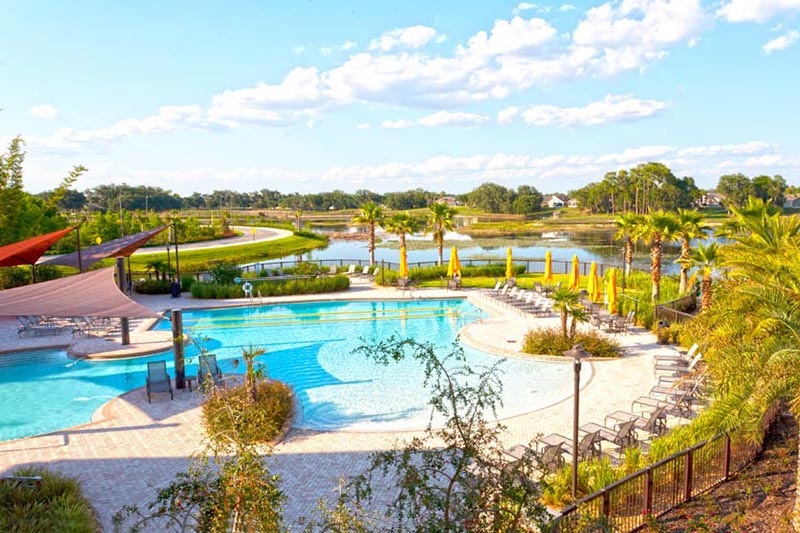 Located in Central Florida, Del Webb Orlando is an excellent option for buyers who love to garden. There's a community garden area as well as the Tree of Life Park, which provides lots of shade and benches for residents to enjoy a book or rest after a pleasant stroll.
This 55+ community is designed for outdoor activity. There's also a fishing dock, an outdoor amphitheater, and more than 12 miles of trails and paths for biking, walking, and jogging. Residents can also enjoy pools, pickleball, and horseshoes. A public golf course is right next door, and residents can choose an optional membership if they like to play.
New and resale single-family homes are available to buyers seeking Orlando real estate. With sizes from 978 to 2,251 square feet and between one and four bedrooms, there are a lot of options. Many homes have a den, and some come with second-floor lofts. All properties have an attached one- or two-car garage.
Low $100ks – High $100ks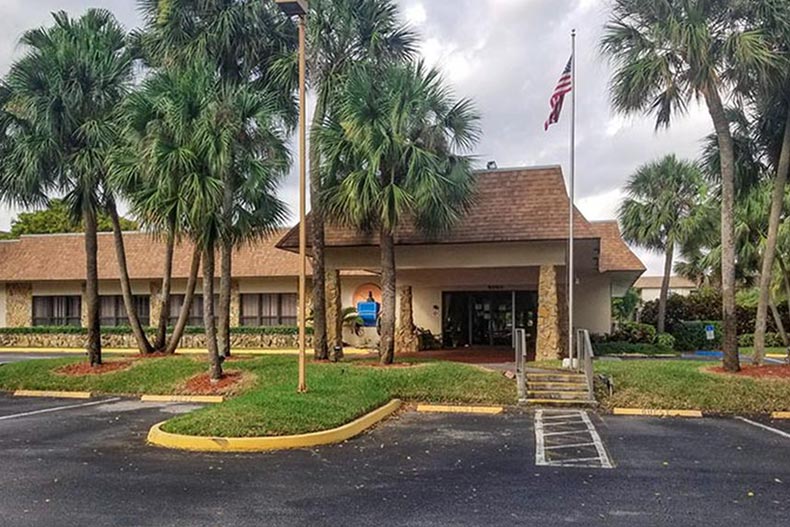 In South Florida, just outside of Miami, the gardening conditions are especially outstanding. Everything grows in the warm, bright sunshine, and active adults looking for affordable Broward County homes for sale may want to consider Lakes of Carriage Hills in Tamarac. This 55+ community has both a garden for residents to use and a gardening club.
Additional amenities and activities at Lakes of Carriage Hills include shuffleboard and tennis. There's also a pool and a patio as well as a clubhouse with a library and a multi-purpose room.
This is a condo community with 520 resale units. The homes are in 12 three-story buildings with elevators and security. An HOA covers trash removal, landscaping, and exterior maintenance, providing a low-maintenance lifestyle that leaves more time for gardening. Condos have two bedrooms, two bathrooms, and between 990 and 1,460 square feet. There's also assigned parking.
High $100ks – High $300ks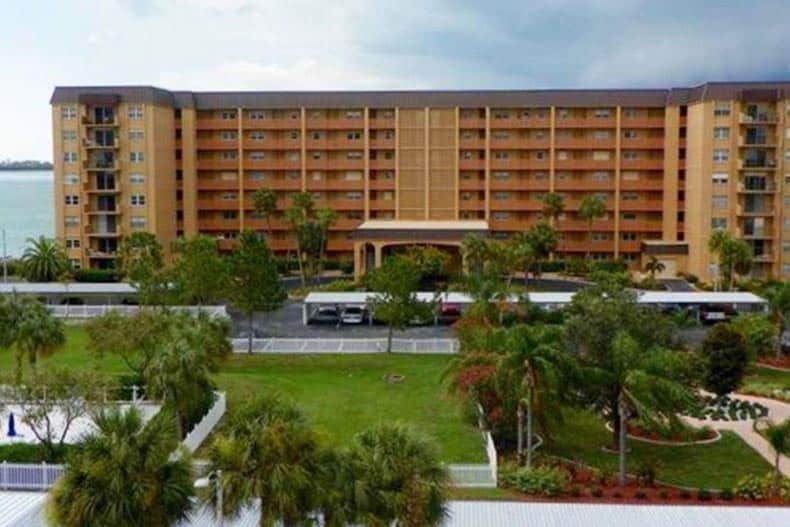 The Royal Stewart Arms in Dunedin offers individual gardening plots as well as a view of the Gulf of Mexico. This 55+ condo community is on the water, and there's a gardening club available to residents who like to swap strategies and trade the fruits of their labor. Its perfect position on the Intracoastal Waterway also offers residents a fishing pier. Neighbors enjoy kayaking together and gathering around the pool, tennis courts, and horseshoe pits (when they aren't busy gardening).
The resale condos are in eight buildings, and they offer between 539 and 1,420 square feet with one or two bedrooms, one or two bathrooms, and assigned parking. There are balconies and patios with each unit.
Dunedin is a creative and artsy community with lots of events and street fairs for residents to enjoy. The Royal Stewart Arms is just a few minutes from Honeymoon Island, where there are sensational beaches, great hiking trails, and plenty of places for a picnic. 
Low $300ks – Mid $700ks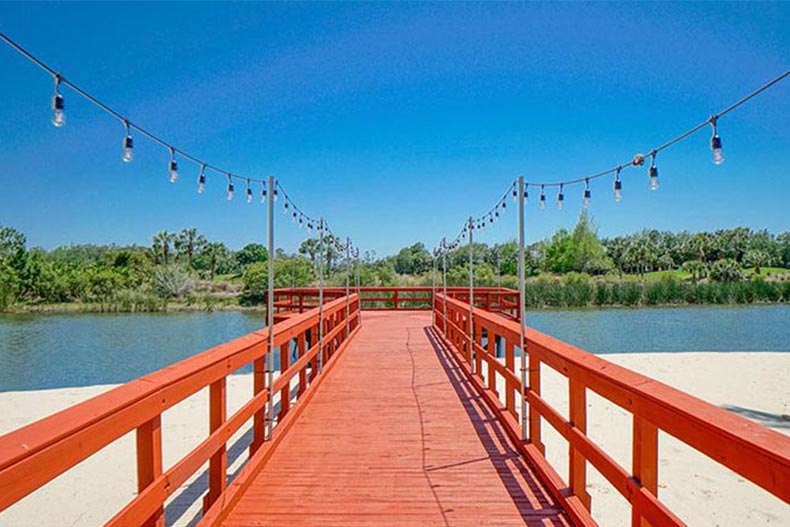 Active adult gardeners who are looking for Fort Myers homes for sale will feel right at home in Pelican Preserve. Not only is there a large gardening area for residents to use, there's also a butterfly garden.
Other outstanding amenities include a sandy beach area, a fishing pier, and a nature preserve and boardwalk. There's space for lawn bowling, softball, basketball, and pickleball. The Plaza Del Sol Clubhouse is 70,000 square feet with space for fitness, meetings, and club activities. There's a spa, an indoor walking track, a restaurant, a movie theater, and a juice bar.
At Pelican Preserve, there are 2,500 condos, single-family homes, and attached villas available as resale properties or new construction models. Condos provide the most affordable options as well as low-maintenance living. They have two bedrooms, two bathrooms, and 1,229 to 1,450 square feet. Attached homes are in a duplex style with 1,078 to 1,557 square feet, two bedrooms, and two bathrooms. Single-family homes come in dozens of models with two to four bedrooms and up to 3,275 square feet.
High $300ks – Mid $800ks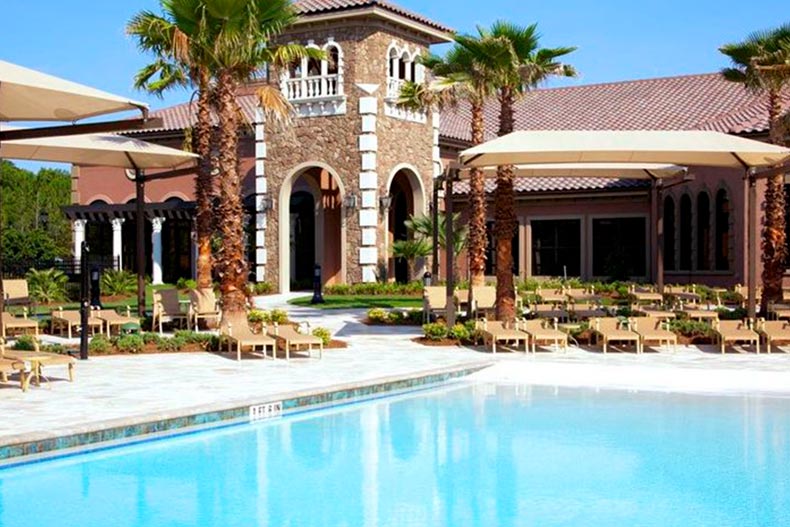 The Jacksonville area is one of Florida's growing hotspots for active adults who want a Florida retirement in the northern part of the state. Community gardens can be found at Del Webb Ponte Vedra, a 55+ community that also has six miles of nature trails, a fishing lake, and nature preserves.
Residents also enjoy a putting green, pickleball, tennis, and an outdoor pool and sundeck. There are tons of fitness-focused amenities and plenty of activities and clubs for socializing and communal events. Ponte Vedra is close to the beach, and residents can get to Downtown Jacksonville and all of its shopping, dining, and entertainment in less than half an hour.
The homes at Del Webb Ponte Vedra are available as new construction or resale. The condos are large, with 1,810 to 2,129 square feet, two or three bedrooms, and two bathrooms. Attached carriage homes have two bedrooms and two bathrooms, with 1,438 to 1,857 square feet and attached one-car garages. The single-family homes come in several collections with diverse floor plans. Buyers can choose to have two to four bedrooms and two to three bathrooms. Many of the properties have dens, and all of them have attached two-car garages.