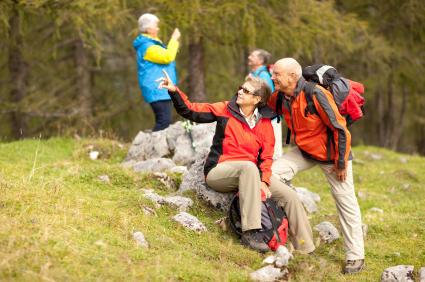 California is known for its beaches, vineyards, and celebrity hotspots. However, residents know that it is also a state that boasts miles and miles of hiking trails. This makes it easy for anyone to add hiking to their regular weekly routine. Avid hikers can discover their own favorite trails in both state and local parks, or even within the borders of some large active adult communities.
Active Adult Communities with Hiking Trails
Active adult communities that have plenty of open space often create several hiking trails for residents to enjoy. The Villages Golf & Country Club in San Jose, which was built on the grounds of former vineyards and agricultural estates, spans over 500 acres of open space. This sprawling community offers many outdoor amenities, including seven maintained hiking trails. Over at Sun City Lincoln Hills in Lincoln, resident hikers can choose from among 19 on-site trails. These open pathways traverse acres of rolling hills, wind through wetlands, and provide a perfect setting for those who enjoy the great outdoors.
Active Adult Communities with Hiking Clubs
To make the most of this great outdoor exercise, many active adults join local hiking clubs. By meeting up with other active adults, hikers can increase their safety. They can also boost their motivation and their general enjoyment of the activity. Hiking clubs are popular at several active adult communities, such as Summerset in Brentwood, Trilogy at Monarch Dunes in Nipomo, Sun City Palm Desert in Palm Springs, and Oakmont Village in Santa Rosa. Hiking is an outdoor activity which lets active adults take in California's natural beauty while improving their health with a challenging form of exercise. Simple trails are well within the reach of beginners, while some of California's more rocky, elevated landscapes will push intrepid hikers to new heights. Hiking clubs help make this physical activity a social activity as well.
Anyone who plans to hike regularly should take some simple steps to ensure their safety. This includes bringing a water bottle, applying sunscreen, walking with a buddy, and getting the "all clear" from a doctor before the first hike.
Hiking Trails at State & Local Parks
While some age-restricted communities include their own extensive hiking trails, many more are located within easy distance of meandering trails. Often, these popular hiking trails are found within the state's many nature preserves, which include both smaller, local parks and vast national parks. Some of California's more well known hiking destinations are the Sequoia and Kings Canyon National Park, Yosemite National Park, Joshua Tree National Park, and the Cleveland National Forest.
Whether choosing to settle in Northern or Southern California, active adults will have no trouble finding nearby hiking trails. Those who live in active adult communities may also be happy to find many other residents who share their interests and some who would also enjoy hiking as a group.