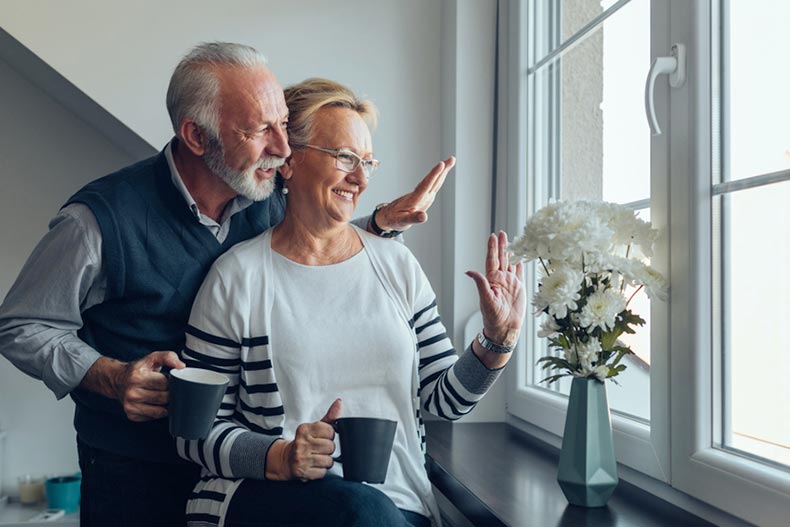 When Del E. Webb thought of the original Sun City over 60 years ago, the idea of retirement wasn't quite what we know today. In the early 20th century, Florida became a destination for wealthy and upper middle class retirees, but it wasn't until the Social Security Act of 1935 that blue-collar workers also began to consider retirement. Even still, retirement in those days usually meant just spending time at home.
Webb's Sun City sparked a realization among many Americans that their golden years could be just as, if not more, rewarding than their working life. Instead of simply resting in retirement, Webb felt older Americans could be more active with their newly found free time. That meant socializing with friends, joining clubs with like-minded neighbors, and playing golf or shuffleboard.
Every 55+ community developed since the 1960s owes some credit to Sun City. Its revolutionary idea that retirees should be social and active has inspired millions of Americans to live their retirement to the fullest. In fact, simply being around other people can improve physical and mental health. Today, with thousands of 55+ communities open across the country, more Americans than ever are enjoying the benefits of being active and social in retirement.
Unfortunately, those adults are temporarily unable to enjoy those benefits due to the ongoing COVID-19 crisis and the successive response to prevent its spread. This makes it a particularly challenging moment for 55+ communities, which are effectively built around being social. While residents are never forced to take part in organized activity, even those who enjoy their privacy tend to be on a first-name basis with neighbors and other community members.
So, what are 55+ communities doing to help residents stay connected in these challenging times? Here's what some of the most popular communities around the country have done to keep residents social while social distancing.
"The Wave"
One of the most common occurrences in communities across the country was "The Wave." It's a simple practice that only requires neighbors to stand in their driveway or backyard and wave to others at a set time of day.
This has happened in several Del Webb communities, Trilogy at Wickenburg Ranch in Arizona, and Latitude Margaritaville in Florida.
Residents Coming Together While Apart
Many 55+ homeowners aren't just joining in on new activities, they're making them happen. Without community lifestyle directors to organize, residents have taken matters into their own hands and organized social distancing get-togethers themselves. Plenty of communities, like Latitude Margaritaville and Del Webb Bridgewater in Michigan, have unofficial Facebook groups where residents chat, sell items, show photos from around the neighborhood, and more.
Amid social distancing regulations, members have taken to Facebook to organize their own events throughout the community. One homeowner in Del Webb Bridgewater is encouraging neighbors to put a smiley face in their front window if they'd like a photo of themselves through the window. All photos are then posted on the Facebook page for the community to share.
Other events organized on Del Webb Bridgewater's Facebook page include a jigsaw puzzle and DVD swap as well as communal porch time, in which homeowners head to their porch to dance and listen to music played by neighbors.
Latitude Margaritaville's Facebook members have come up with several ideas of their own to have fun during social distancing. One of the biggest was a golf cart parade; it's been done by the community before, but this time, it was organized by residents who made sure all golf carts were 10 feet apart.
One resident, Robin Adler, decided to play "We Are the World" on her backyard sound system recently. Soon, neighbors had come out to sing, and from there, a tradition was created and the playlist has expanded to include "Imagine" and the national anthem.
"We got to see each other and feel social and not lonely anymore," Adler told The Daytona Beach News-Journal.
Social distancing has been particularly difficult for Latitude Margaritaville homeowners, many of who moved there because the community promised a lifestyle unlike any other. While all large 55+ developments focus on socializing, the three Jimmy Buffett-inspired communities have marketed themselves as a bit more laid-back and a bit more fun.
"We have to have our time with each other. We all moved here for that reason," homeowner Lanie Seamans said. Lanie and her husband Paul invited neighbors every day to join them for a social distance happy hour held in their driveway. "This is how we're coping," Seamans said. "Life goes on."
Speaking of the sing-along, resident Jeannie Lunney said, "We come just to see the camaraderie around the lake. We all wave at each other. It's about as patriotic as you can get. It really gives you the goosebumps and the good feeling that we're all in this together and that we're all going to fight it and do whatever we can to still see and support each other."
"This neighborhood is going to socialize no matter what while respecting the boundaries," homeowner Lana Byer said. "We all stay in touch with each other through text messages and direct messages. I think we're more fortunate than most. We know each other. I can walk around my neighborhood and stand and chit chat without getting too close."
Lifestyle Directors Doing Their Part
Lifestyle directors at several Del Webb communities, including Sun City Peachtree, Del Webb at Grande Dunes, Sun City Carolina Lakes, Del Webb at Nexton, and Del Webb Wilmington have brainstormed ways to keep residents social, says Delaine George, lifestyle director at Sun City Peachtree. According to George, residents have reacted well to the changes and are helping out.
"Neighbors are checking in on each other, walking pets, and sheltering in place. Our sewing club has rallied to make masks and gowns for local hospice and assisted living facilities who may fall short on inventory."
George and her coworkers have already set up several ways for neighbors to stay connected.
"We are sending out twice/week 'things to do at home' emails with everything from mostly-free online concerts and crafting projects to 'driveway check-ins.' We are asking for, and receiving, photos of 6-foot gatherings."
It hasn't always been easy, but George and her team at the community have pivoted well and received help from residents.
"The biggest challenge is the nature of the need to shift gears, but we have a great team, and we've all worked together to make adjustments as we receive new information, news, and directives. Our homeowners are sending us photos of what they are doing and sharing ideas and links to things that might be helpful. In addition to the twice a week check-ins that we've initiated, we are seeing small groups riding bicycles, walking pets, and golf cart cruising."
Latitude Margaritaville lifestyle directory Ed Cone has also come out with some digital ways to keep residents social through official community means.
"We're offering fitness on-demand classes, Bingo on Facebook Live, and the chef at our Latitude Bar & Chill restaurant did a cooking demonstration on how to make paella on Facebook Live," Cone said.
A Blueprint for the Future?
When social distancing laws end and neighbors begin to leave their homes and return to the clubhouses and pools, will 55+ communities enter a new normal?
It's likely everyone's life will change permanently after this, but how much will 55+ communities change when it comes to socializing? While no one knows the future, early indications seem to point to a simple answer: not much.
While this period of isolation has taught many that social connection doesn't always have to happen in person, it seems unlikely many people will prefer this method of communication to in-person. Clubhouses will still be there, books clubs will still exist, and neighbors will still join in on happy hours.
Perhaps in the future, 55+ communities will enact slight changes in the way they socialize. Book clubs, while still meeting in person, can be held online for residents not able to meet. Classes, like the cooking class Latitude Margaritaville held on Facebook, could bring in experts from around the country to teach local residents news hobbies and tricks of the trade.
What we do know now is that whatever happens 55+ communities and their homeowners will continue to persist in order to be together, share laughs, and live a fulfilling, social life.
Like Latitude Margaritaville's Lana Byer says, "It's altered life as we know it, but once they turn us loose it'll pick up again. People are champing at the bit."