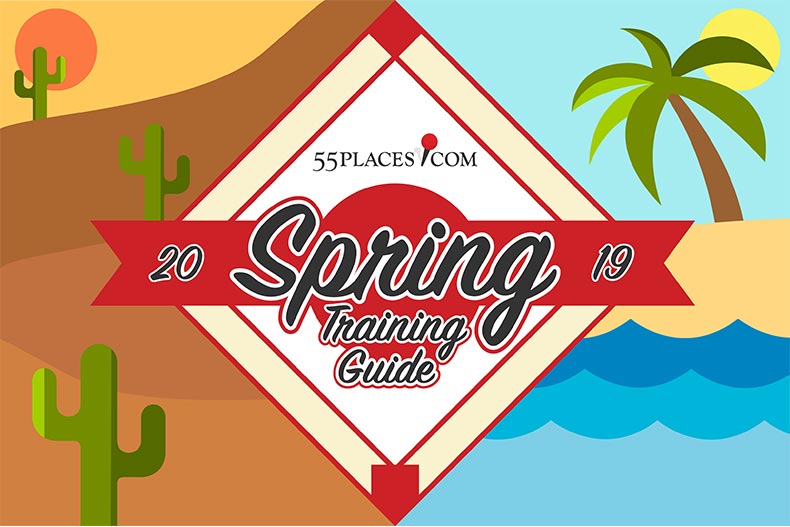 Every year, baseball players descend upon Arizona and Florida for spring training, a two-month process full of practices and exhibition games that culminate with the arrival of a new Major League Baseball (MLB) season. The baseball players aren't the only ones who show up, however. Roughly 3.3 million fans showed up to watch MLB spring training games in both states last year. That includes locals, tourists, and ardent fans rooting on their favorite teams.
That number also includes many active adults who just so happen to be in Arizona or Florida, either because they've already decided to retire there or because they're considering doing so. Spring training offers an ideal opportunity to head south and spend some time looking around the Phoenix area or South Florida to find an active adult community.
Where & When is Spring Training?
Technically, spring training begins in early February when pitchers and catchers start reporting to team facilities. The actual games themselves begin in 2019 on February 21 when the Seattle Mariners and Oakland A's begin Cactus League play in Arizona. Grapefruit League play begins in Florida the next day when the Tampa Bay Rays and Philadelphia Phillies go head-to-head. From there, every Major League Baseball team plays out spring training until March 26.
The Cactus League includes 15 teams playing in ten stadiums throughout the Phoenix area. That includes stadiums in Scottsdale, Surprise, Peoria, and Mesa. You can find a map of every Cactus League stadium location here.
The Grapefruit League includes 15 teams playing in 13 stadiums all across Central Florida, the Central Gulf Coast, Southwest Florida, and the Central Atlantic Coast. You'll find a map of every Grapefruit League stadium location here.
Why You Should Shop Around During Spring Training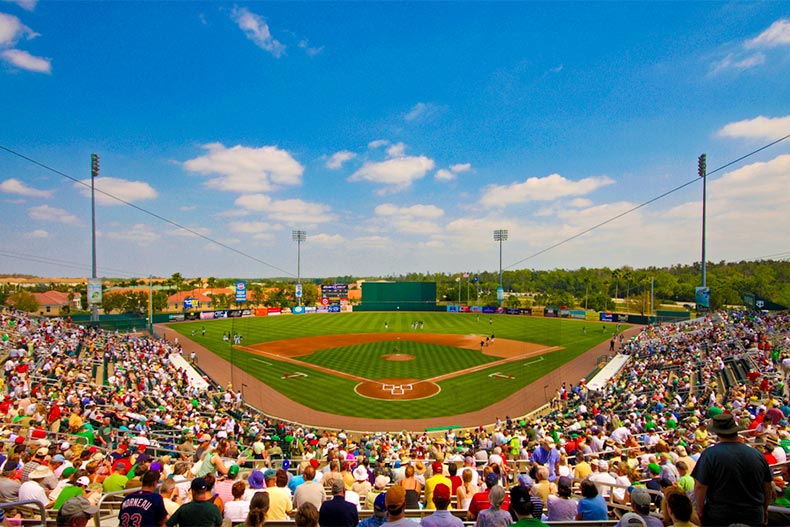 There are plenty of good reasons to consider booking your trip around this time. First and foremost, the time of the year is pretty ideal to visit both states climate-wise. In Arizona, late winter and early spring temperatures are much cooler on average than the sweltering summers. You might even catch some of the wildflower displays that are just starting to bloom. Meanwhile, in Florida, it's the same story as temperatures are usually a little lower and there's less rain overall.
If you visit either, you'll still be in the midst of snowbird season, but it'll be fairly close to the generally accepted time when they start flocking back north (April). Some of them certainly stick around to enjoy spring training as well but many already start taking off by then, which means it won't be as crowded as it was in December and January.
Finally, spring training gives your trip to either area some structure. If you're interested in attending games, you know exactly when they take place and when the team will be playing elsewhere. You can build your vacation around that, attending games you want to see and then filling the off-days with tourist activities, days at the pool, and active adult community tours. And if your spouse is the one more interested in spring training, you can leave them to the baseball games while you explore everything the region has to offer.
The Best Ways to Visit Communities During Spring Training
One of the best ways to know if you'll want to call an active adult community home is by actually experiencing it. That's what makes "stay and play" packages so great. Also known as discovery packages, they allow potential homebuyers to see what it's like to actually live in a community for a couple days or an extended weekend. They can experience the amenities, meet some of their potential neighbors, and find out if the community fits what they're looking for in retirement.
One thing many home shoppers like to do is combine a couple "stay and play" packages to coincide with spring training. That way, baseball fans get to enjoy watching their favorite pastime while others get to enjoy the great weather and both can get to know multiple communities one after another. Depending on when the packages are available at each community, you can mix and match as well as time your trip to specific games that you really want to see.
Booking a 'Stay and Play' Package
Not every active adult community offers a "stay and play" package so the first thing you'll need to do is determine which ones do and which ones have availability for when you'd like to visit. We've compiled handy lists of Florida communities that offer packages as well as Arizona communities that offer them as well. Those aren't complete lists, however, and the best way to find out everything you need to know is to ask a 55places Partner Agent in the area. If you have a specific Arizona or Florida community in mind, just head to the community page here on 55places.com and then click the "Contact Me" button. Our local expert will be in touch ASAP.
Spring training 2019 is already here but it's not too late to see if there's some "stay and play" space in communities nearby. And it's also never too early to start planning for spring training 2020. There are around 60 communities close to Cactus League games in Arizona and over 200 communities within easy driving distance of Grapefruit League games in Florida. Plenty of great communities, and baseball games, to choose from.