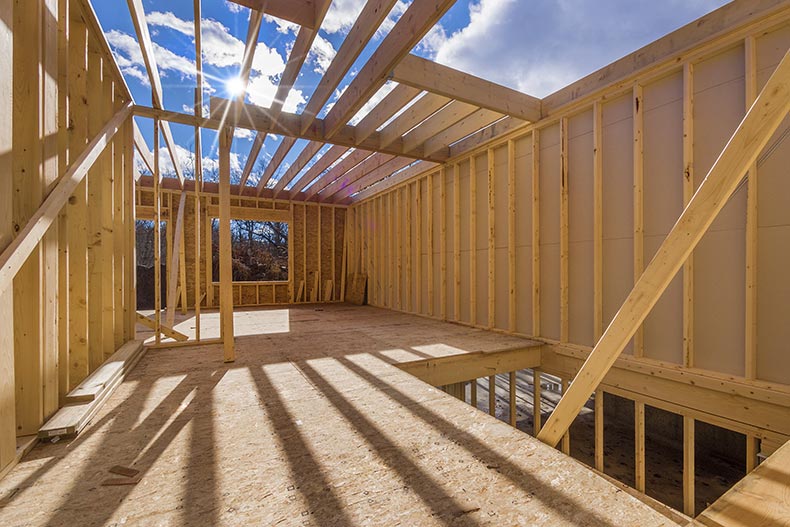 There's no shortage of concerns when building a home. There are specifications, the potential of cost-overruns, building permits, and so much more. Plus, many people aren't even entirely sure how long it will take to build a house. In this article, we'll shed some light on that topic and give you a better idea of what to expect when building a house.
Home Building Factors to Consider
There are so many variables at play when building a house, but as of this writing, the national average time to build a single-family house is about six months. Now, that isn't to say you should mark your calendar six months from the day workers break ground, but by understanding your unique circumstances and by working closely with your home builder, you'll be able to get a fairly accurate idea of how long you'll have to wait before your home is ready for move-in.
Let's break this down into two sections: factors that are within your control and factors that you can't control.
Factors You Can't Control
Location: Where you choose to build your home will have a substantial impact on how long construction will take. If you're building a home on level ground with soil that drains well, you can expect that to chip away at the overall time for construction, perhaps by a couple of months. Conversely, if you're building on a hillside or in a region where earthquakes are common, like the coast of California, special considerations like assessing the stability of the soil could add several months to your overall time. The builder, using their expertise of the local area, should be able to hone in on a more precise estimate. The home's proximity to highways and major population centers has a big impact too. If you're building in a metropolitan area with a good labor supply and plenty of contractors, this should make things move swiftly. On the other hand, if you're building in a rural area or on an island, the comparatively remote location will almost certainly add to the time it takes to build your house.
Weather Conditions: This is a somewhat obvious one as poor weather often makes construction impossible. Concrete cannot set in the rain, and it's quite difficult to dig when the ground is frozen. In many parts of the country, building in the winter can take longer. Similarly, in states like Arizona, workplace safety requirements can slow things during the hottest months of summer.
The Construction Crew: This may or may not be something you have power over. If buying from a national builder in a new development, you may not have a lot of say over who is building your home. However, if you're building a custom home, this is the time to do your homework. Check a site like Angie's List for unbiased reviews of local contractors or, better still, solicit advice from friends and family. Be sure there's someone overseeing the whole process, including subcontractors, and keep in regular contact with them for progress updates.
Factors Within Your Control
Stick With the Plan: Even small changes at the last minute can really add to the time is takes to build a house. Materials will need to be exchanged, plans redrawn, and possibly different contractors hired. Careful planning can go a long way to avoid these delays. Do your research and think carefully about the details. It's also best to live within your means. Upgrades or changes in finishes can always be completed after the house is finished.
Custom vs. Planned: Often in a new development, the home builder will offer a selection of floorplans and options for homebuyers to choose from. This uniformity allows builders to move quickly as the workers become familiar with the layout and features of the floor plans. With optimal conditions, a house like this can be built in around four months. Building a fully custom home can greatly increase the amount of time until completion. It's not uncommon for a custom home to take up to a year to build with more time devoted to surveying, permitting, and other delays.
Let the Workers Work: A new home is a significant investment, and you're right to take an active interest in how things are going during construction. There is, as you might imagine, a point where this becomes unhelpful and creates delays. You've done your homework and selected a good manager and the right contractors. A certain degree of trust is required from you to let them get on with the job. Constant requests for progress updates coupled with frequent visits can be a source of distraction.
What to Expect During Construction
Now that you know what to expect in terms of timeline, this is what you can expect the process to look like. After all of the permits and surveys are taken care of, the builder will pour the foundation. Next comes rough framing followed by electrical and HVAC work. Once the home's systems are in place, insulation is installed and the drywall is hung.
Interior finishing and exterior finishes are usually worked on concurrently while the driveway and sidewalks are poured. After this, counters, cabinets, flooring, and plumbing fixtures are installed. Finally, the interior is fully finished and landscapers do their work. After all of this, you'll have your final walkthrough to address any issues.
Building a home is a major investment and a significant life milestone. While it's a complicated process, quality contractors and construction managers relieve you, the homebuyer, from much of the burden of daily management.