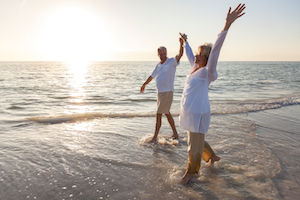 Relocating during retirement means more than finding a sunny retreat with great weather and plenty of recreations. Finding a destination with a lower cost of living will help you stretch your savings and make it easier to afford travel or favorite pastimes. But how do you find an affordable retirement destination?
While an affordable home price is a place to start, you'll also want to consider what the cost of living will be after you move in. That includes the cost of utilities, food, transportation and healthcare. You should also estimate your total tax burden, including state and county taxes for income, sales and personal property.
It's important to understand these costs so you can plan your monthly budget and avoid unpleasant surprises in your new hometown. Fortunately, there are online calculators that make it easy to compare cost of living from one city to another, such as this Cost of Living Comparison from Sperling's Best Places.
This tool shows you how the cost of living in different cities compared to the national average. For example, if you are researching Florida and compared Orlando and Sarasota, you would find that the overall cost of living is 91.5 in Orlando and 96.2 in Sarasota. While both cities are lower than the national average (100), Sarasota's cost of living is higher than it would be in Orlando.
The Cost of Living Comparison also gives a breakdown of different costs that go into the overall estimate. While utilities are cheaper in Sarasota, housing and healthcare costs are much lower in Orlando. Overall, the cost of living is 5 percent higher in Sarasota.
Of course, cost of living estimates are useful, but they are based on averages and only offer a guideline for your planning. There are many ways you can reduce your expenses, such as downsizing to a house that needs less upkeep, making your home more energy-efficient, shopping sales or choosing more affordable hobbies.
Whether you are nearing retirement or are already retired, your monthly budget is a valuable planning tool. Creating and updating a budget shows you how much you are spending in different areas each month. If you track your utilities, groceries, healthcare and other expenses, you can use them to estimate how your expenses may change in a location with a higher or lower cost of living.
Careful planning can help you choose the retirement destination that will be best suited for you and all your financial needs.